Globe Trotting J's 2019 Trip Day 9: All My Troubles Seem So Far Away
We didn't arrive back to our hotel room last night until close to midnight and I think it wasn't until 1 AM that the last glow of Jake's iPhone went off and we all fell asleep. Unfortunately we had a relatively early morning this morning to finish up our last full day in the United Arab Emirates. Jake and I went to an early breakfast while Jenn got ready and at 9:30 AM we were off into an Uber and on our way to Pier 7 at the Dubai Marina.
We arrived right at 10 AM and made our way to the Xclusive Yachts stand where one of our two Yacht crew members was waiting for us to escort us to our private Yacht. This isn't a typical excursion for us and was Jake's idea, but we are so glad he made us do it. We arrived on what was a 48ft Yacht for the three of us for two hours. We took off from the marina right at 10 AM and were back promptly at noon. Through the Marina and out into the gulf we passed Dubai's latest addition of a London Eye replica as you let out into the Arabian Gulf. We floated out to sea and picked up speed on our way to the Atlantis and the Burj Al Arab.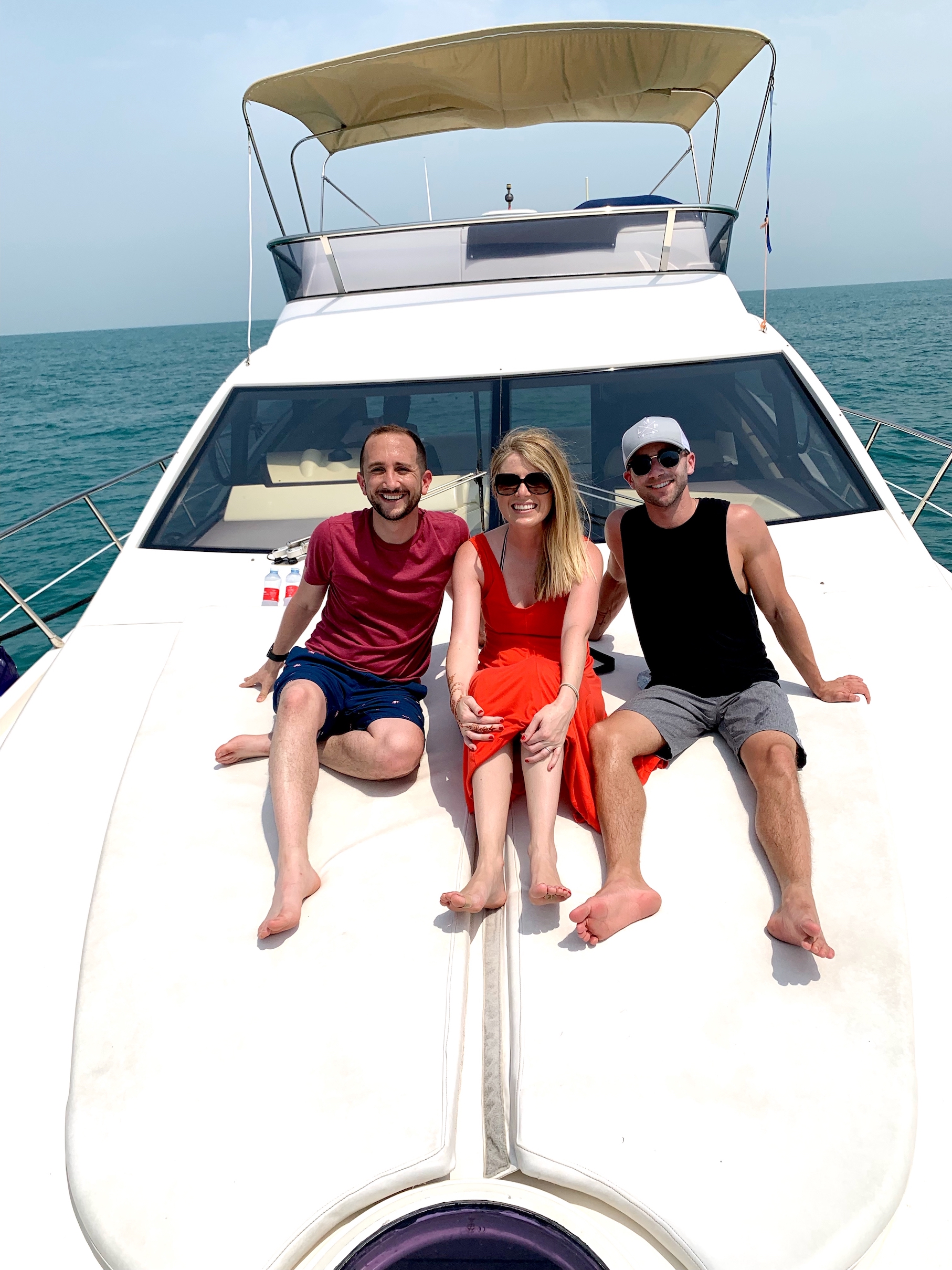 We took a stop in front of the Atlantis (unfortunately no water park) and honestly this was when the boat really started moving and Jake got a little woozy. We took off from there, the boat steadied up and Jake felt better almost immediately. When we hit the hour mark we turned around and made our way back to the marina. We made a quick ten minute stop near a beach where the three of us jumped in the gulf. The water there was at least 90 degrees and for me it instantly made me feel a bit queasy. The combination of the heat outside, with the water making me feel worse hit me hard. Once the wind was blowing and I had some 7-up I was back and ready to go. We spent the last thirty minutes after our dip in continuing to listen to Jake's great Spotify playlist over the Yachts speakers and taking in the stunning Dubai skyline. We were dropped off exactly at noon back where we started where we departed from the nice air conditioned galley of the Yacht to the extreme heat that is a Dubai summer day.
The five minute walk from the boat dock to the Uber felt like torture. By the time we reached the Lexus taking us to the Dubai Mall we were all drenched not from the sea water but from sweat. We luckily cooled down on the twenty minute drive to the Dubai Mall. When we arrived we took in the spectacle and made a quick pit stop at Starbucks. Jenn got a new Dubai mug, Jake and I split a caramel iced drink, and Jenn got a blueberry muffin. We luxuriated in the malls air conditioning before making our way to the Reel Cinemas to go see the movie Yesterday. We booked tickets for a "dine-in" experience which ended up being a diner setup where you have barstools and are served food. We couldn't figure out how the ordering worked and then realized we were supposed to order before we entered the theater. We made our way back, Jenn got popcorn, Jake had a mac and cheese burger, and I had their masala fries. They arrived just as the movie played. Two hours later we all left feeling like we watched a great movie (consensus review was a 4/5) and enjoyed all the great Beatles music.
We took a taxi back to our hotel and got changed for our evening adventures. Thirty minutes later we were back in an Uber with a driver who was exactly who we needed at the time. We were running a bit late to our 5PM appointment to go to the Sky Lounge at the Burj Khalifa (now the second tallest building in the world). Our driver knew how to get there, and fast, and beat the Google Maps estimate by almost ten minutes. He dropped us off right at the entrance and a few minutes later we were waiting in a beautiful lounge before being expressed up to the 148th floor of this massive building.
When we arrived at the Sky Lounge on the 148th floor we were immediately greeted by two gentlemen who offered coffee and cookies which we all partook in. From there we made our way around the floor to ceiling windows before going out on the outdoor terrace. There we took a bunch of photos and walked to see all of the different angles you can see from Dubai at this height. When we were done taking photos we came back in and enjoyed more light snacks and coffee/water while we took in the unbelievable view.

All told we probably spent 45-minutes in the Burj Khalifa. We made our way down to floors 125 & 124 where the regular tickets give you access and walked around those views as well as the gift shop. When we had seen everything we were going to see we made our way down using the express tickets and were back in the Dubai Mall (which connects to the Burj) and shopping within minutes. We only shopped for 30-minutes or so. Jenn did make her way into both Pottery Barn and West Elm (because of course she did).
From the mall we grabbed a taxi who took us the very short drive to our final dinner in Dubai, Carnival by Trèsind a fun Indian restaurant at the Waldorf Astoria. We arrived a little before our 7:30 PM reservation and were given another amazing table that was sort of perched up and away from other guests. When we sat down we all decided relatively quickly to do their tasting menu instead of ordering. To start though Jake had a glass of rose, Jenn had a glass of prosecco, and I had their old fashion. When our drinks arrived mine came under a vase of smoke that infused the drink. It was so good we all had seconds later in the meal.
What drew me to the restaurant originally was that it looked like it was having fun with food. From the first course (which was actually not a chefs starter) to the very last, they did a great job of having a fun, delicious, and interactive menu that I don't think any of us will forget. Our first appetizer came under a magnifying glass, then we were asked to walk to a room where we had a trio of Pani puri that were supposed to be similar to what you'd have on the streets of India. The next course was a combination Asian/Indian flavors in a chicken momos; it was one of the better dumplings any of us have ever had.
The meal continued with shrimp in a hot sauce that came in a box of peppers, and the grilled lamb chop with one of the better curry sauces I've had in a while. And then came a nice intermezzo with a sorbet that came in on a bed of flowers with dry ice and a frozen popsicle. And then came the main entrees for the night chicken korma and fish tajine that were all so good that we only wish we had more room left in our stomachs to eat it.
The staff couldn't have been nicer and when they asked if we were ready for dessert gave us ten minutes to recover. I'm glad they did because it was so much fun. They first asked what we wanted to write (we had no idea what they were talking about) but we landed on "J3 Dubai 2019." A few minutes later a lady showed up, put down a white plastic table cloth and wrote "J3 Dubai 2019" on the bottom corner of the table mat and then continued to draw, throw candy and nuts all over the table. And then she gave Jake a ball of white chocolate and he dropped it (on purpose) to finish off our dessert. We then ate what amounted to an amazing ice cream sundae all over the table. What a fun way to finish off a great meal.
We left Carnival with our bellies full and us all very happy that we were able to experience such a fun meal. We left dinner and made our way back to our hotel where we spent the rest of the evening relaxing and getting ready for our flight tomorrow to Mumbai. Jenn and I even got a short walk in before we called it a night. Today was as close to perfect as we could have asked for. We started off on a private yacht, then we watched a great movie, went up the second tallest tower in the world, and finished off the day with a delicious dinner. Life is good.