A Look Back - November 2018
As I write this winter is here, its a brisk 30 degrees out and throughout November we went from beautiful fall days to our first snow day as New York City residents. November was a phenomenal month, and one that has gotten us ready for the holidays and the new year to come.
RECAP OF THE MONTH
After flying back home from San Diego we were back at work to start off November. Our first weekend back was one of the most beautiful weekends we've had in NYC. We started our morning at The Plaza hotel where we had Creperie before walking through Central Park to see the beautiful fall foliage. We've been a lot of places in our 30+ year lives, but Central Park in fall is one of the most majestic things either of us has ever witnessed. From there we went to hands down our favorite museum in the city Moma (Museum of Modern Art).
That same evening we went back and had a phenomenal meal in the Upper East Side at La Pecora Bianca. From there we sat in the front row of Bernhard/Hamlet where we got to see Janet McTeer own a stage for 2+ hours in a way I don't know if we've ever seen it done. Her range on stage was unworldly, we were both captivated from the first line of dialogue to the last.
November was also a big month because it was the month that Jenn began at Calvin Klein. It's sort of ironic that we came out to NYC for a different job, but in only a couple of months CK had reached out and Jenn had made the decision to work at one of the most iconic brands in the world. When we moved our here, her goal was always to eventually work at a big brand again, but never in our wildest dreams did we expect it to happen within a couple of months.
The first week of November also was the mid-term elections. Ever since the disaster that was the 2016 election, Jenn and I have been paying extra close attention to the political landscape. As predicted, November proved to be a huge blue wave for congress and one that we're thrilled to see happen. In fact in our former hometown of Newport Beach, we finally flipped that seat blue to a candidate I've liked for the last two years Rouda. Jenn and I were thrilled to do our part in voting, and supporting our democratic candidates. It's too bad we have such a disgrace as our President, but hopefully that gets resolved in two years.
Jenn at the end of October had a meeting in Brooklyn, in Dumbo and loved it. So in mid-November we went back and had a nice brunch there before walking around and heading back to Manhattan by walking the Brooklyn bridge.
It was also on the 15th of November that we had our first snow storm of the season. I'll never forget texting Jenn and then my siblings while going to get coffee after lunch as the first few snowflakes hit the ground. By the time we both left work the snow storm was in full force and I slipped and slowly walked my way home in my black slip ons. Jenn was better prepared and we stayed at home that evening eating Indian food and watching the snow pile up on nearby rooftops.
The snow was gone a day later and by the weekend you had no idea it had ever been there. We went back out the following weekend on yet another adventure. We had lunch at Eatly during one of their fall promotions and then went and toured the New York Public Library and Grand Central before walking home and then going back out to dinner and to see the brilliant play Apologia.
Being November meant it was also Thanksgiving. We had at this point already gone back to California twice and are planning to go back a third time in December, so we stayed home for Thanksgiving. It turned out to be a beautiful day, albeit the coldest I've ever experienced. The high that day was 28, but when we were out at the Macy's parade it was in the teens. From the parade we walked twenty blocks to an AMC theater where we saw Creed 2, an excellent follow-up to the brilliant Creed. After the movie we walked right across the street to Maison Pickle a restaurant we had brunch with Jake when he was out and booked 2PM reservations for our Thanksgiving meal.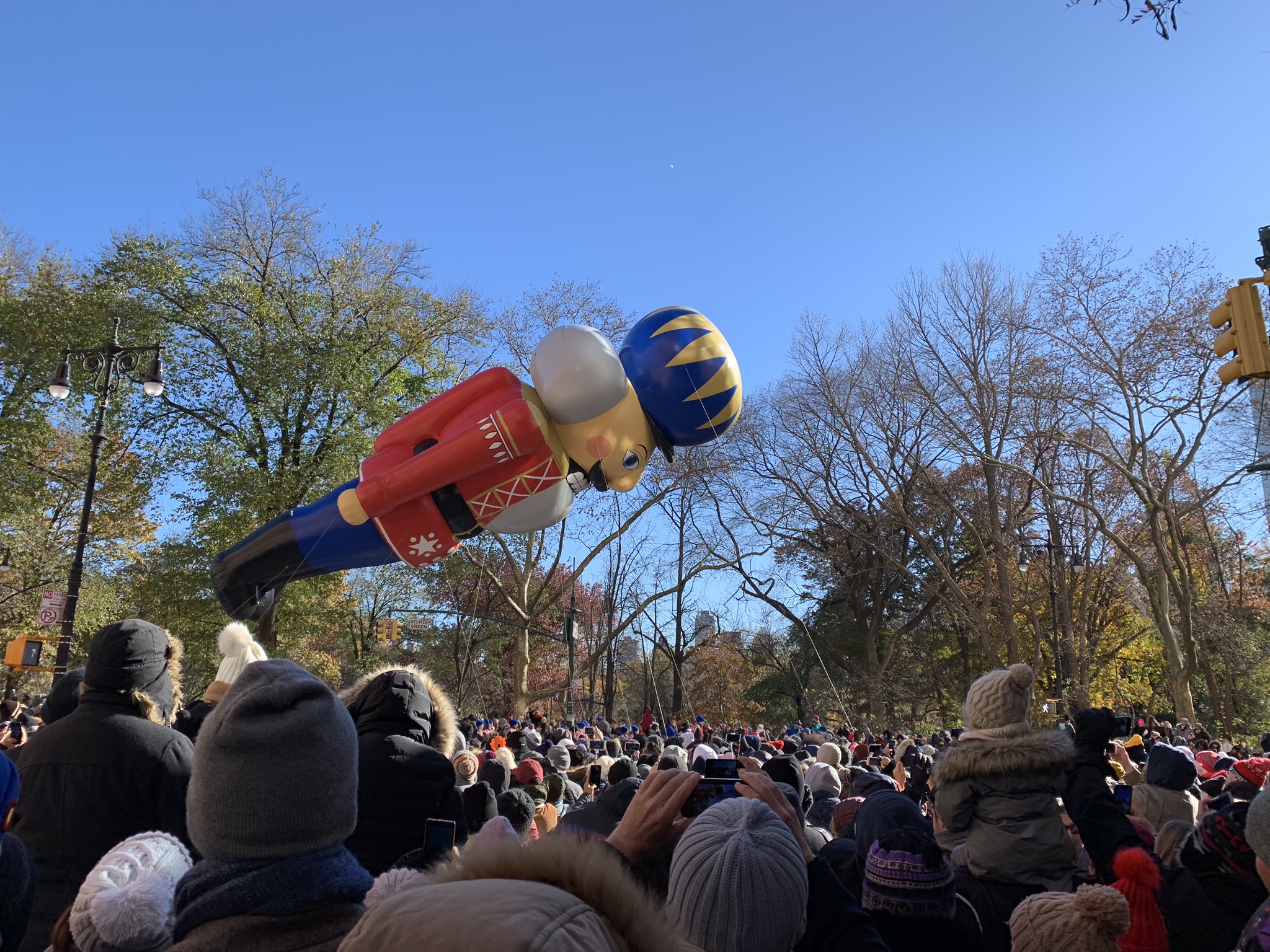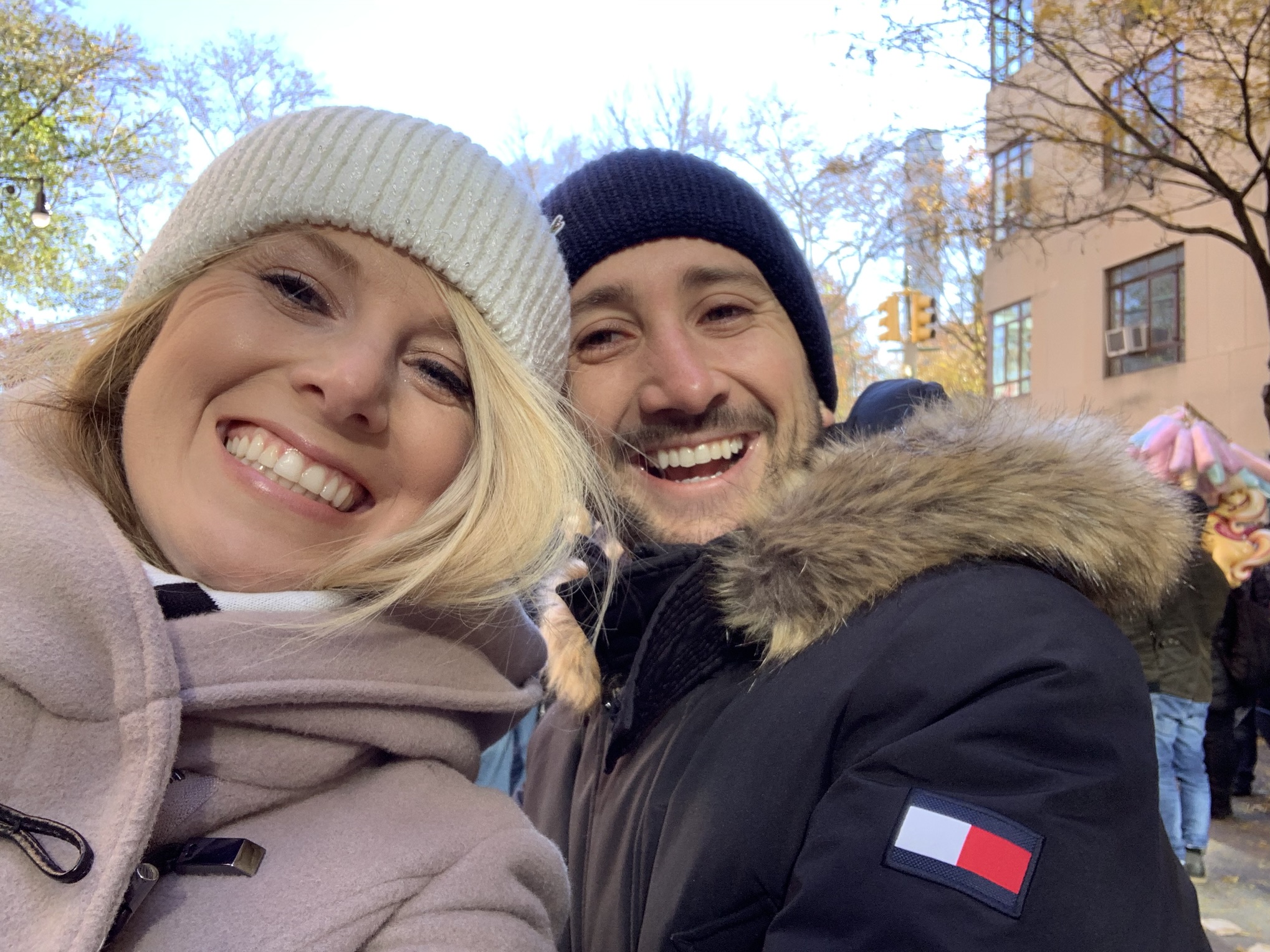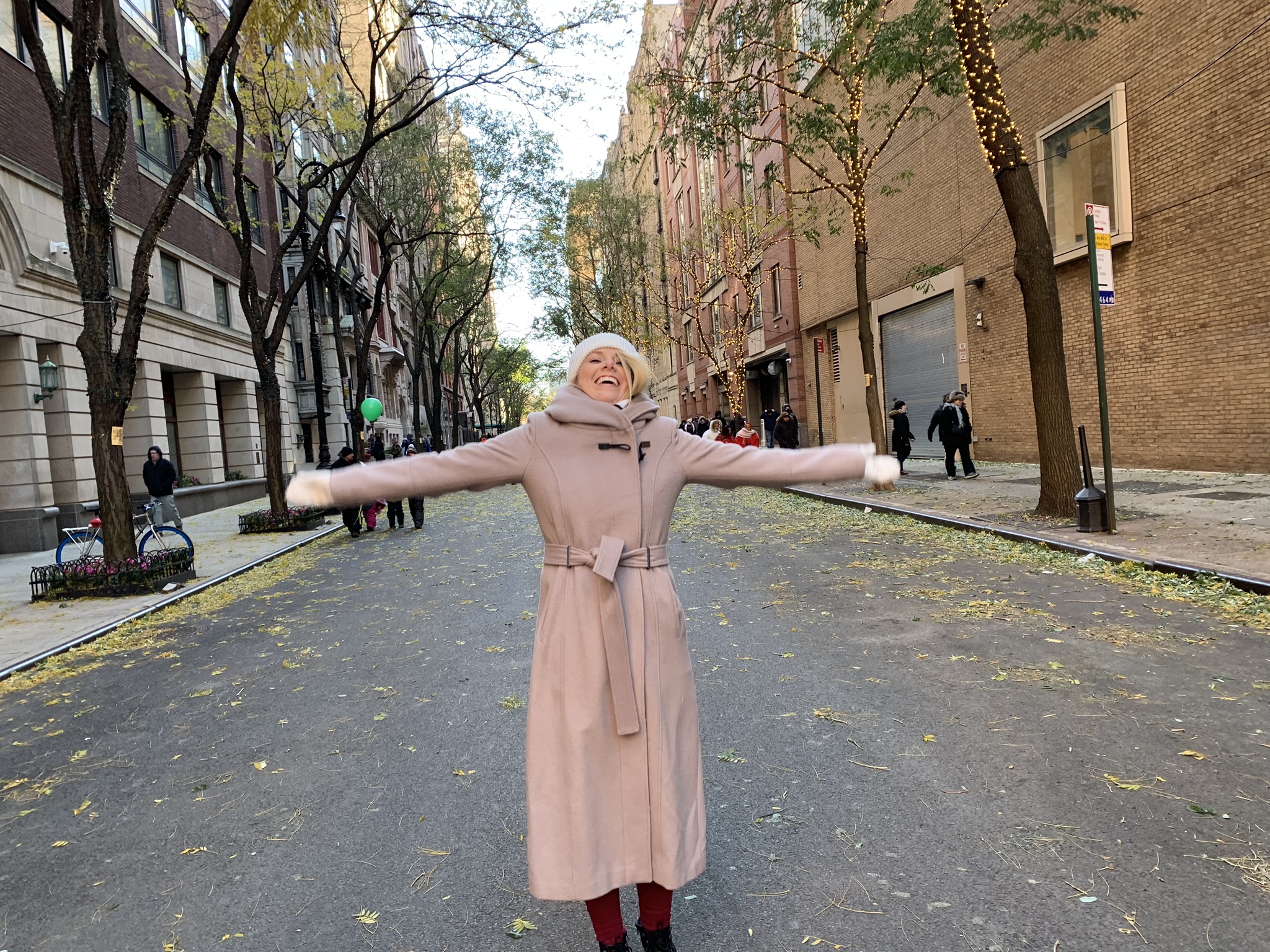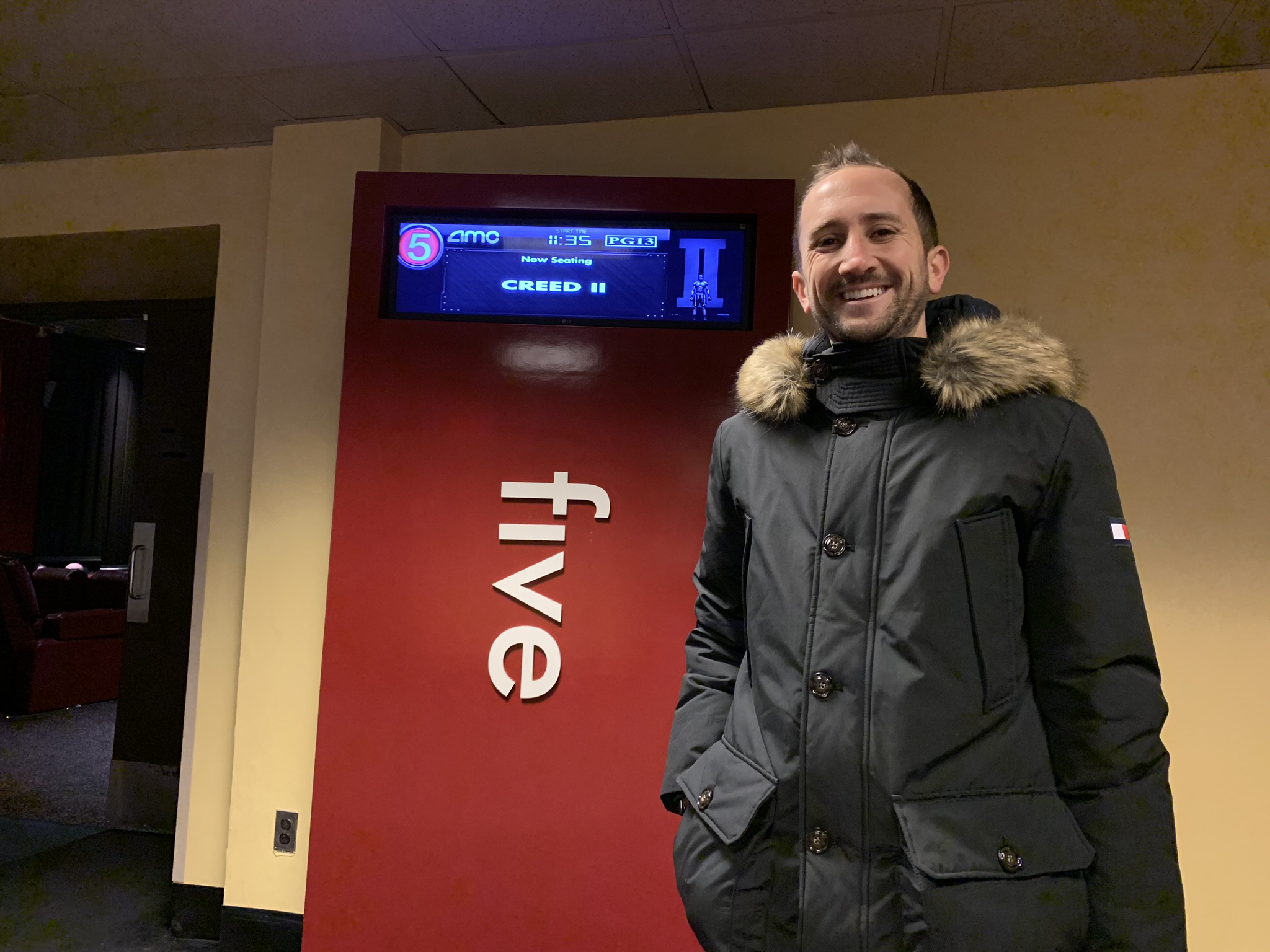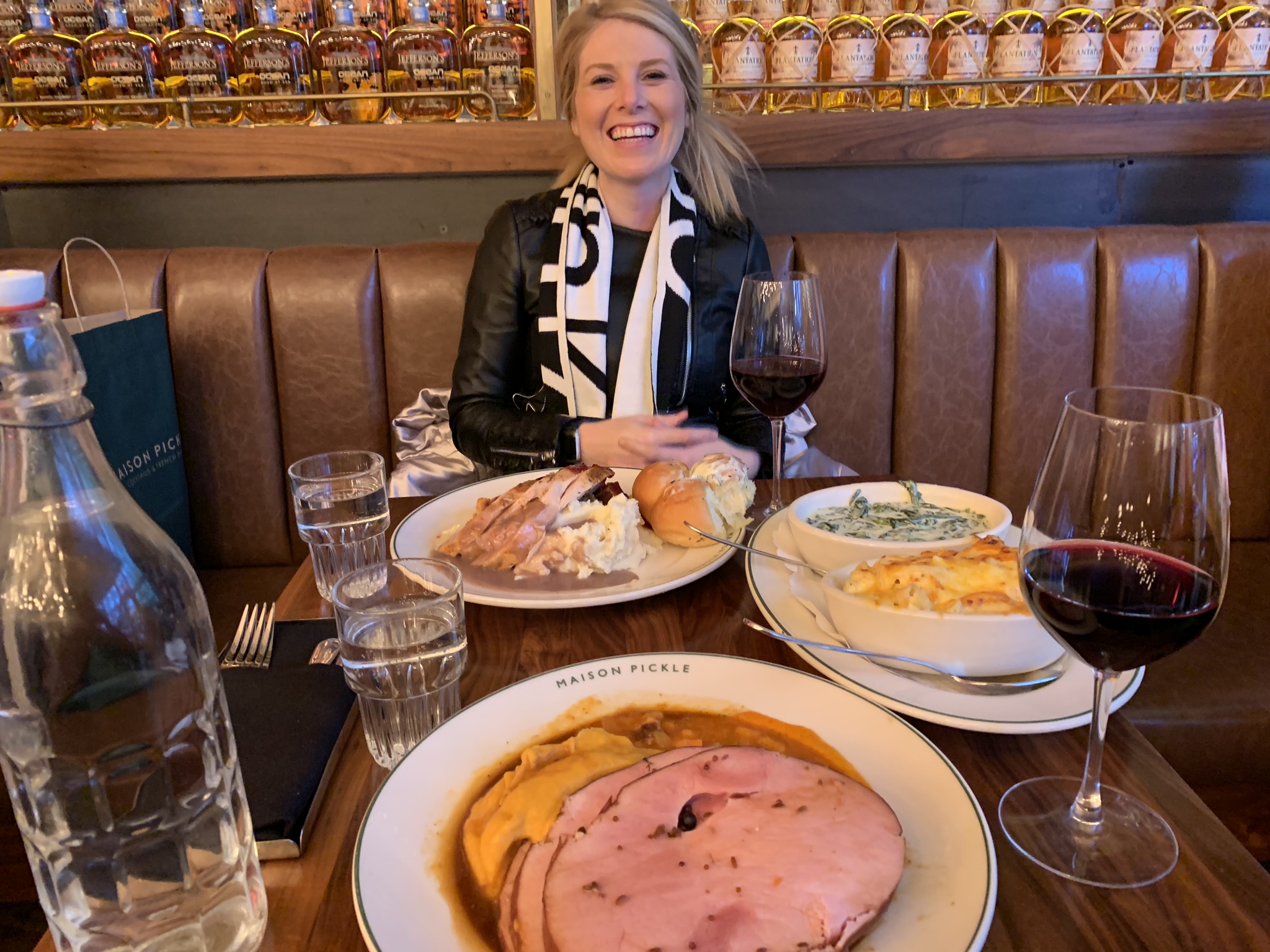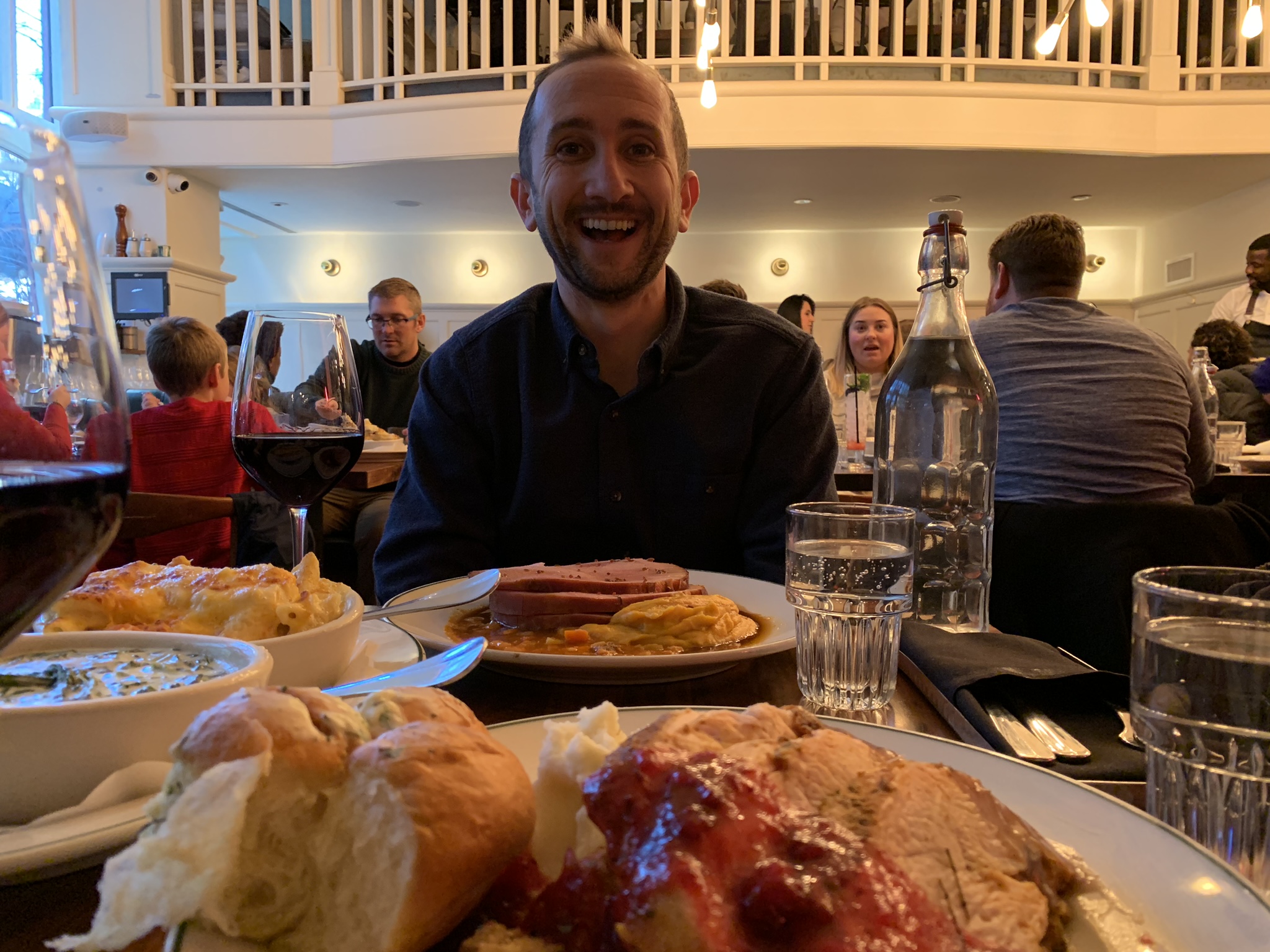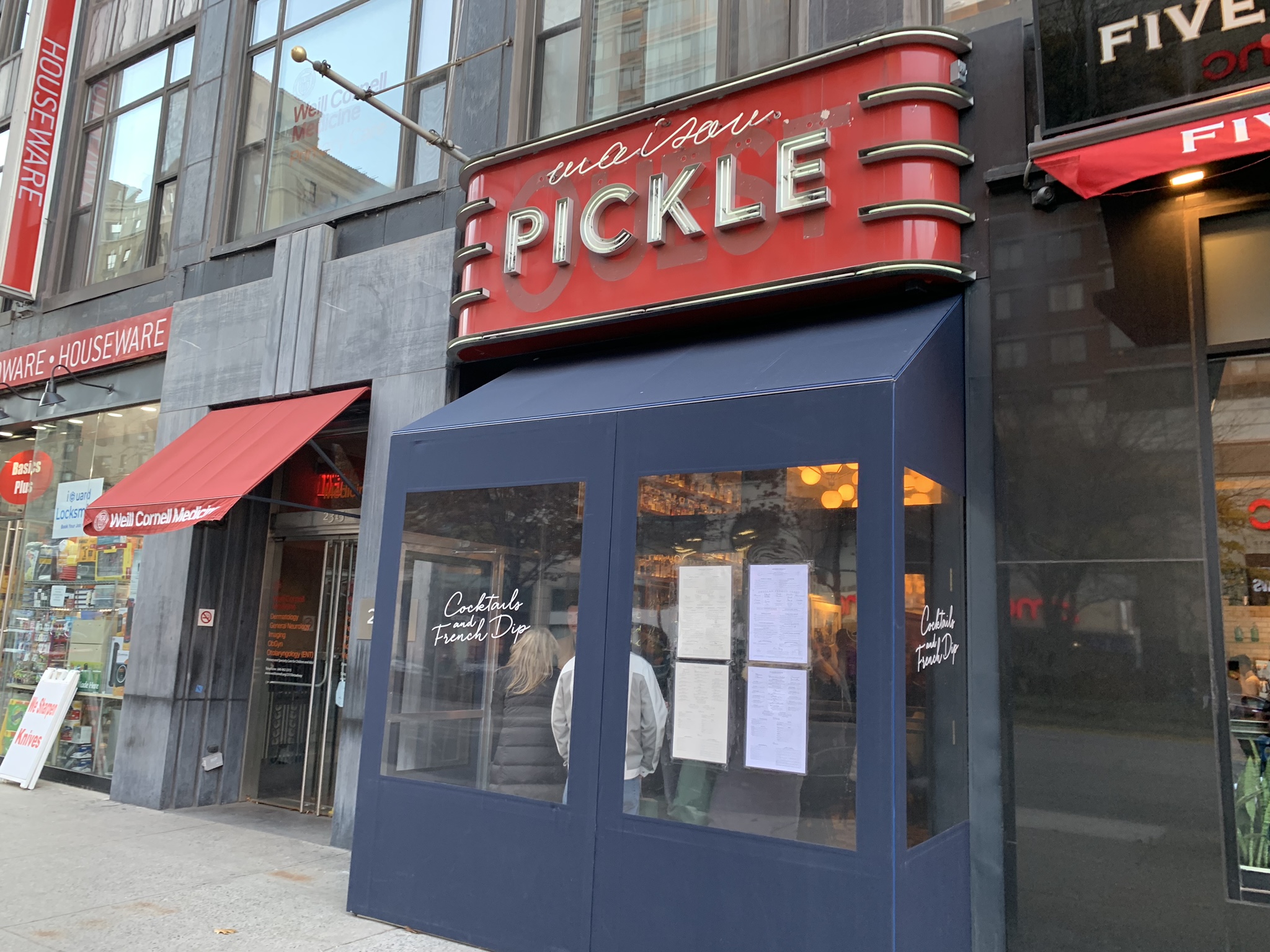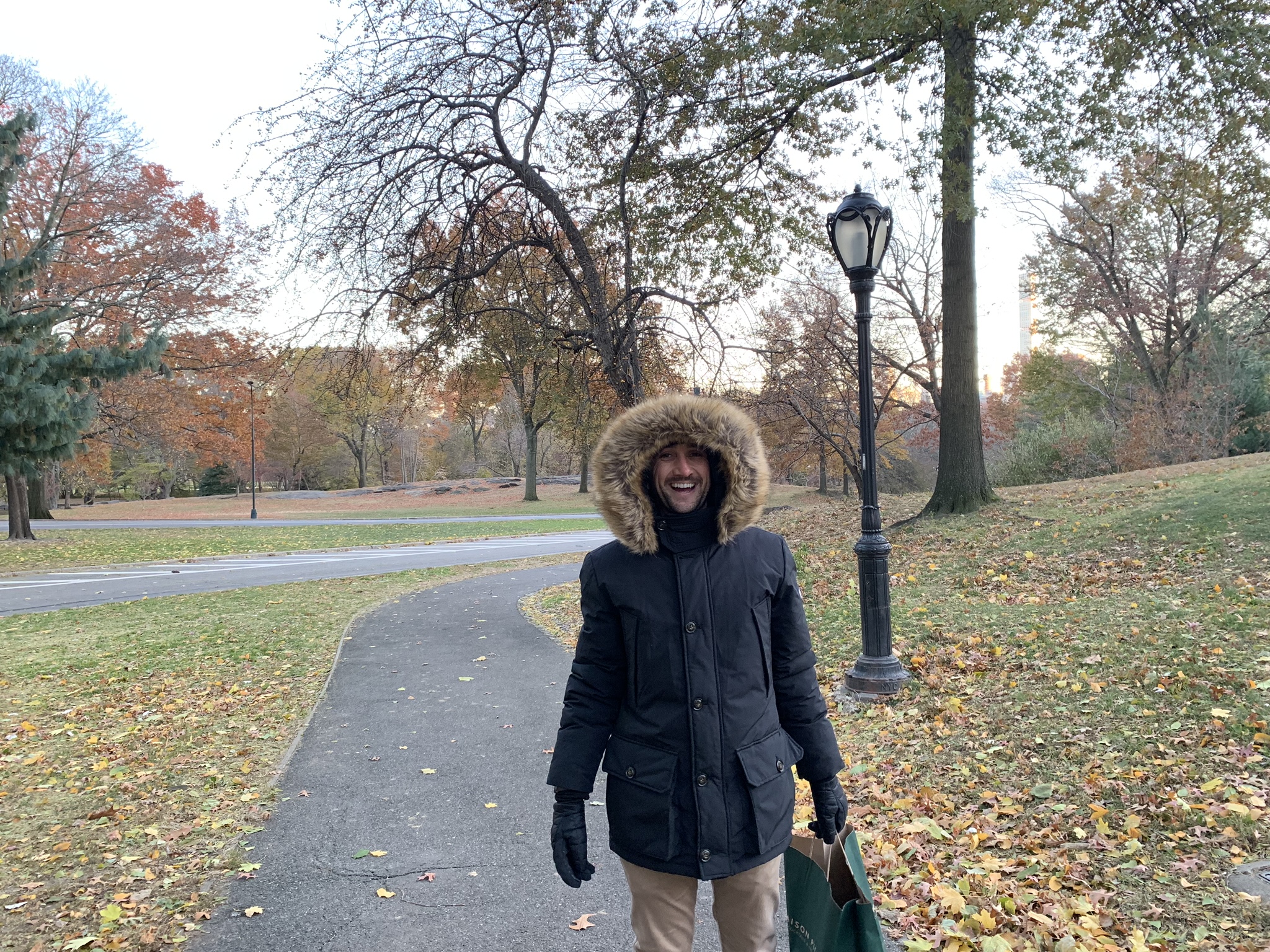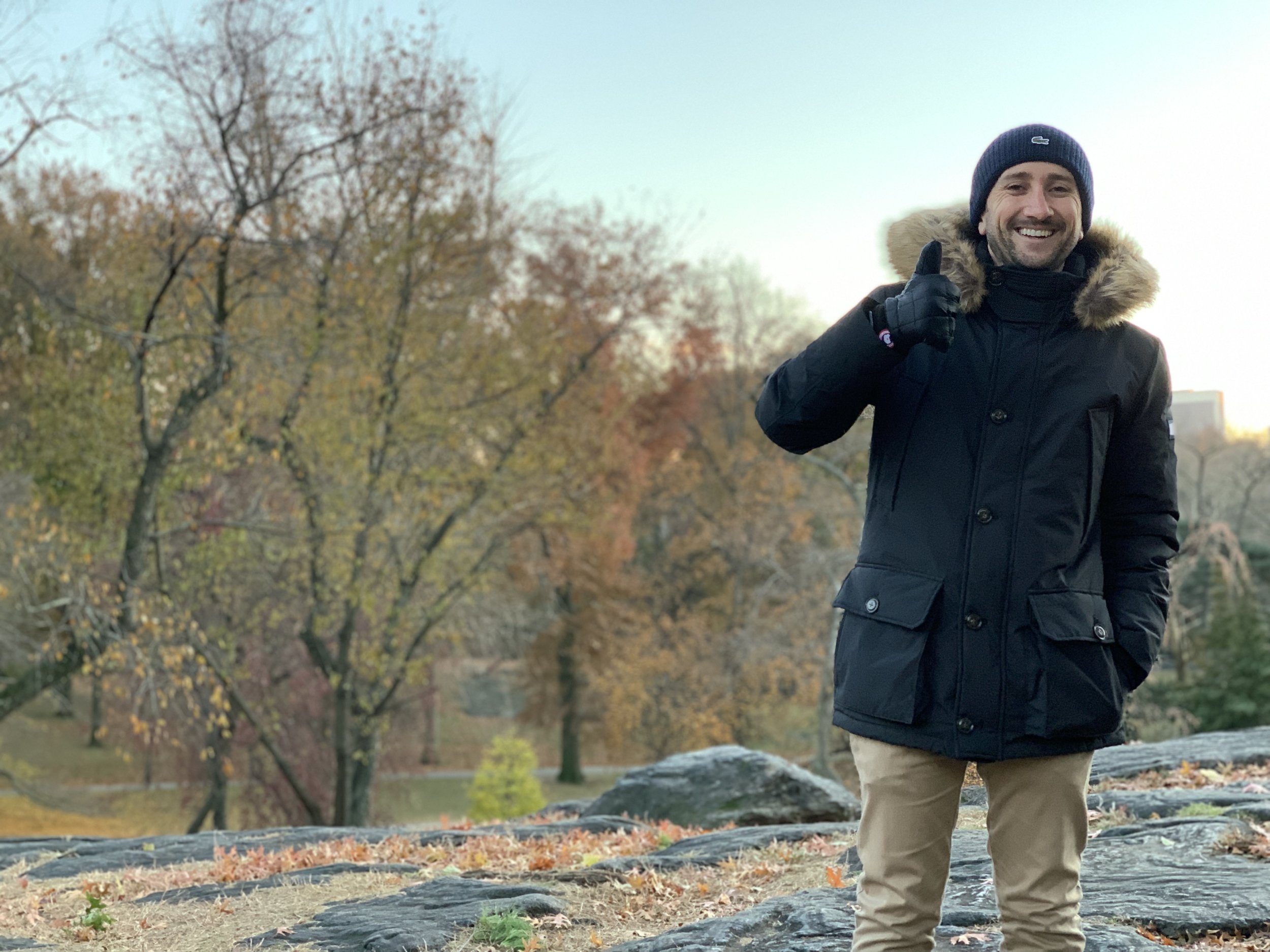 When we arrived the place was packed but we were seated right away and had an outstanding meal. We started with their pull apart bread and deviled eggs. Our next course was a sweet potato soup with a nice hot cream on top that was phenomenal. Jenn went with the turkey for her main course which came with mashed potatoes and I had the ham which came with sweet potatoes. For sides we had both their amazing mac and cheese and creamed spinach. Dessert was a pumpkin cheesecake but by the time we got there we were ready to pack up and head out we were so full. It was a great meal and we ended the night by walking through Central Park, video calling my family and going home to watch Crazy Rich Asians.
Over the Thanksgiving weekend we rented a car and picked up our Christmas stuff from storage and Jenn once again did a beautiful job bringing the festivities to our home. I say this every year but the amount of love she puts into making our home festive for the holidays warms my heart and makes me so happy. Even on days where I'm having a tough time at work, or am stressed, coming home to her beautiful decorations is something that always flips it around.
We ended the month welcoming Jenn's Dad and Joan to New York. They stayed in a hotel a few blocks away and we spent a weekend with them walking the streets of New York, doing a little sight seeing and a whole lot of eating. I think we ended up going to at least a half dozen restaurants while they were here, one of which Meme, is one that Jenn and I can't wait to go back too. We had a really nice time showing them around the city we both love, and catching up for lost time.
TV WE WATCHED
With the weather turning colder we watched a lot more television in November than we have for most of the year. We watched all of Jack Ryan which was fun, albeit a little over the top. One of our favorite shows of the past five years has been House of Cards which ended with a very disappointing final season.
BOOKS I READ (OR LISTENED TO)
Two of the three books I read in November were phenomenal. Both Heads You Win and Becoming were two of my favorite books I've read all year. I just had so much fun reading both of them. Archer is what I consider my "comfort food" and Michelle Obama's book, Becoming was one of the most fascinating books I've read all year. November was a great month for books!
MOVIES WE WATCHED
Jenn and I continue to do our 100 Classic Movie list with Young Frankenstein, The Usual Suspects, Dr. Strangelove and Creed. We currently have 93 movies left on the list.
We also watched some new movies like Creed 2 (on Thanksgiving) and Crazy Rich Asians (also on Thanksgiving).
GAMES I'VE BEEN PLAYING
It's the holiday season which means it's an amazing time to play video games. I got my first ever Platinum trophy this month which means I 100% completed Spider-Man on PS4 which was a big achievement for me. I also played a lot of Madden, NBA and Red Dead Redemption 2.
2018 GOAL TRACKING
I'm modifying this section. Instead of talking about the various stats I'm collecting I thought it would be more useful for me to track how I'm doing to the goals I set out for the year. So here we go:
Goal #1: Read 32 Books: I've read 29 books and am currently on track to hit my goal.
Goal #2: 250 Days of Perfect Performance on Habitify: 121 days of perfect performance. Not going to hit this goal.
Goal #3: Run 300 Times: I've run 280 days so far in 2018. Looking very likley that I'll hit this goal.
Goal #4: Keep Weight Under 140: I've yet to go over 140lbs which is looking good!
Goal #5: Write 12 Chef Joel & Jenn: I've written 2 so far. Not going to hit this goal.
Goal #6: Complete Travel Photo Books: Completely bungled this one, didn't make a single book in 2018.