A Look Back - March 2019
We did it! We made it through our first New York winter. I spent so much time mentally preparing myself for the frigid winter that when it came it was not actually all that bad. Of course there were a few days where the temperatures were so brutally cold that all I wanted to do was run home, get under a blanket and have a cup of hot coffee. But most days we bundled up and went about our day. And so as March has rolled to a close we've closed the chapter on our first winter and welcome spring with arms wide open.
RECAP OF THE MONTH
Writing this a few days into April its sort of hard to imagine as we put our winter jackets away in storage that the month of March actually started with our biggest snow storm of the season. With about a foot of snow we made our way on Saturday the 2nd of March to Central Park first thing in the morning after getting pummeled with snow all night. Central Park was abuzz with activity, people were making snowmen, riding on sleds, and enjoying the beautiful white powder. I think we spent a couple of hours throwing snowballs, poorly attempting to make a snowman, making snow angels and walking through the beautiful park.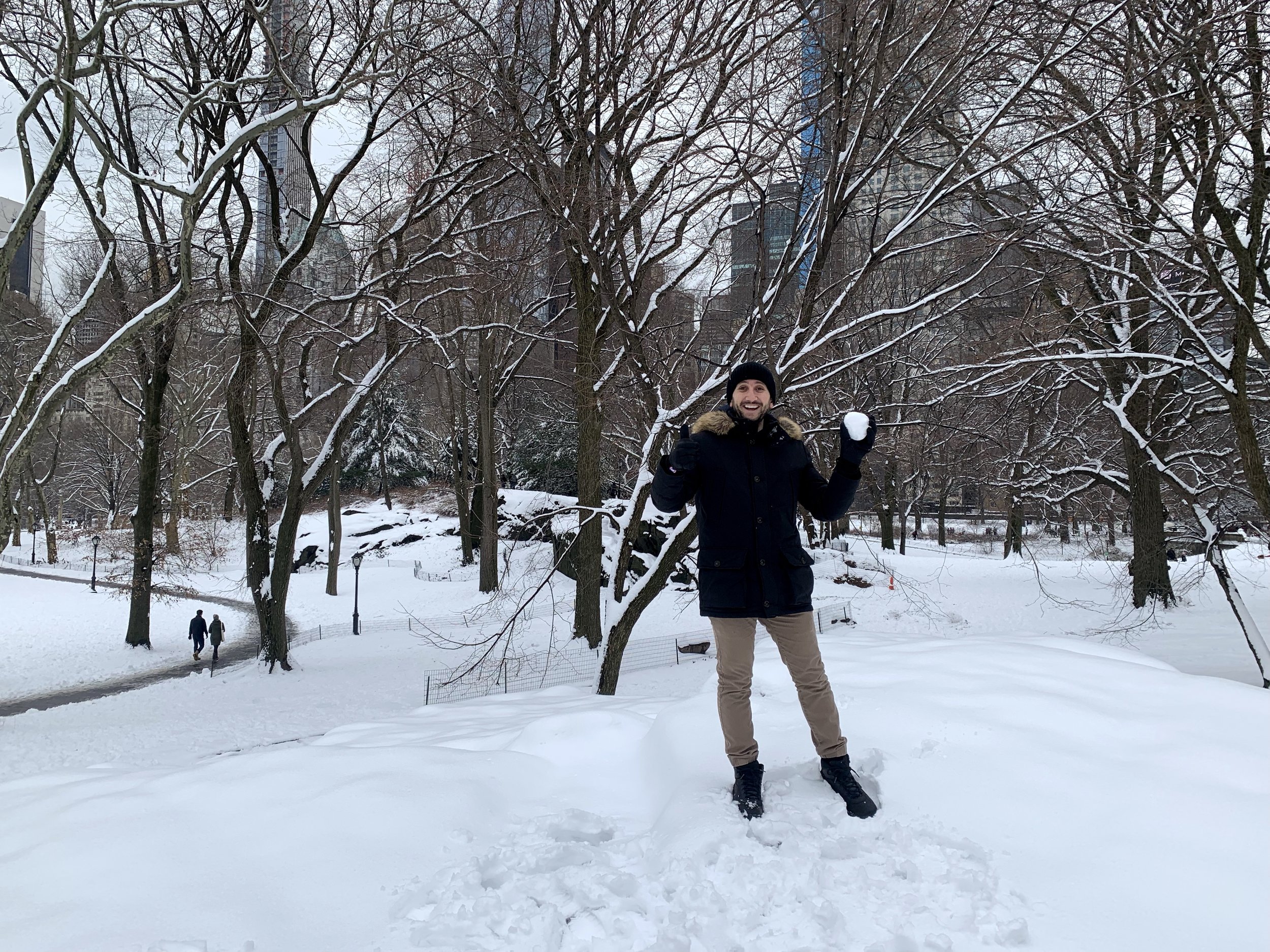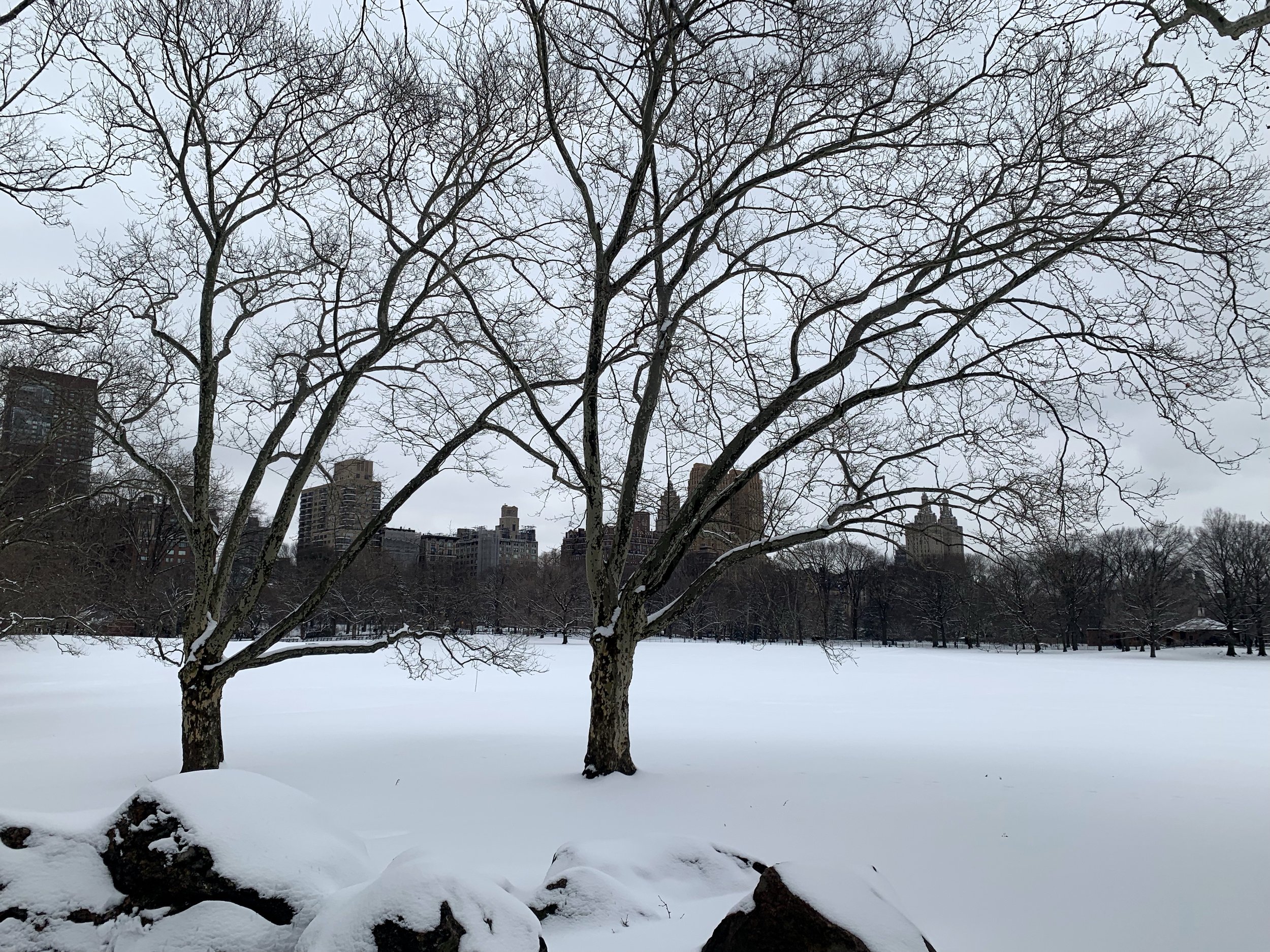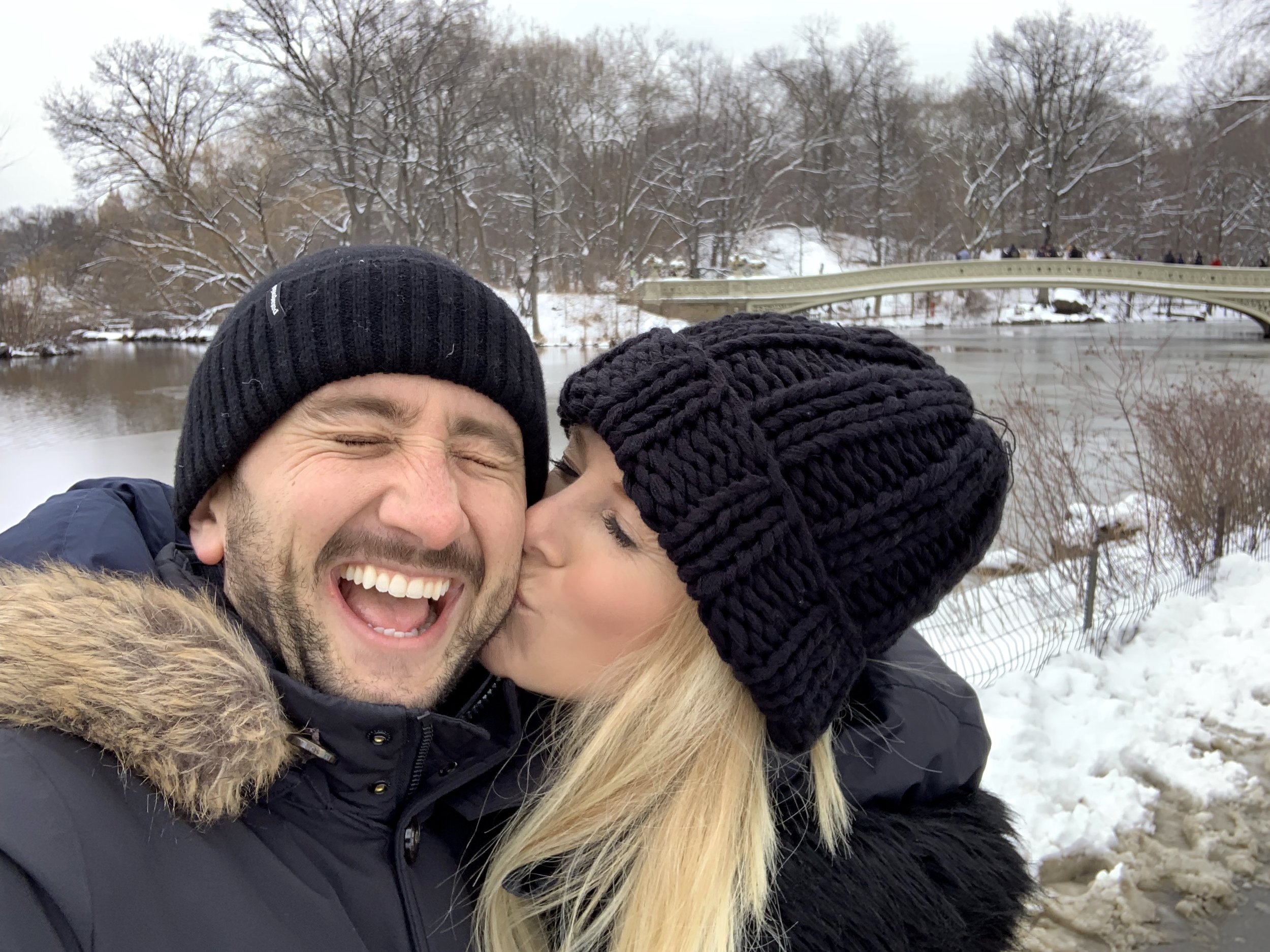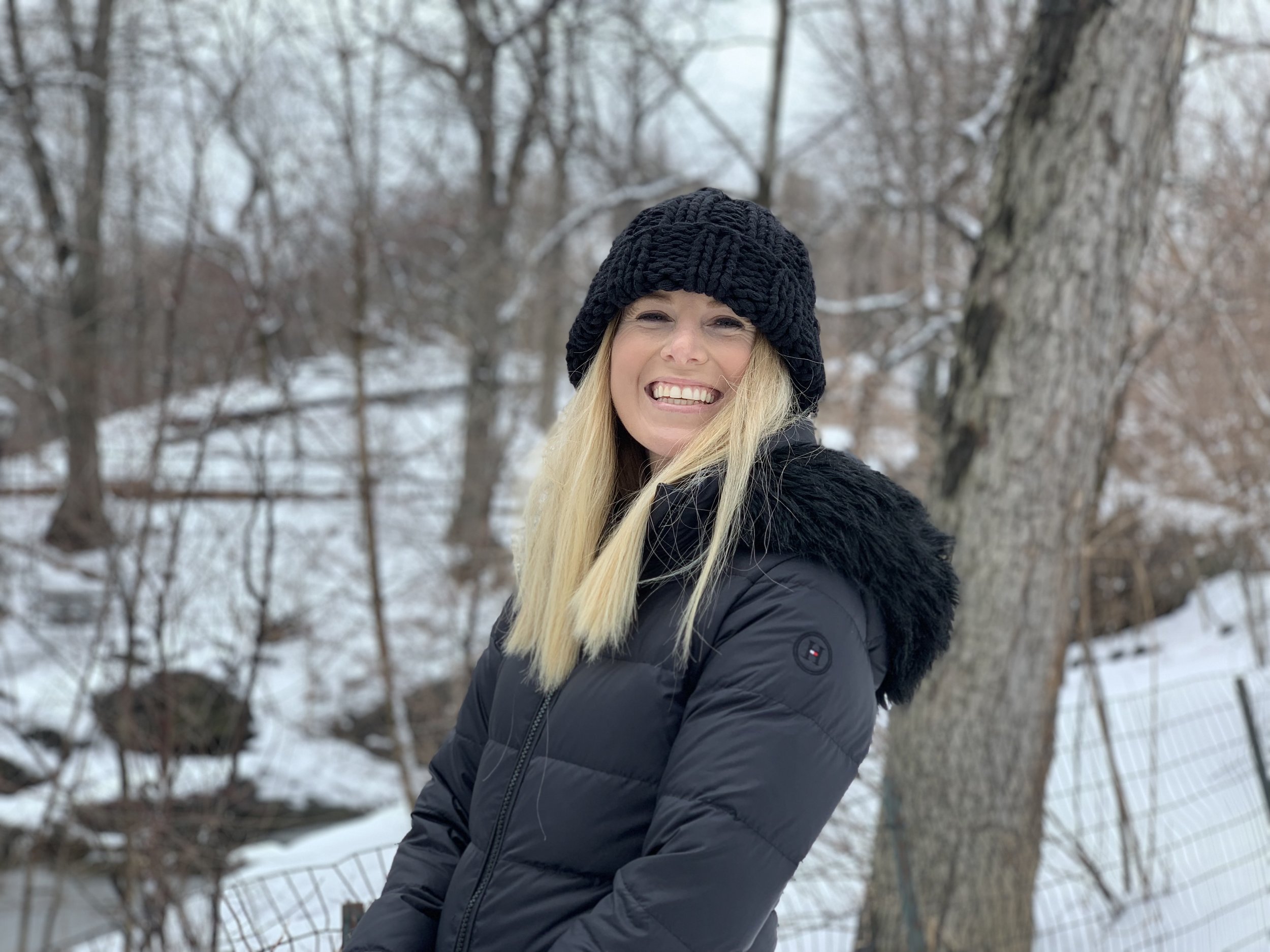 That evening we went back to Momofuku in Columbus Circle before going to Lincoln Center to go see one of the best performances we've seen this year My Fair Lady. We were two rows from the stage and I don't think I've seen either of us more captivated before. I was literally giddy when we left with how much I loved it. It's one of the few performances that I've strongly considered getting tickets to see again.
The following weekend we hit our first of two Michelin star restaurants. A little backstory, at the end of last year we began watching Chef's Table on Netflix and I fell in love with the artistry and performance of great restaurants. There are several rating boards that give out awards for food but one that I'm at least somewhat familiar with is Michelin, and so my goal is to hit twelve in 2019. Cote in the Flatiron District is an upscale Korean Barbecue restaurant. We both started with a glass of red wine and began our meal with their Korean Bacon and a Tuna Tartare. For our main entree we had the butcher's feast which gave us four different cuts of beautiful steak along with a ton of sides. The meal was a marathon of food but the expertly crafted sauces and the beautiful cuts of meat made for an incredibly memorable meal.
The theme of this month should probably be food because the following weekend we went to Ippudo a ramen stop that we've tried to go to three times but haven't been able to get in with waits well over an hour. After thirty minutes of waiting a little bit before 5 PM we finally got in and had some amazing Ramen and Steamed Pork Buns that were out of this world. As if we didn't eat enough at Ippudo we took the subway further up the Upper West Side to Milk Bar (another Chef's Table find) where we tried their crack pie for the first time. That Sunday after church we went to Brooklyn to our first ever experience at the Alamo Draft House which was phenomenal. Although I do wish their seats were recliners.
The following weekend we were back out to Brooklyn. Before going to our second Michelin Star dinner we went to the Brooklyn Museum. Jenn had been there for a work event, but I had never been. Although its a bit of a mish mash of a museum the structure itself is stunning and they had some great exhibits. I in particular loved the Egyptian room which had beautifully preserved mummy's and tombs.
We spent almost two hours walking through the museum before leaving and going to dinner at Claro also in Brooklyn. It's a small, intimate restaurant that sits maybe thirty people and has some of the best Mexican food we've ever had. We started off with two cocktails and then dived into the food. We ordered three dishes in total starting with the Chorizo Memela which was some of the best chorizo I've had on top of a crispy tortilla and topped with cheese and guacamole. Our second dish was the Camarones Tacos (shrimp) which were out of this world. And we finished up the dinner with the Mole Rojo which was some of the most tender and flavorful pork I've ever had. We finished up the meal with their Warm Chocolate Mole Cake which was unfortunately the only dish that wasn't an easy ten out of ten.
Although probably not the most exciting thing we did in March, I did make for the first time ever a pork schnitzel. I don't write up my Chef Joel & Jenn recipes anymore (maybe I should) but this is one dish that I nailed perfectly. I loved it (as I do most schnitzels) and hope to make it many many more times.
One of the nice things of living in New York is that no one minds visiting. There seems to be a universal love for the city from our friends and family. Over the last week of March and into the first few days of April, Jenn's cousin Holly and her boyfriend Max stayed at our apartment while they toured the city. We had a great time with them eating some great food, drinking a lot, and even got to take them to one of our favorite places in the city, The Met. The week went by like a blur but it was so nice to have them over and to enjoy the city with them while they were on their spring break.
And like that the month of March came to a close. As I put the finishing touches on this months post I'm also washing our Spring and Summer clothes that have been hiding in storage and under our bed. It's exciting that we've made it through what wasn't all that much to begin with. We've got an exciting month ahead, but it's been great to look back on what was an incredible March.
TV WE WATCHED
We had quite the TV month in March. We finished the final season of one of our favorite shows in the last five years Catastrophe. For me personally I will truly miss the witty banter and their ability to cut through normal Hollywood relationships into something that felt authentic. The other show we loved in March was Ricky Gervais's After Life, a show that had both of us emotionally spent after each episode.
BOOKS I READ (OR LISTENED TO)
I adored Bad Blood by John Carreyrou the Washington Post reporter. I had heard rumblings about Theranos and their blood technology but my interest very rarely spent time in the consumer health / technology sphere. But when I finally got around to reading Bad Blood I was captivated, I never wanted to put it down. I cannot wait to watch the HBO documentary as well. The other book that I really enjoyed was The Shadow of the Wind a book about the love of reading, and a book that I continue to think about long after I finished it.
MOVIES WE WATCHED
Jenn and I continued to watch our list of the 50 best movies of all time. We saw Selma, Die Hard, and Manhattan for the first time and Jenn watched Saving Private Ryan for the first time as well. Although my favorite movies of the month were Captain Marvel and Spider-Man Into the Spiderverse.
GAMES I'VE BEEN PLAYING
This time next month I hope to say that I finally finished Assassin's Creed Odyssey but I have a feeling I said that last month. Otherwise when I have fifteen to twenty minutes I've bounced around different sports games.
2019 GOAL TRACKING
Goal #1: Read 33 Books: I've read 12 books and am currently ahead of schedule to hit my goal.
Goal #2: Run 300 Times: I've run 82 times so far in 2019. On track to hit the goal.
Goal #3: Keep Weight Under 140: I've yet to go over 140lbs
Goal #4: Eat at 12 Michelin Star Restaurants: Two so far, currently one behind plan.
Goal #5: 12 Monthly Recaps: 3 for 3.