A Look Back - January 2019
And just like that we're already through the first month of 2019. After spending almost the entire month of January putting together my 2018 year-in-review, it's nice to be back to my monthly posts. And yet I'm a little daunted by the task at hand. January was a huge month with a lot of adventures, so let's jump in and go through what's going to be a tough month to top for the rest of 2019.
RECAP OF THE MONTH
The year started off pretty quickly. After a nice extended weekend with the start of the new year, we're back in the swing of things. The first weekend of the year we went to Brooklyn to try a new brunch spot called French Louie. By far the highlight of the meal was the chicken cordon bleu. Jenn got some crepes and we split the duck potatoes and cookies and it turned out to be quite the brunch.
On Sunday of that weekend we went back to Broadway to go see one of our most anticipated plays of the year, To Kill a Mockingbird starring Jeff Daniels. I'll never forget waiting to get in (we already had our tickets) line to get into the theater and the wind hitting our faces like ice. Getting to our seats was such a nice respite. And three hours later we felt like we had just witnessed something truly remarkable. A beautifully written, insanely well acted, incredibly relevant story today. It was worth the hype and the wait.
Only a couple of days later we left the cold of New York City to the cold of Amsterdam. Jenn had work to do in Amsterdam so we left beforehand to spend a couple of days together in the beautiful city of Amsterdam. We sadly couldn't fly together but we were both able to fly business class which for nearly the entire flight I had to pinch myself that this was real life. I cannot believe how fortunate we both are to be able to fly in such comfort and as many times as we already have. Jenn had a direct flight that left later than mine. I flew to Dublin and then onto Amsterdam and met Jenn at her gate an hour or so later. From there we grabbed a Tesla and drove off to our hotel.
Meeting Jenn in Amsterdam was surreal. We've met places before for work events but never internationally so this was quite the trip. It had also been almost four years since we had been to Amsterdam, but once we were back it was like we had never left. We dropped off our bags and went in search of food. We stopped at a small cafe where I got the egg breakfast and Jenn had pancakes. It was exactly what the doctor ordered and gave us the energy to keep on pushing while we waited for our room to be made up.
There are two things I love about Amsterdam. One is how fun it is to walk around and the second is the architecture of both the buildings and the canals. For the three days I was in Amsterdam I think we must have walked thirty miles and never once did we feel tired or wanting to stop. Having already been in Amsterdam it made walking around the city even more enjoyable. From breakfast we stopped at stores that caught our eye (including Calvin Klein of course) and just got lost in the rain. We walked for over four hours before going back to the hotel.
When we got back our room was just about ready so we checked in and dropped off our stuff. We then came to the inevitable fork in the road. Do we sleep or do we try and stay awake. We tried to stay awake and luckily did. We watched the news (bad idea), unpacked, and got ready for dinner. Originally we had planned to go to a fancy meal but given how tired we were we decided to do something more casual. We landed on Cafe Bern about a twenty minute walk from our hotel to have a nice casual fondue. When we called for reservations we were told they were booked but we could sit at the bar. We go the last two seats at the bar. Jenn had a glass of red wine and I have a local beer. We then got cheese fondue (which was out of this world) and a sizzling steak that you cooked in its sauce. We were a little cramped but that didn't stop us from practically licking both the fondue bowl and steak plate before they took it away from us.
When the evening came to an end we walked around Amsterdam, made our way through the red light district and back to our hotel. The following morning after a jet lag filled evening we made our way back out to a wet Amsterdam. I've found that with each trip I become more and more obsessed with finding great eateries. One of the most popular breakfast spots in Amsterdam was a small cafe called Bakers & Roasters. When we arrived after the breakfast crowd at noon there was still an hour wait. We had no plans, nothing to do, so we said sure, and walked around and stumbled upon a small little coffee shop, Cafe Blond. I had a large cappuccino to try and kickstart my day and we sat at a window table people watching while taking in hundreds of plates on the wall with witty sayings. Thirty minutes or so later (or half way through my coffee) we got a text that our table was ready. So I shotgunned my coffee and we were off.
We got a seat in the middle of the restaurant on a high top and immediately dived in. I had their Bloody Mary and Jenn had a mimosa. For our brunch Jenn ended up getting the pancakes with eggs and I had their house specialty the eggs benedict. Everything was exactly as advertised; superb. The highlight (outside of the great drinks) was the fresh bread that accompanies perfectly cooked eggs. Even after a pretty substantial meal the prior night, we were ravenous. We left Bakers & Roasters full and happy.
Our next stop after our late breakfast/lunch was to the Ruks Museum, something we missed on our first trip out, and now having gone, that was a big miss. The Ruks Museum is stunning, both inside and out. With the rain starting to come down it was a perfect opportunity to take in some culture, and for the next two hours that's exactly what we did. There were a bunch of highlights, but the Van Gogh's self-portrait was up there, along with a beautiful recreation of a dutch boat from the 1500's (which reminded me of my Grandpa's replicas he built) and an indescribable library that reminded me of heaven.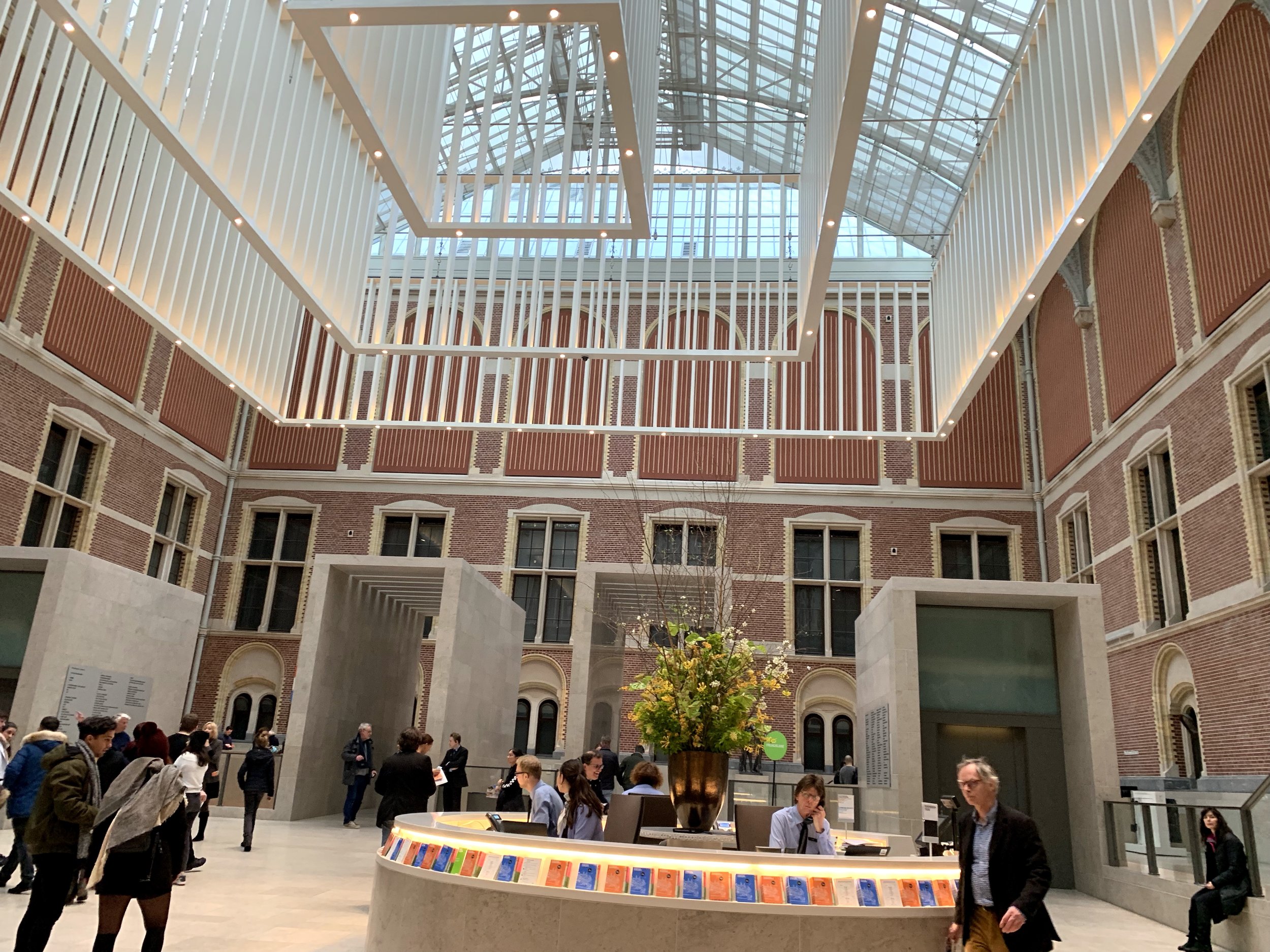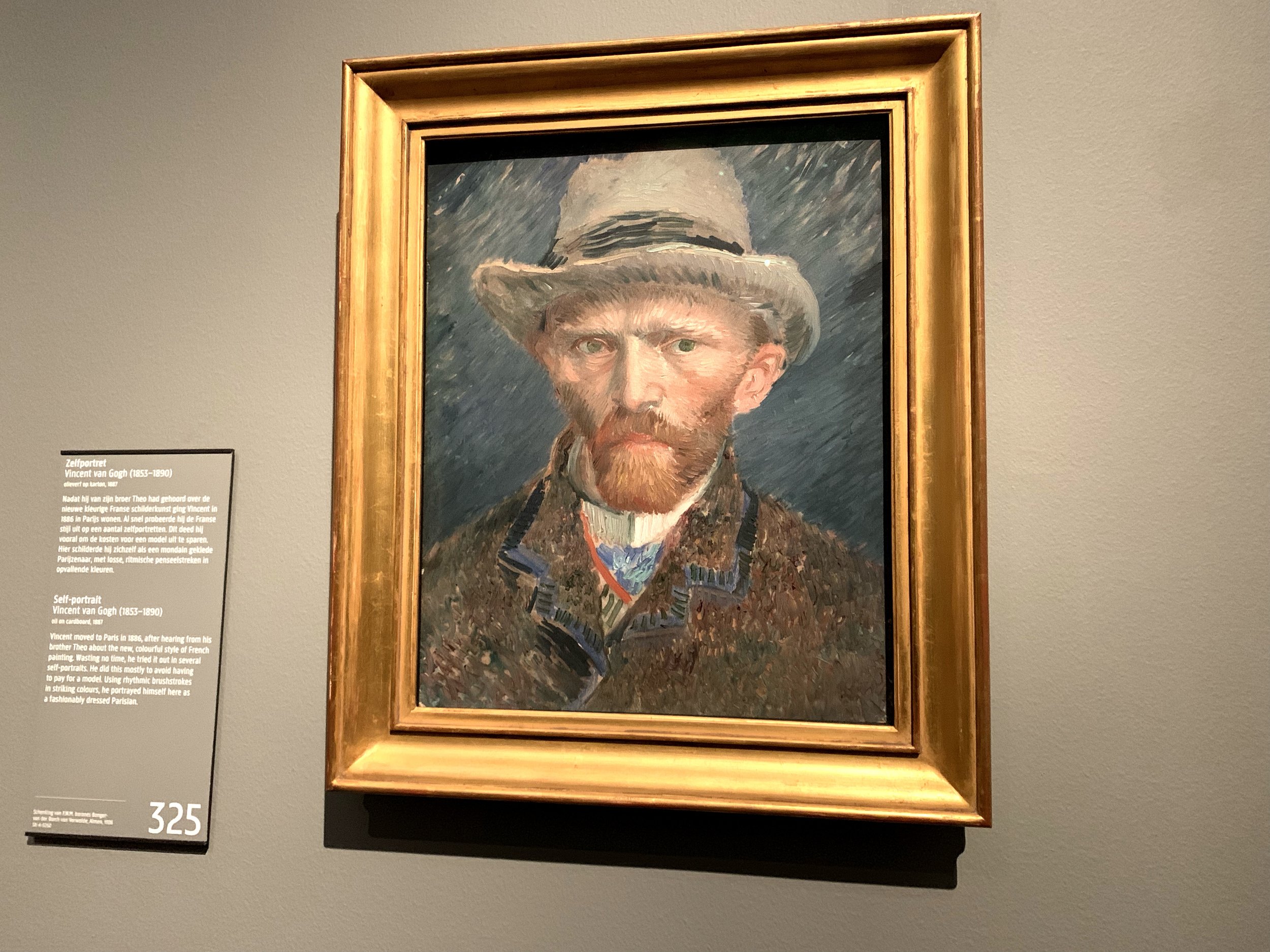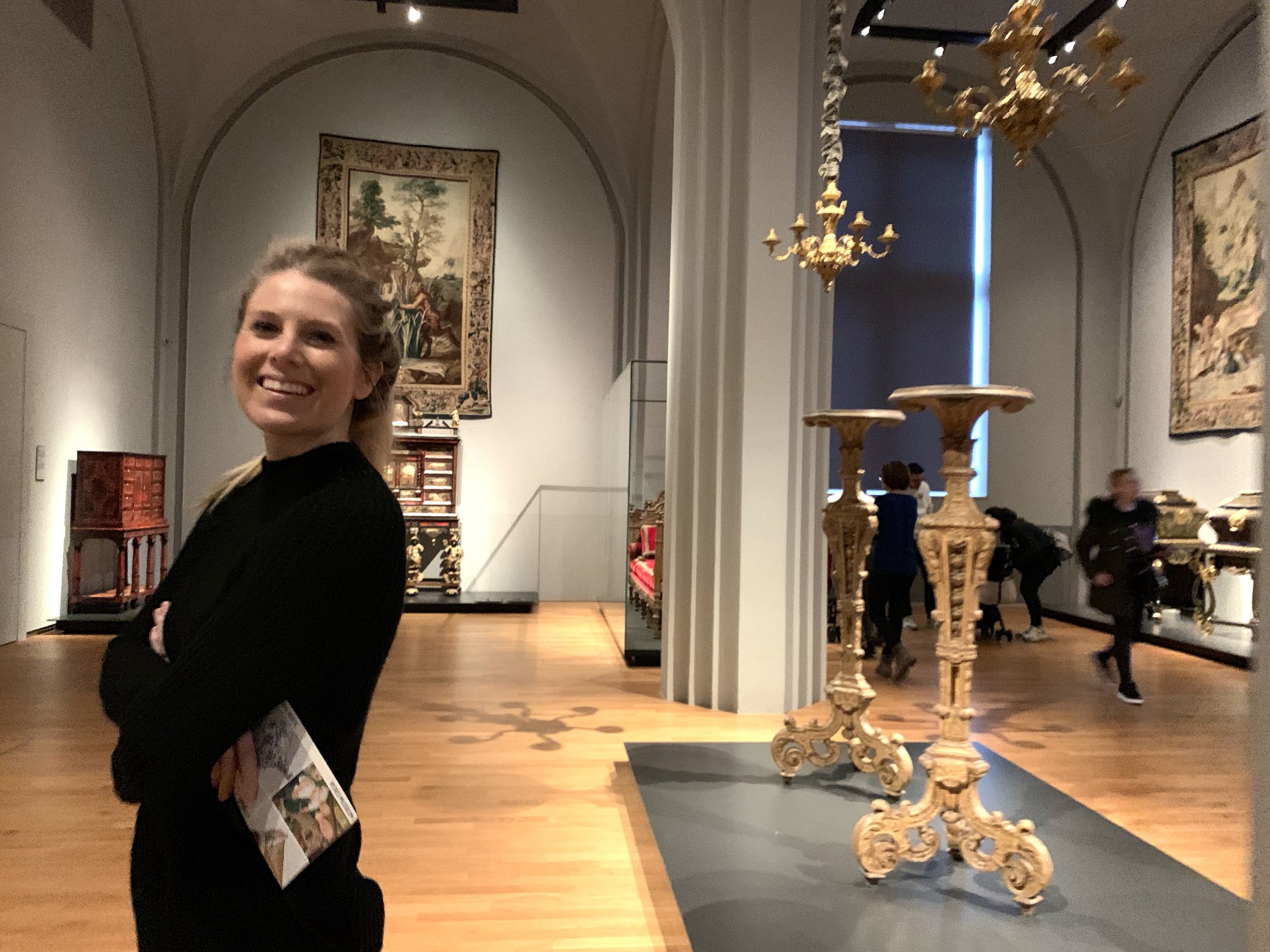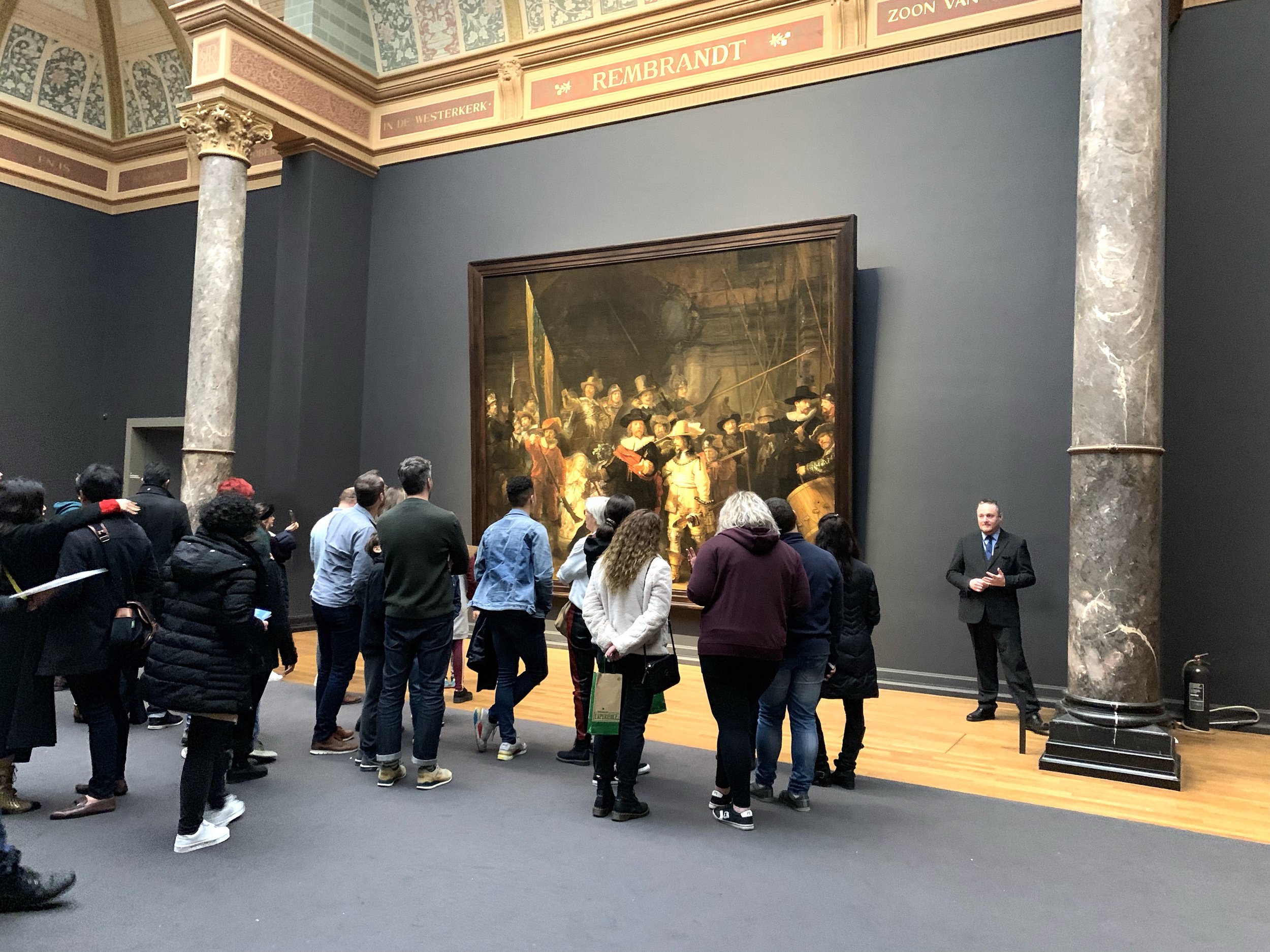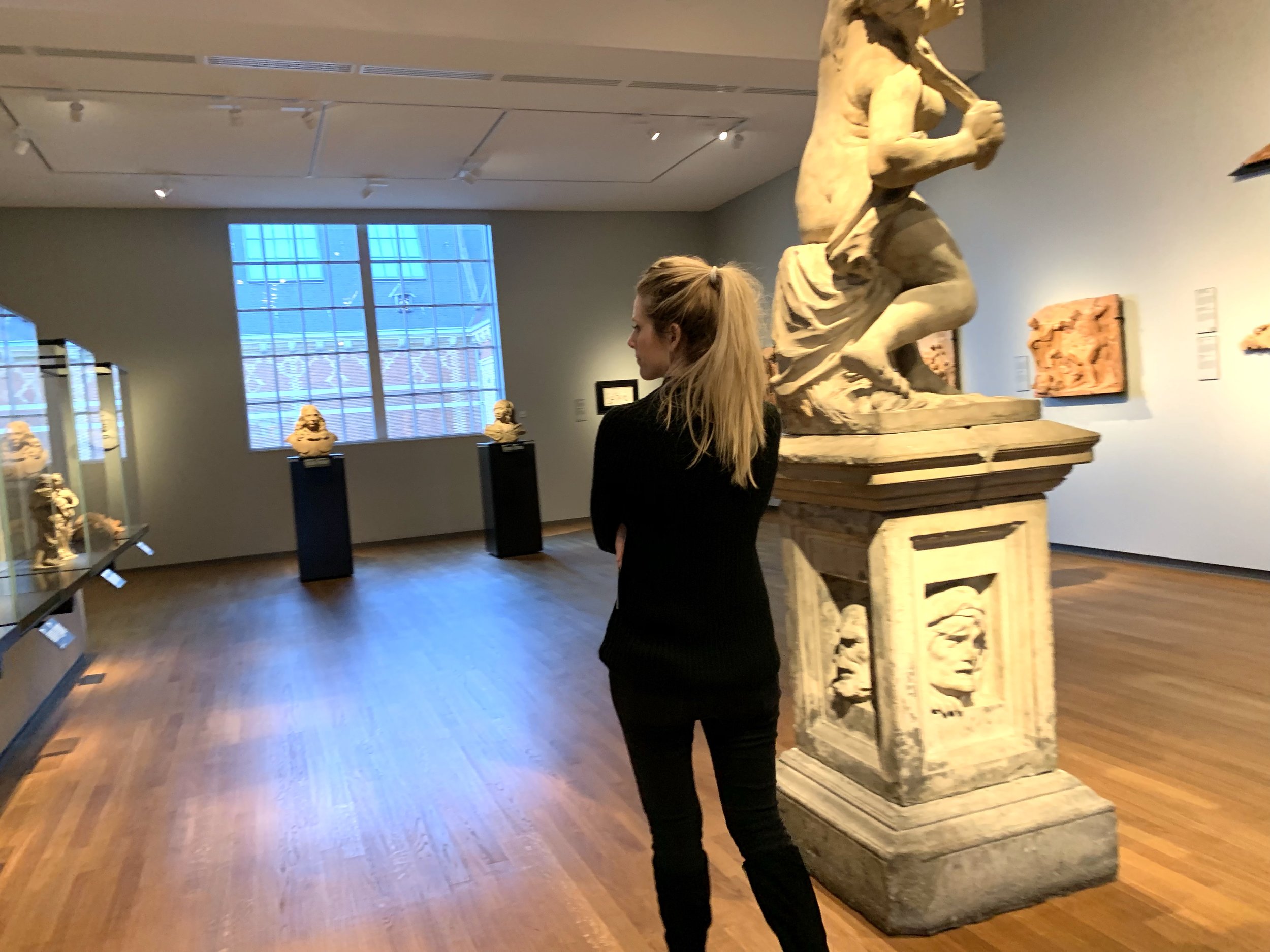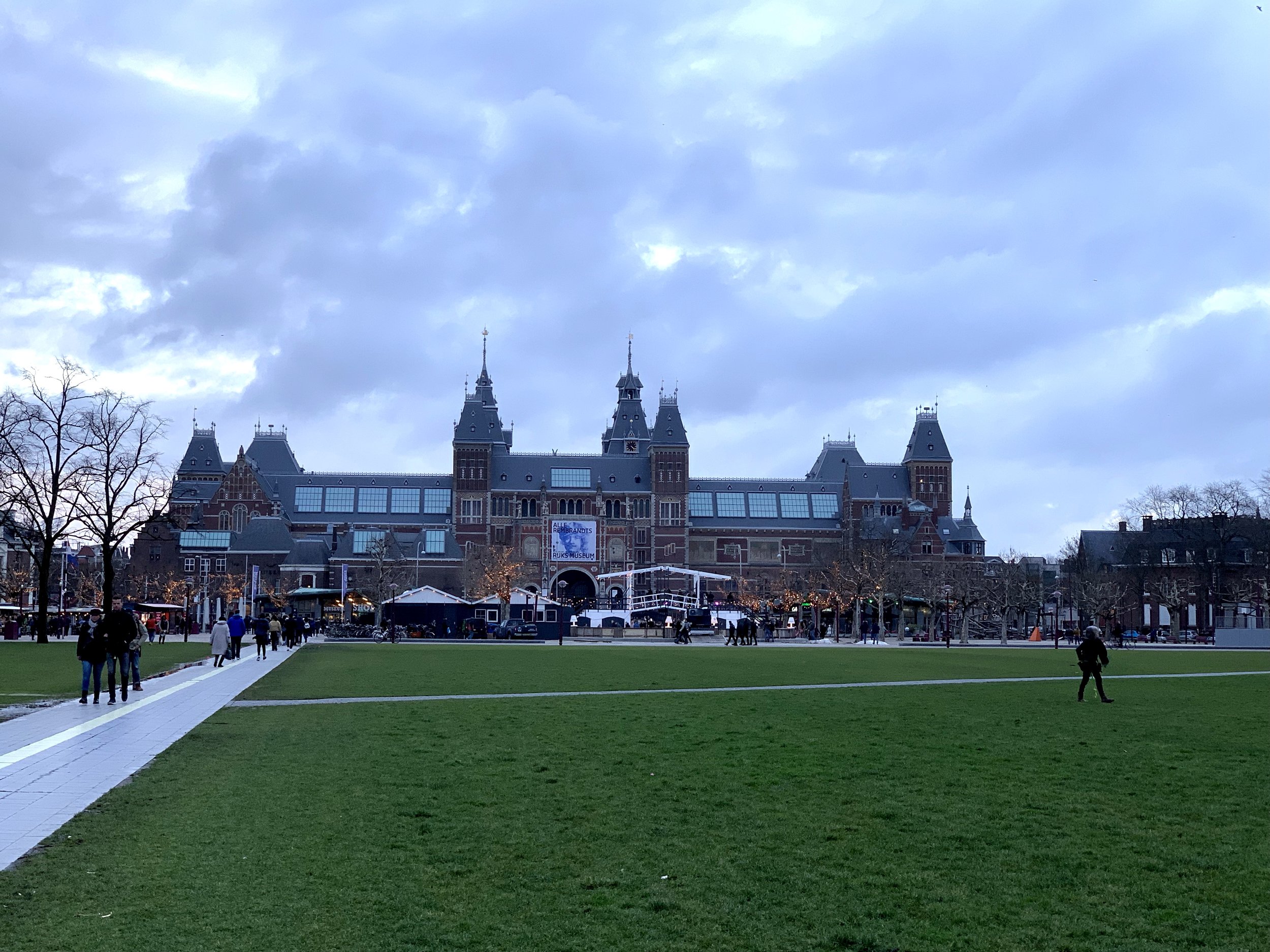 We left the Ruks Museum to a much more overcast evening. We walked through the canals for another hour before going back to our hotel room, resting, and getting ready for a late dinner. After some back and forth we landed on Arles a small french restaurant with a set menu for dinner. We started the meal with two glasses of red wine and two oysters each. Jenn had the the mackerel as her starter and I had a small egg and radicchio salad. For our entree Jenn went with the highlight of the evening the pork belly with cockles, cabbage and samphire. I had the steak with carrot, turnip and consumme. For dessert I went with the chocolate, orange and pine needle. While Jenn went with the Riz au lait, caramel, vanilla and nuts. Both desserts were superb, ending a beautiful dinner in what turned out to be a fantastic French dining experience.
The following day (my last in Amsterdam) I was fortunate enough to get a beautiful send off with a gorgeous day. We didn't make it out of the hotel until close to noon and stopped at a near by burger restaurant, Ellis Gourmet. The place was empty, so we quickly got our burgers and fries and had a perfectly filling meal before we were back out on the road. We didn't get far before stopping again, this time for coffee at Kessens. We really lucked out with this find. I had a cappuccino and the surprise of the trip was Jenn getting a hot chocolate. Jenn loves hot chocolate but she' usually refuses to get it anywhere but Starbucks. Luckily Kessens came through and we both warmed up before heading back out.
For the rest of our day we just walked all over Amsterdam. We didn't have any plans or places to go. We got a quick dinner at a small Indian restaurant called Sherpa Restaurant. We got their butter chicken, lamb curry, rice and naan and it was out of this world. Jenn had a work call at 8 PM Amsterdam time so we wrapped up dinner quickly before going back to the hotel to let Jenn go to her meeting and me pack my bags. The next morning Jenn took an Uber to work and I took one to the airport. I boarded a flight around noon to Dublin and then two hours after that to New York. I was fortunate enough to fly home business class as well and it was just as fantastic of an experience. From the beautiful Dublin lounge to laying back, playing Mario Kart on my Switch, and watching the clouds go by, it was quite the experience.
Jenn came home on Thursday (two days after me) and it was only a day after that, that Amy, Jake, and Ryan came to stay in New York for the extended weekend. After they arrived we made a quick stop at our local diner (The Flame Diner) for some coffee and breakfast and then walked through Central Park and The Plaza Hotel before making our way back to our apartment. While Ryan/Amy got settled into their hotel room, Jake went straight for the gym while Jenn and I finished up work for the day.
Like any time with Jenn and I we had a bunch of great food options planned for the weekend. Our first stop was to Boqueria (this time in Flat Iron) the same place we went with Jake when he was out in August. It's a great tapas restaurant where we all picked an item or two for the table to share. From bacon wrapped dates to a giant plate of seafood paella it was quite the feast. We left dinner, walked around the Flat Iron district for a bit before jumping on the subway and going to Times Square. After taking a few shots we quickly left Times Square, grabbed a cookie at Smackary's and walked back to call it a night.
On Saturday we made our way first to downtown Manhattan to go to the World Trade Center and the memorial as well as the area in which I work, Soho. We grabbed some coffee, walked along the bridge, and grabbed an Uber to take us back to Brooklyn to go back to French Louie for brunch. I convinced almost everyone of the glorious chicken cordon bleu and we all shared in a great brunch. After taking the subway the wrong direction, we went back towards Manhattan and got off in Dumbo.
There are a ton of picturesque areas in New York, but one of our personal favorites is Dumbo. You get the bridges leading into Manhattan as well as great views of the World Trade Center and the Statue of Liberty. We were lucky and had nice weather so we walked around the beautiful streets taking great photos before then walking across the Brooklyn Bridge back into Manhattan. We jumped back on the subway and went back to our apartment to play the first of many rounds of Wits and Wagers (which Amy dominated).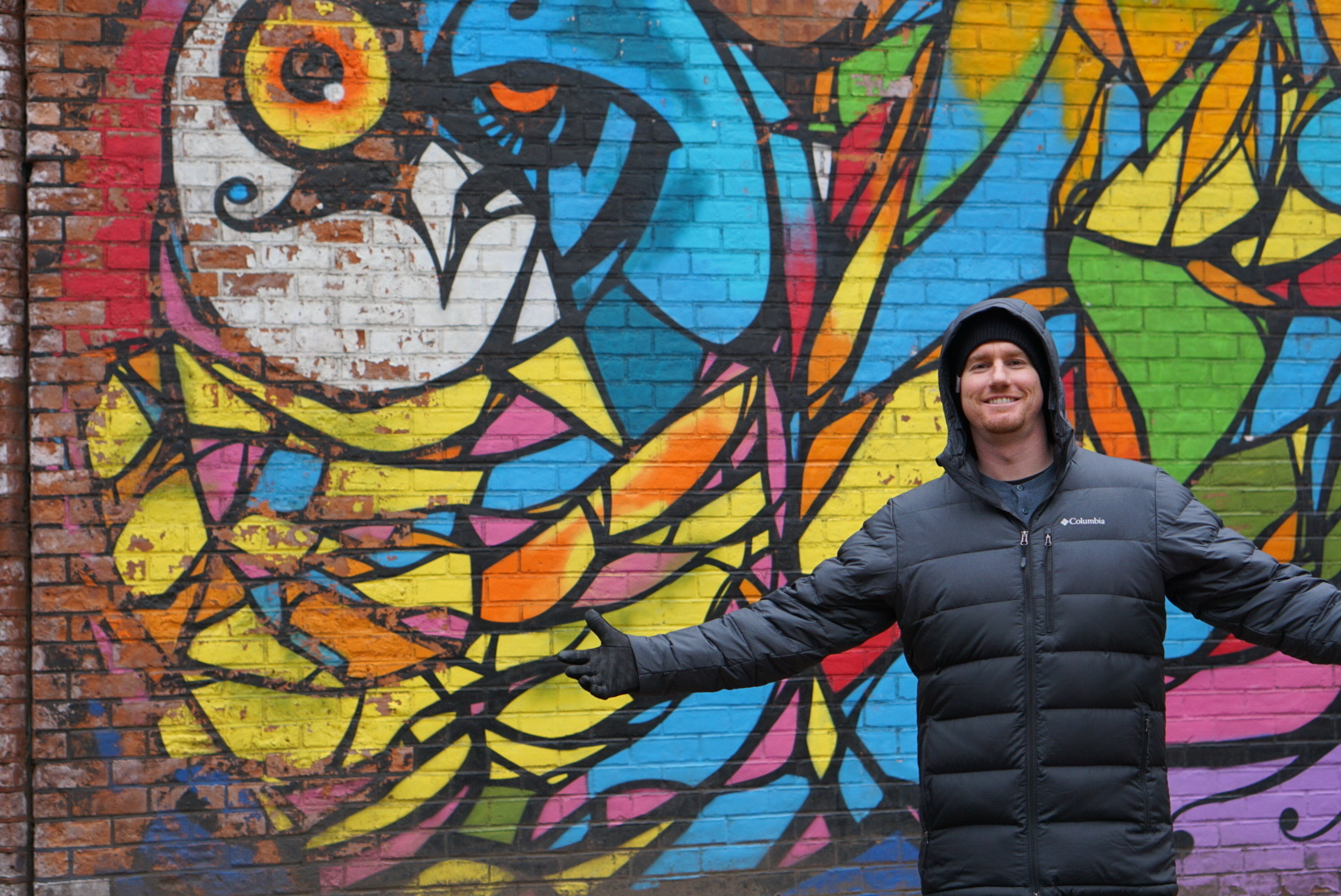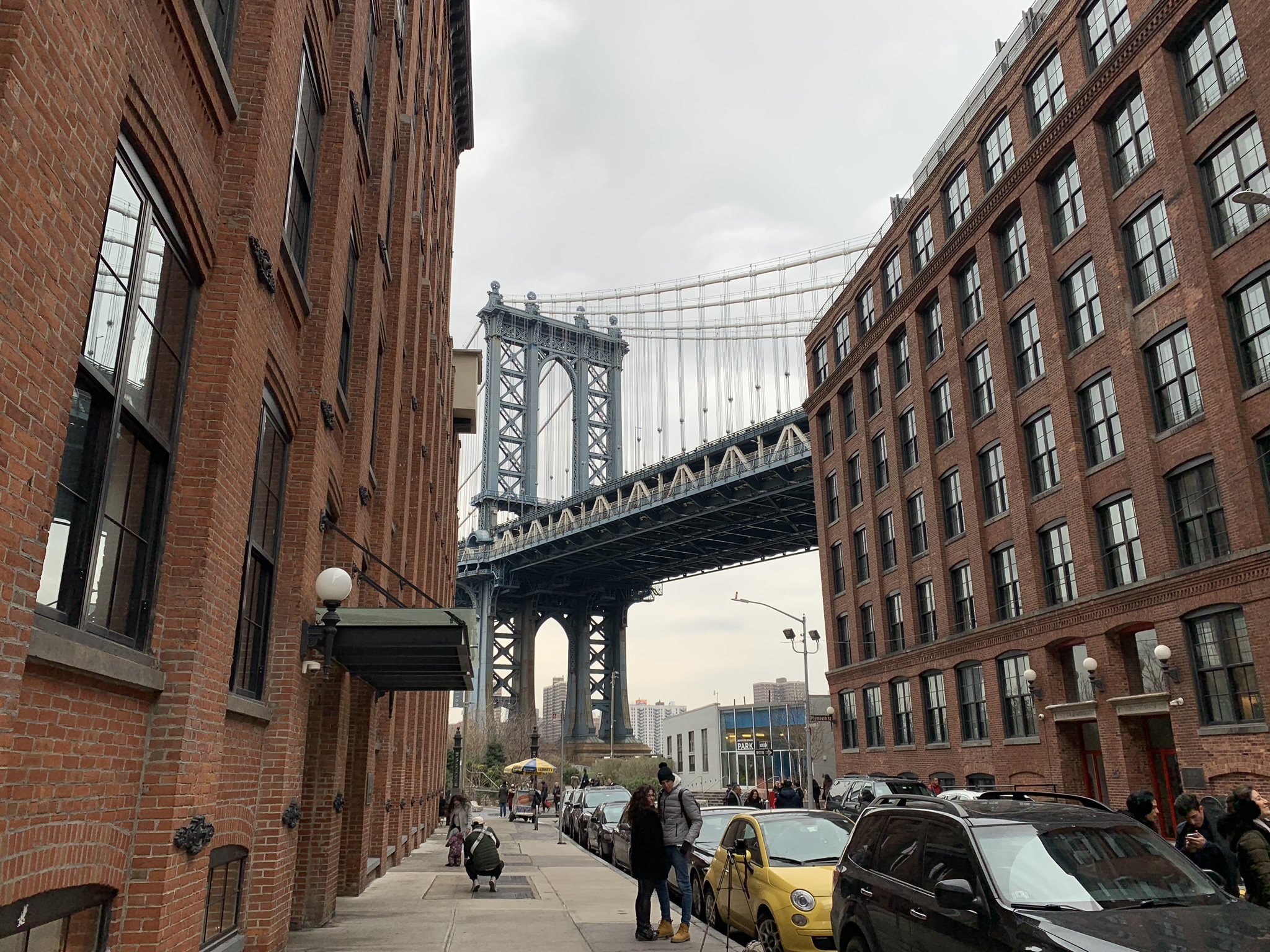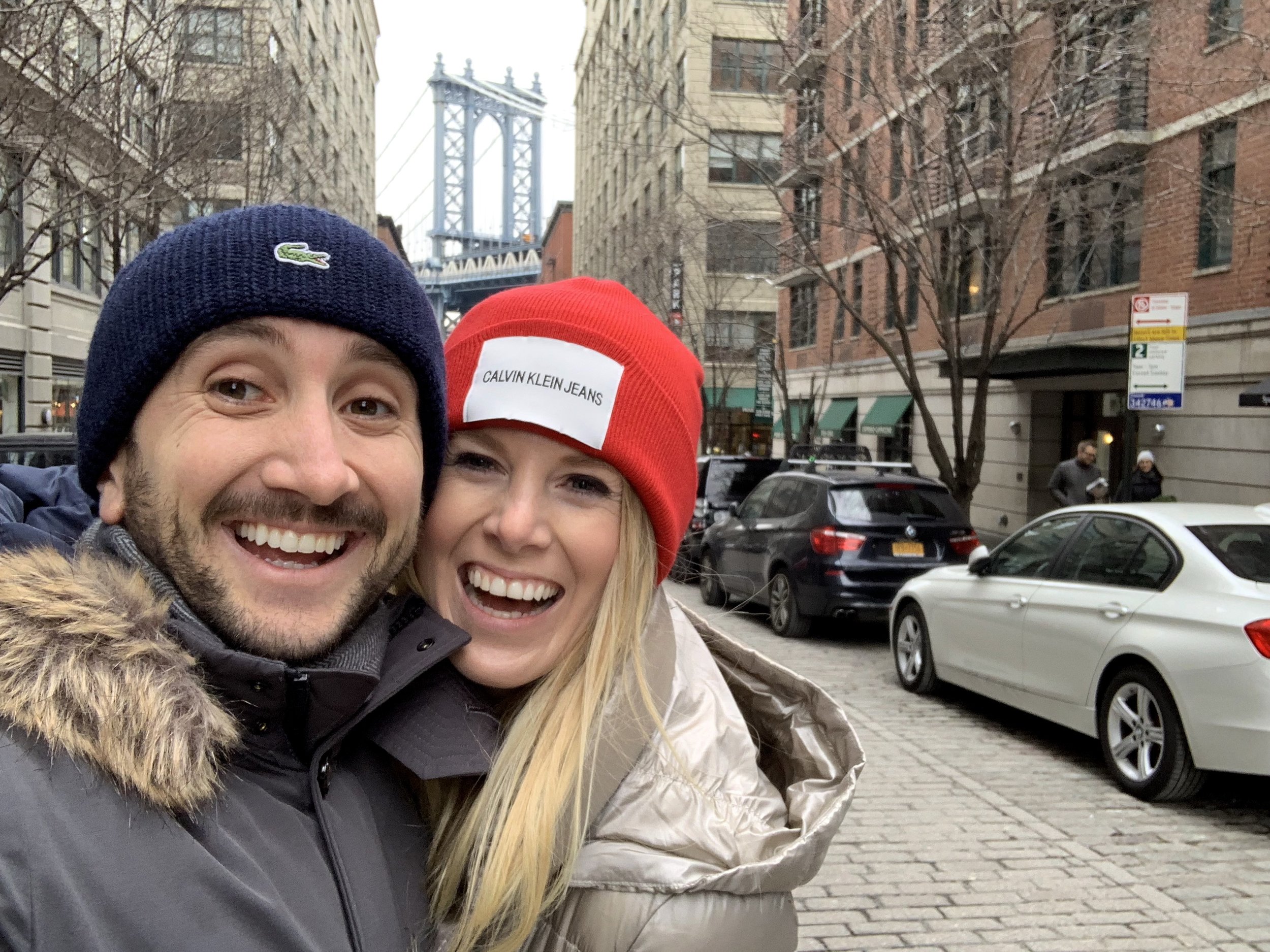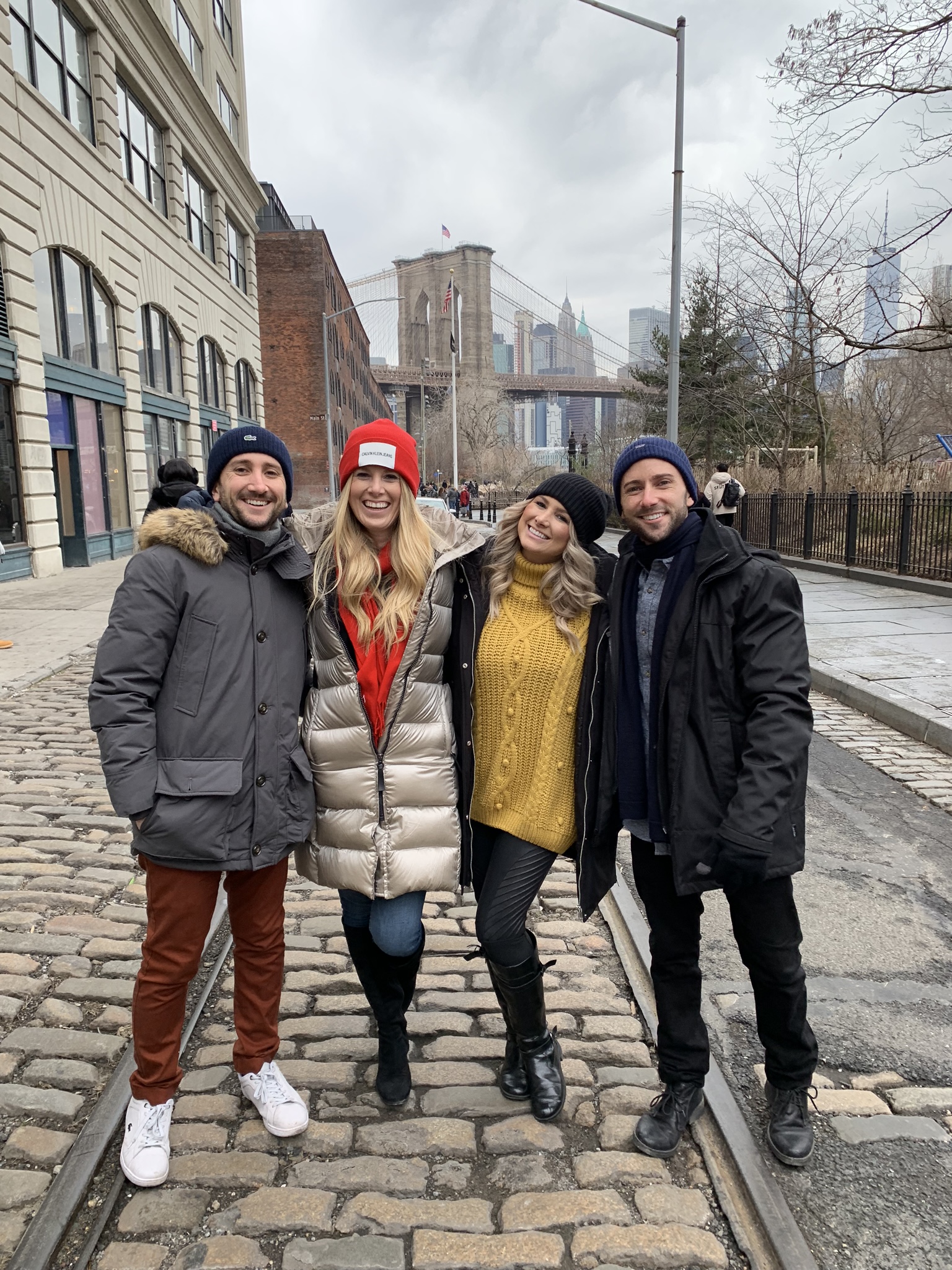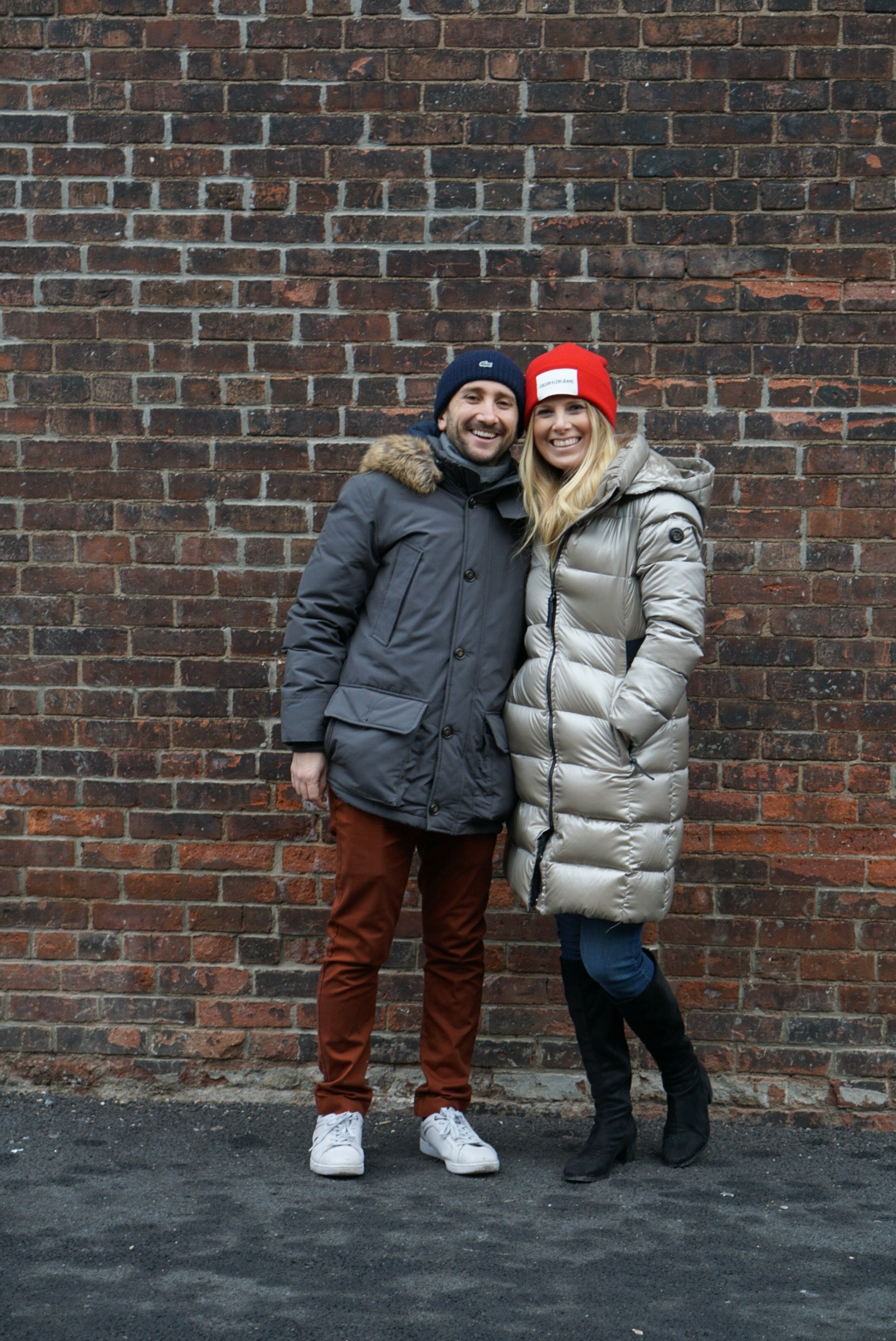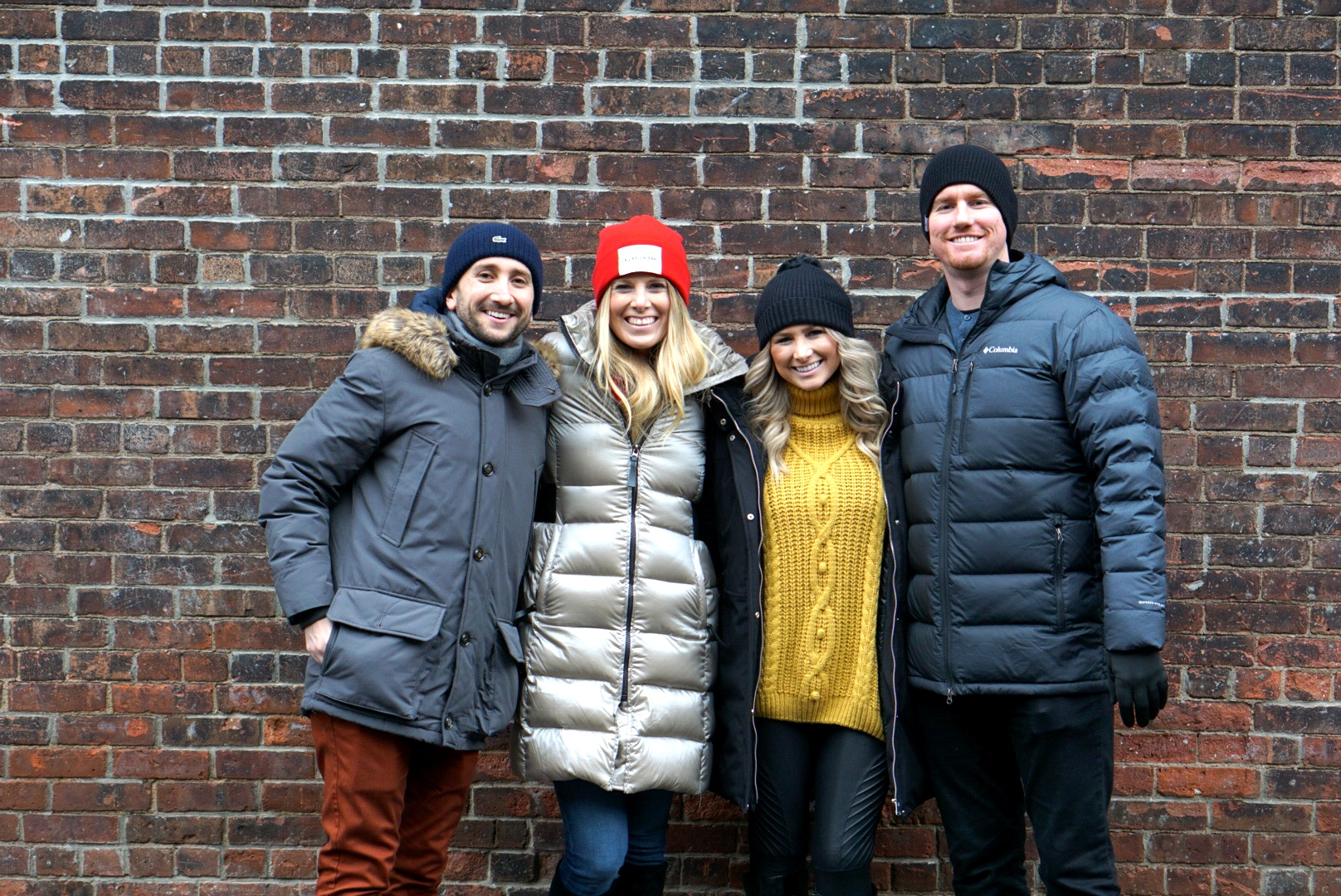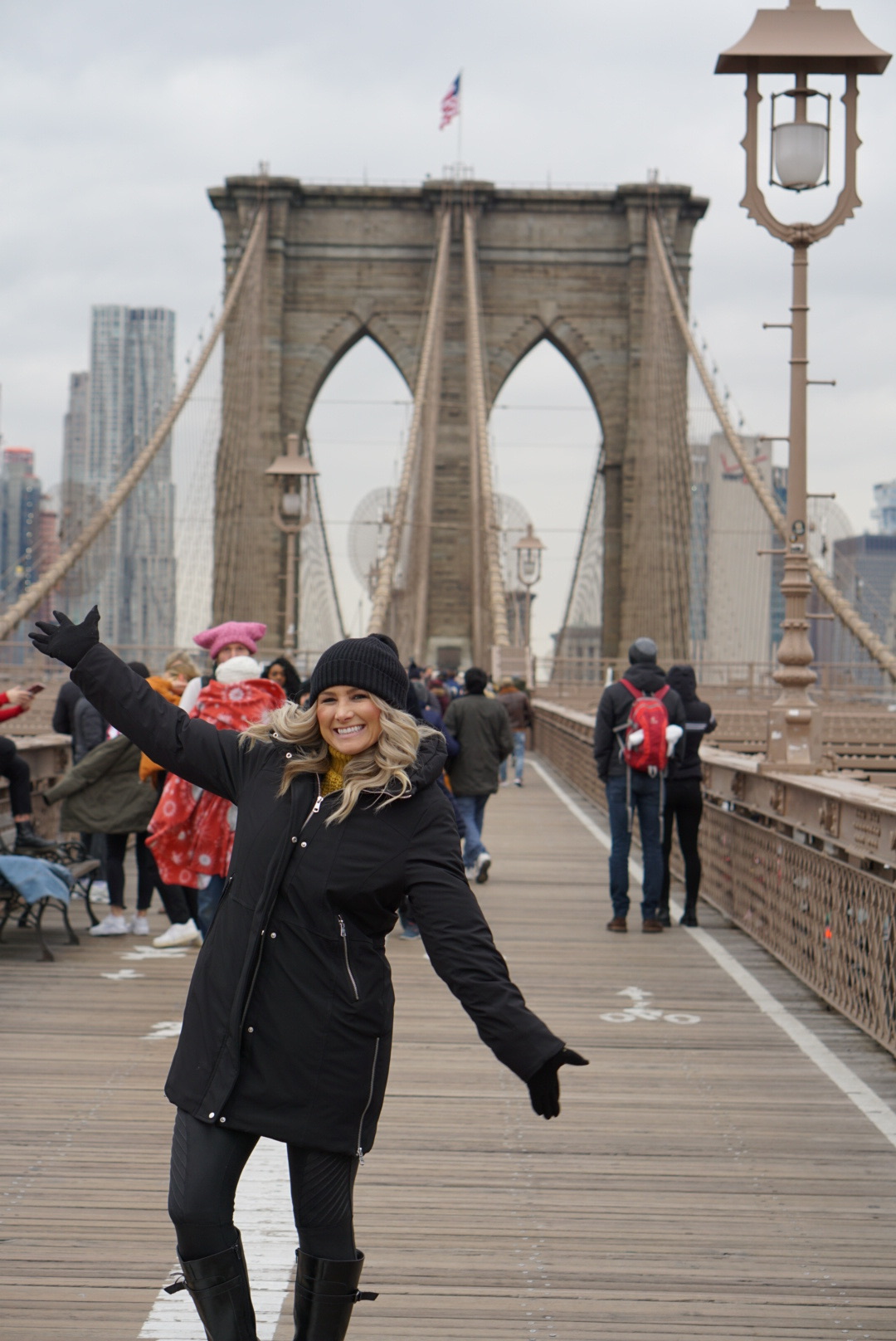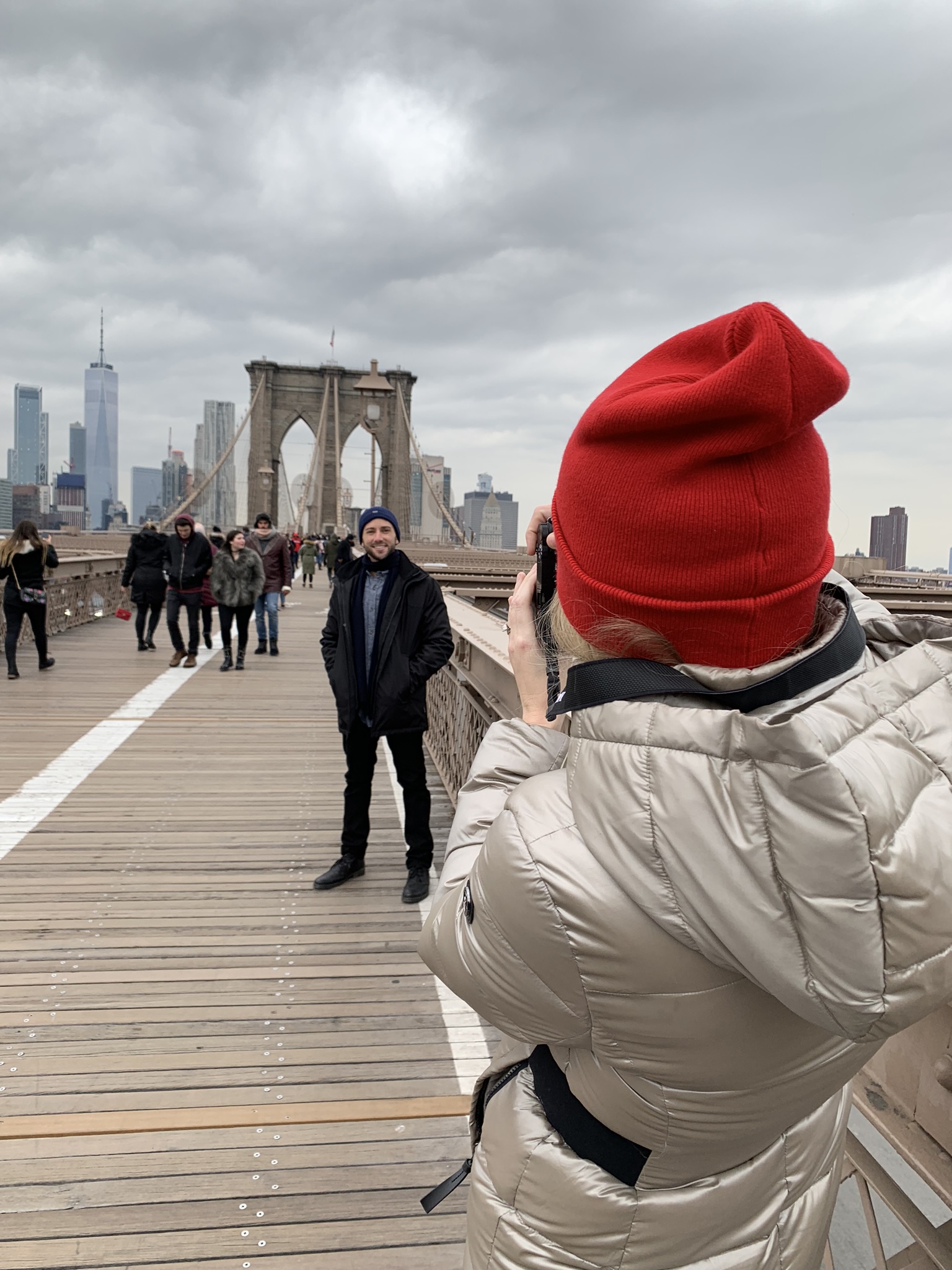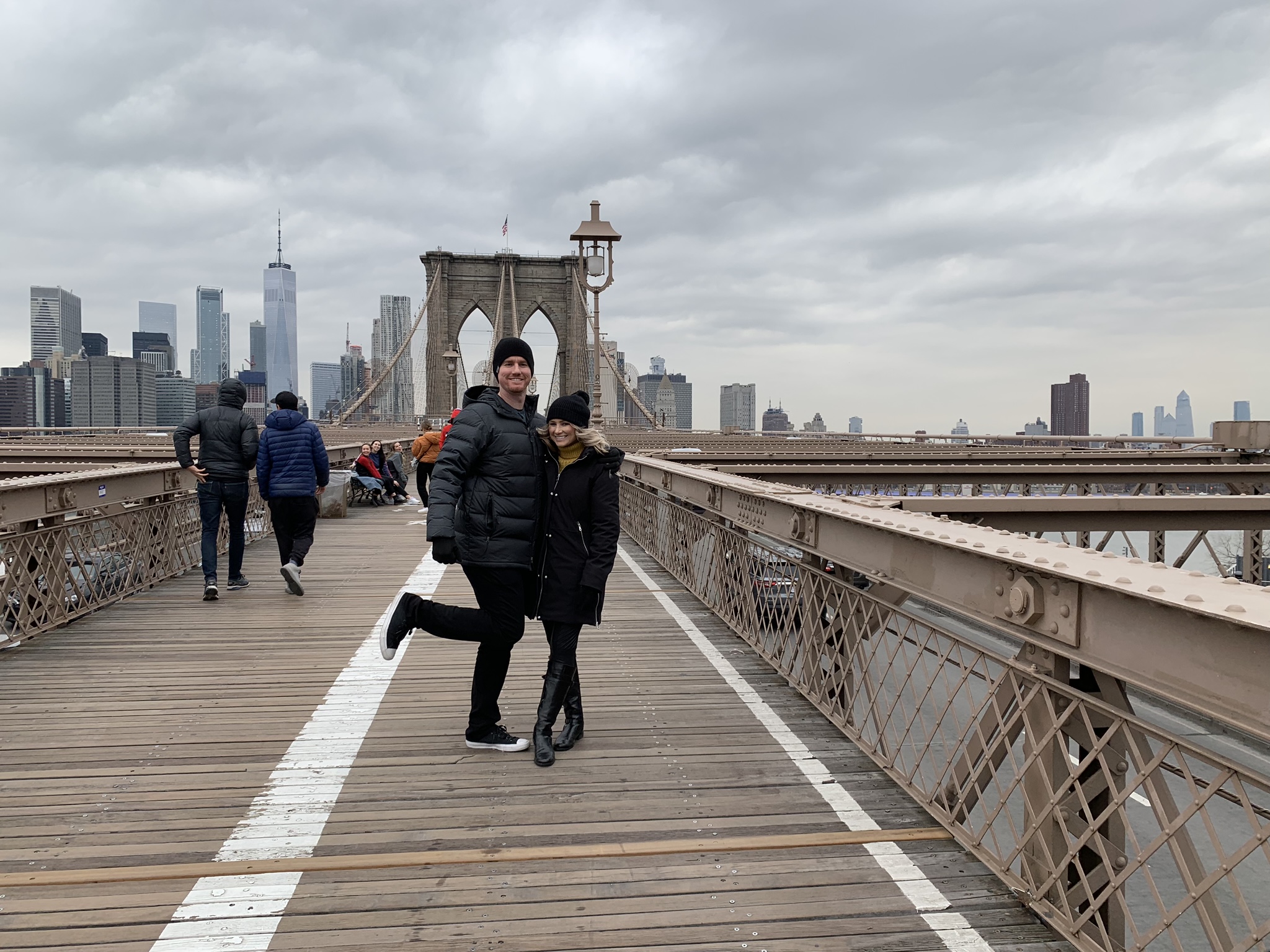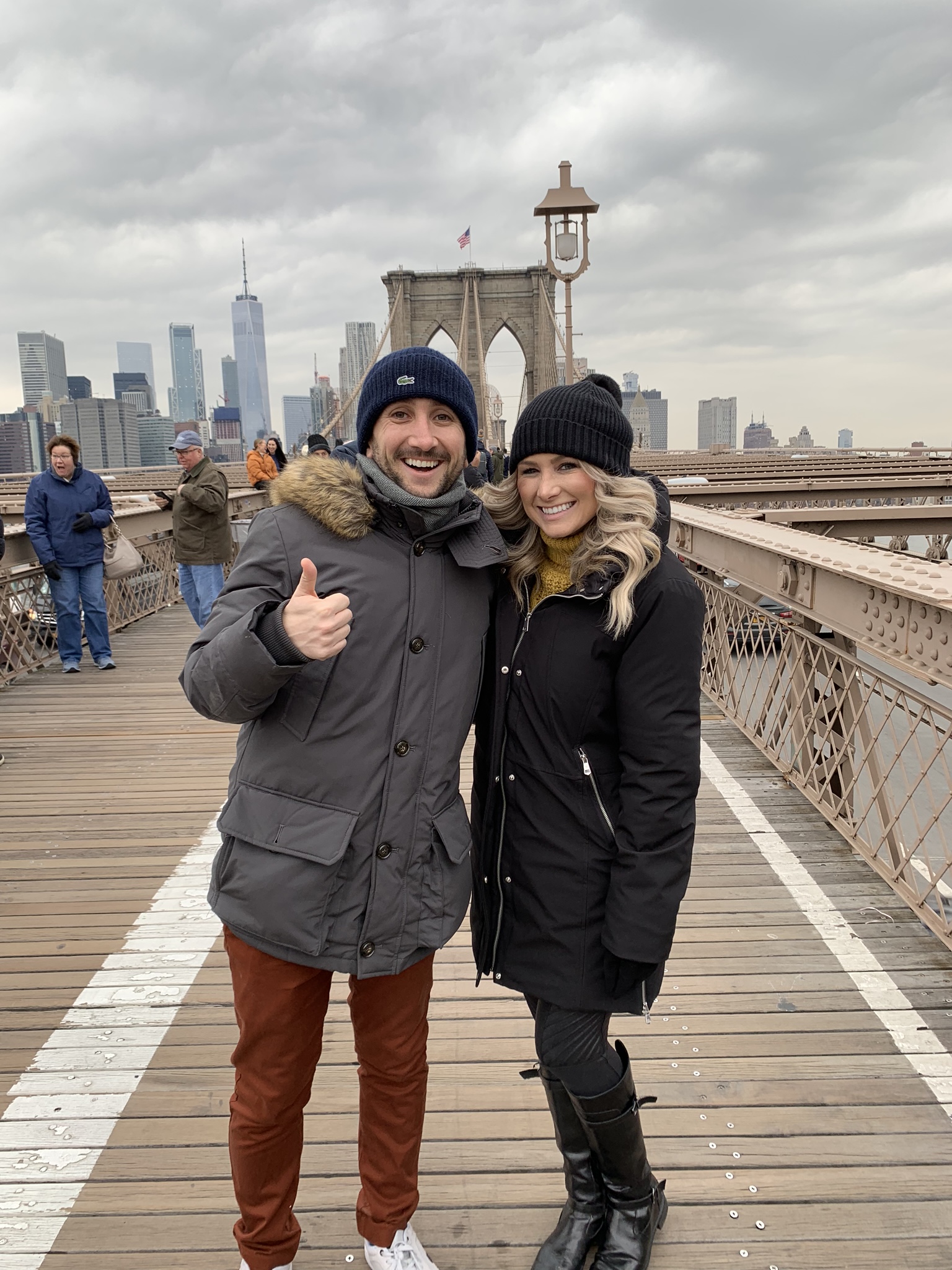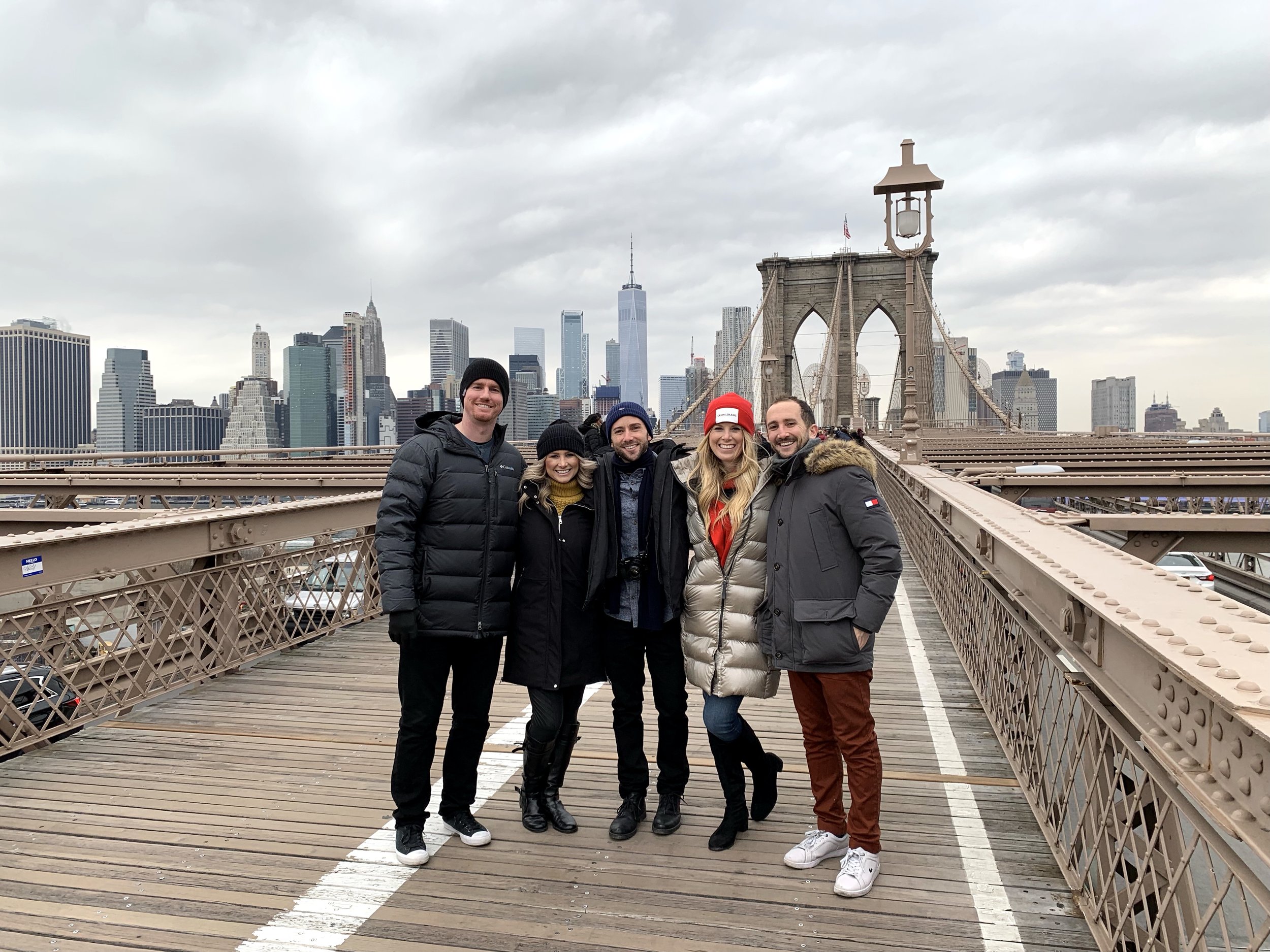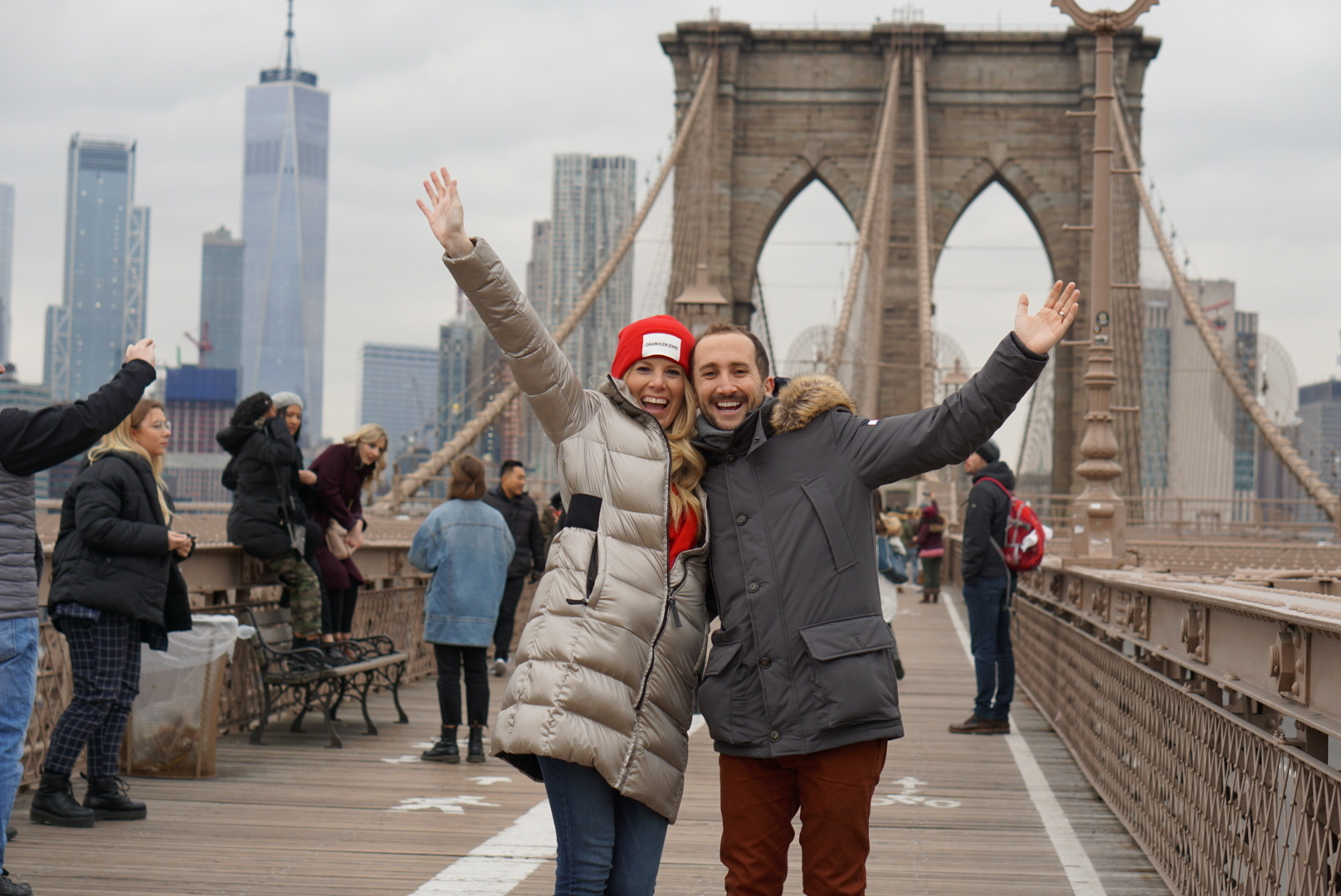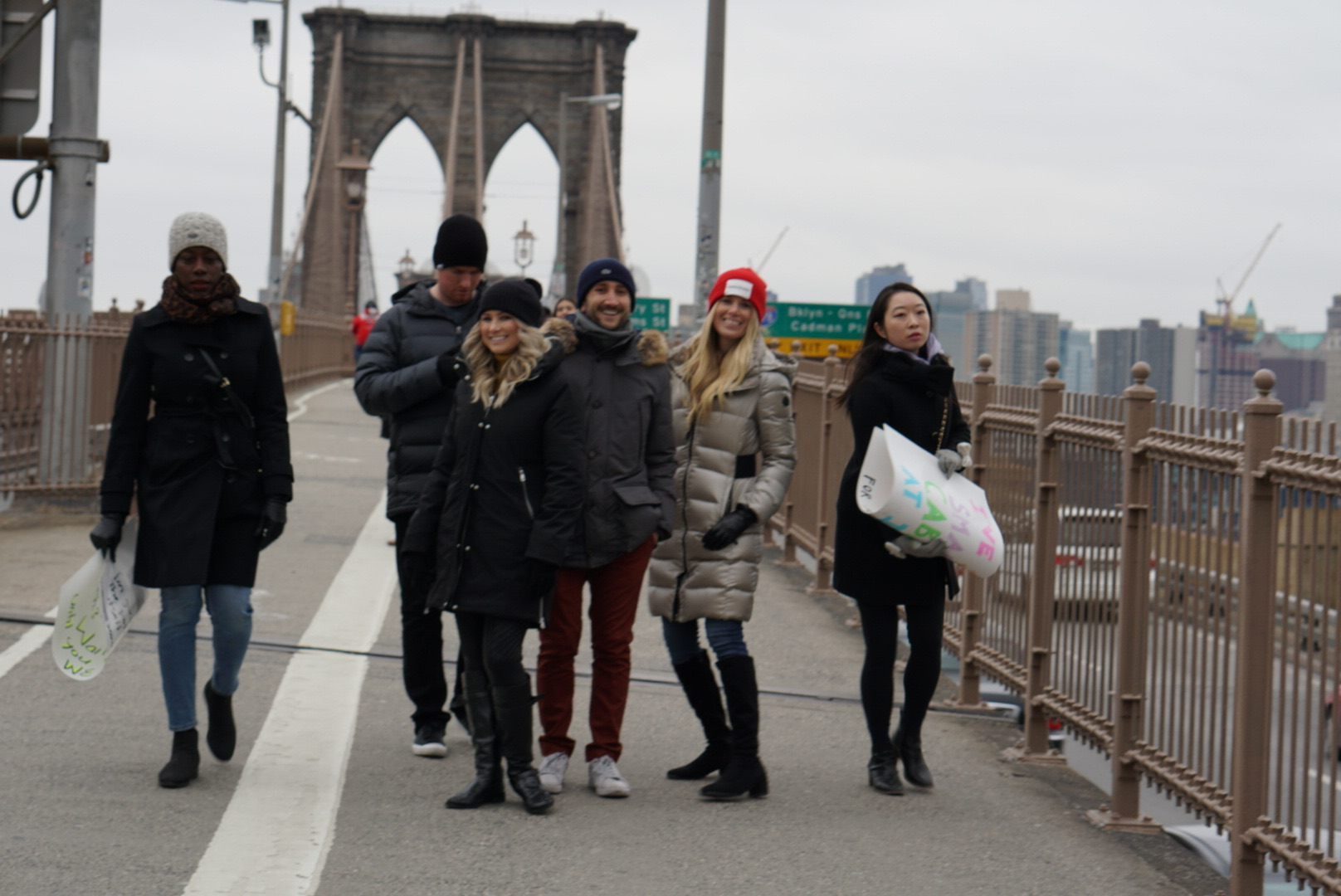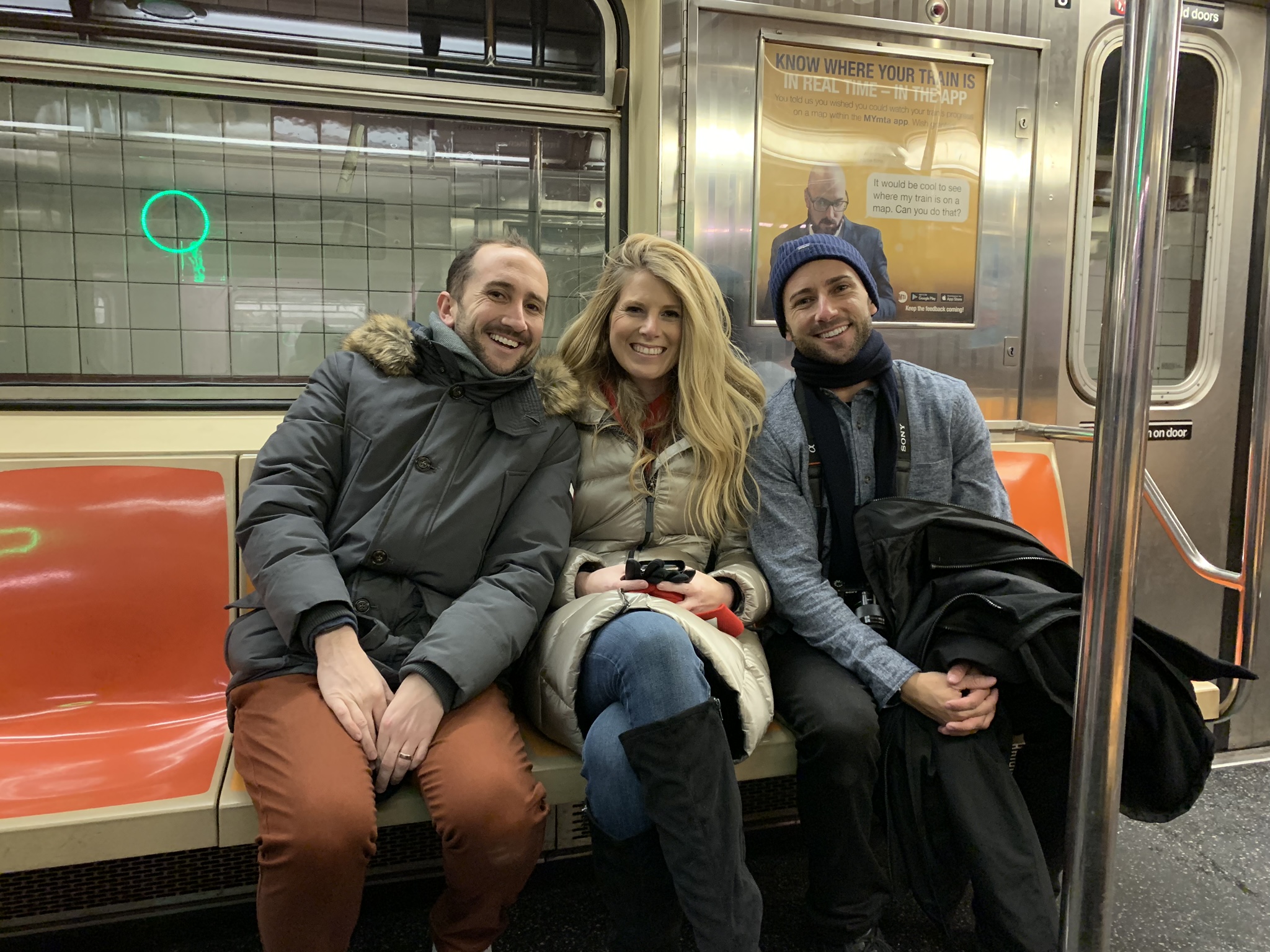 We made our way back out via Taxi to go grab dinner at Jacob's Pickle the sister restaurant of Mason's Pickle which we went to for Thanksgiving. Jacob's is only a couple of blocks away and is known for a modern take on southern food. Unfortunately the lighting in the restaurant was incredibly dark so there aren't any pictures of their infamous Mac and Cheese or their incredible salads, grits, or biscuits. When we left our incredible meal it just began to snow so we took some photos and jumped in a cab to take us back to our apartment. We spent much of the night down in our common area. Jenn and Amy had drinks at the bar while Ryan, Jake and I played pool and poker while watching UFC and the Lakers game.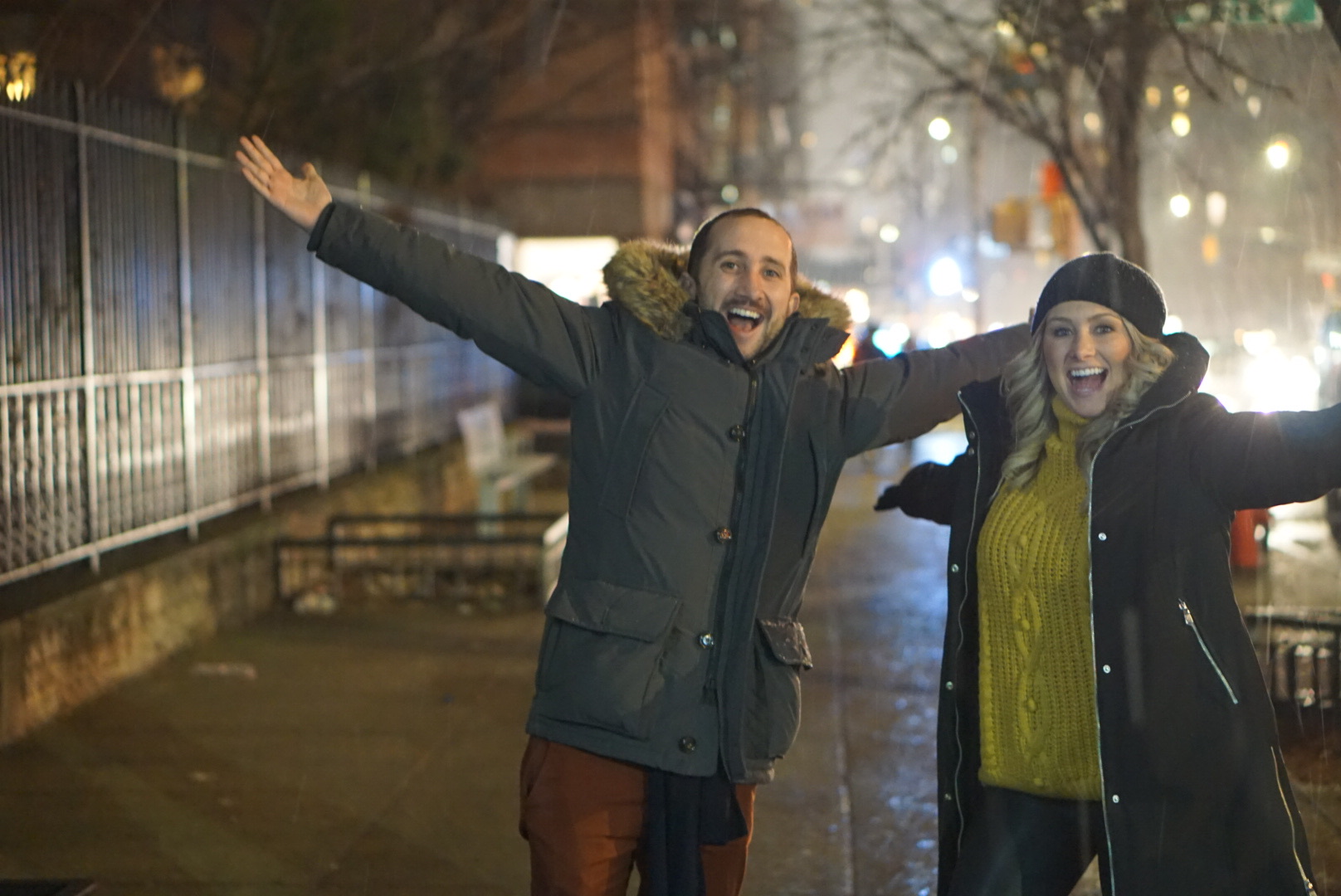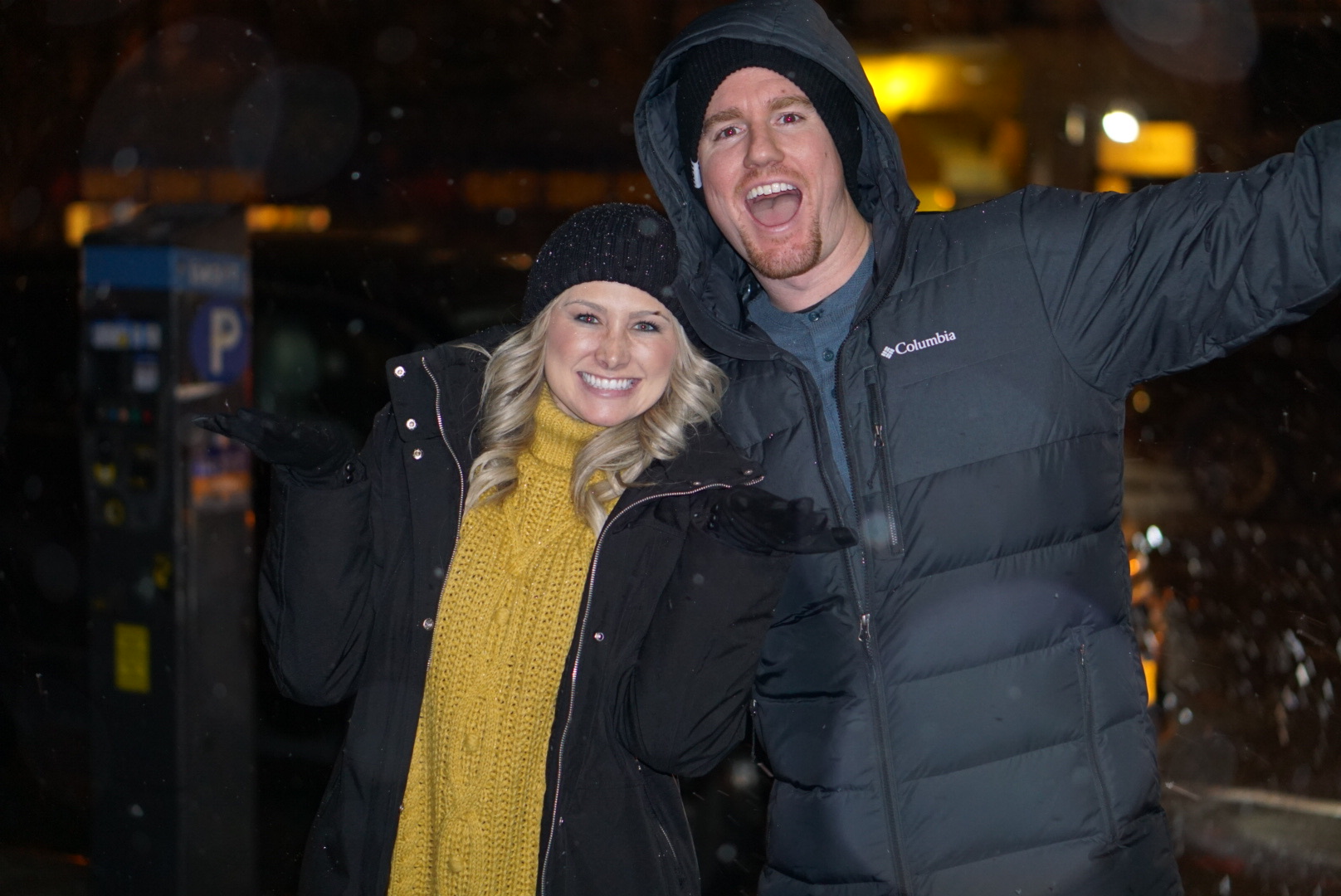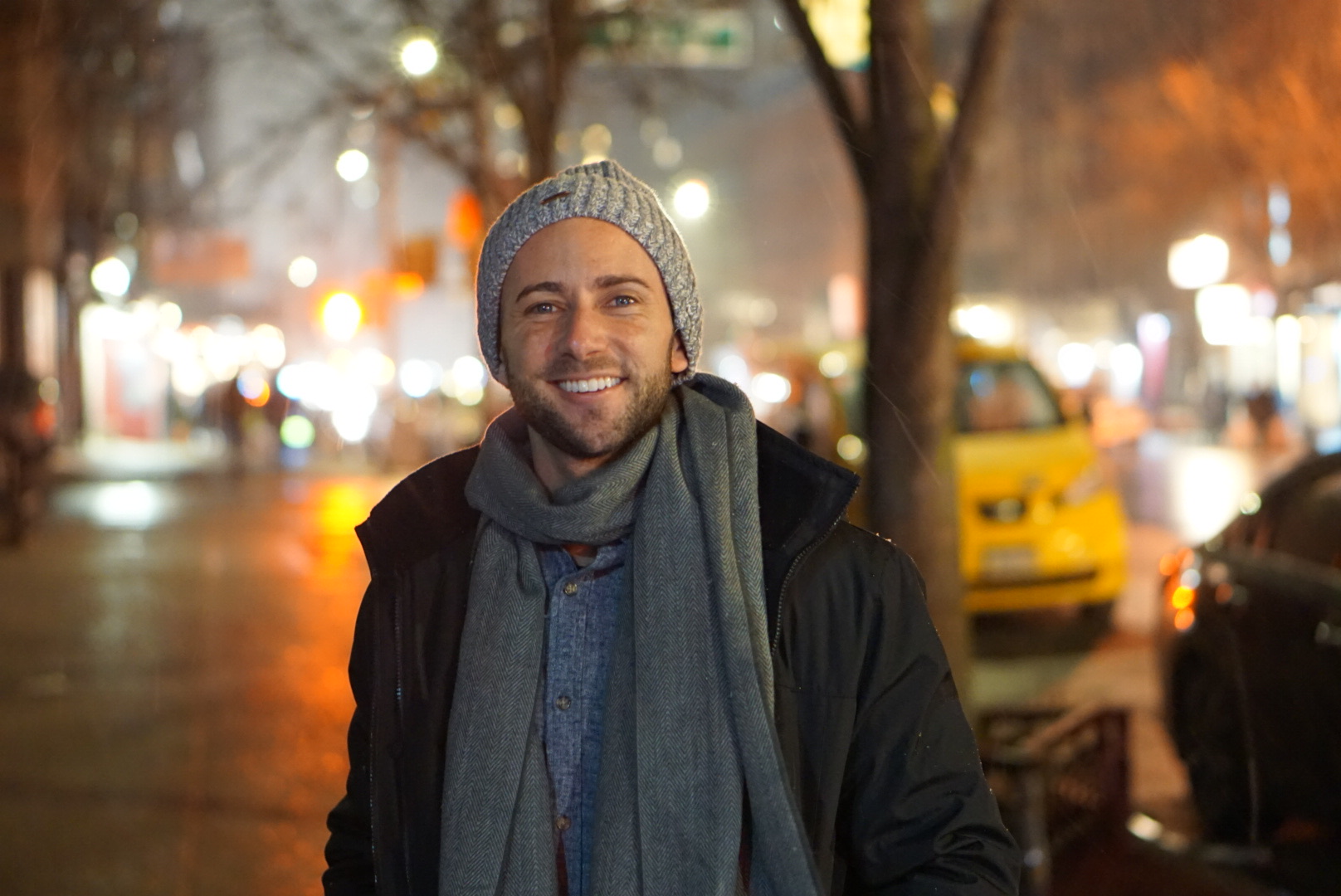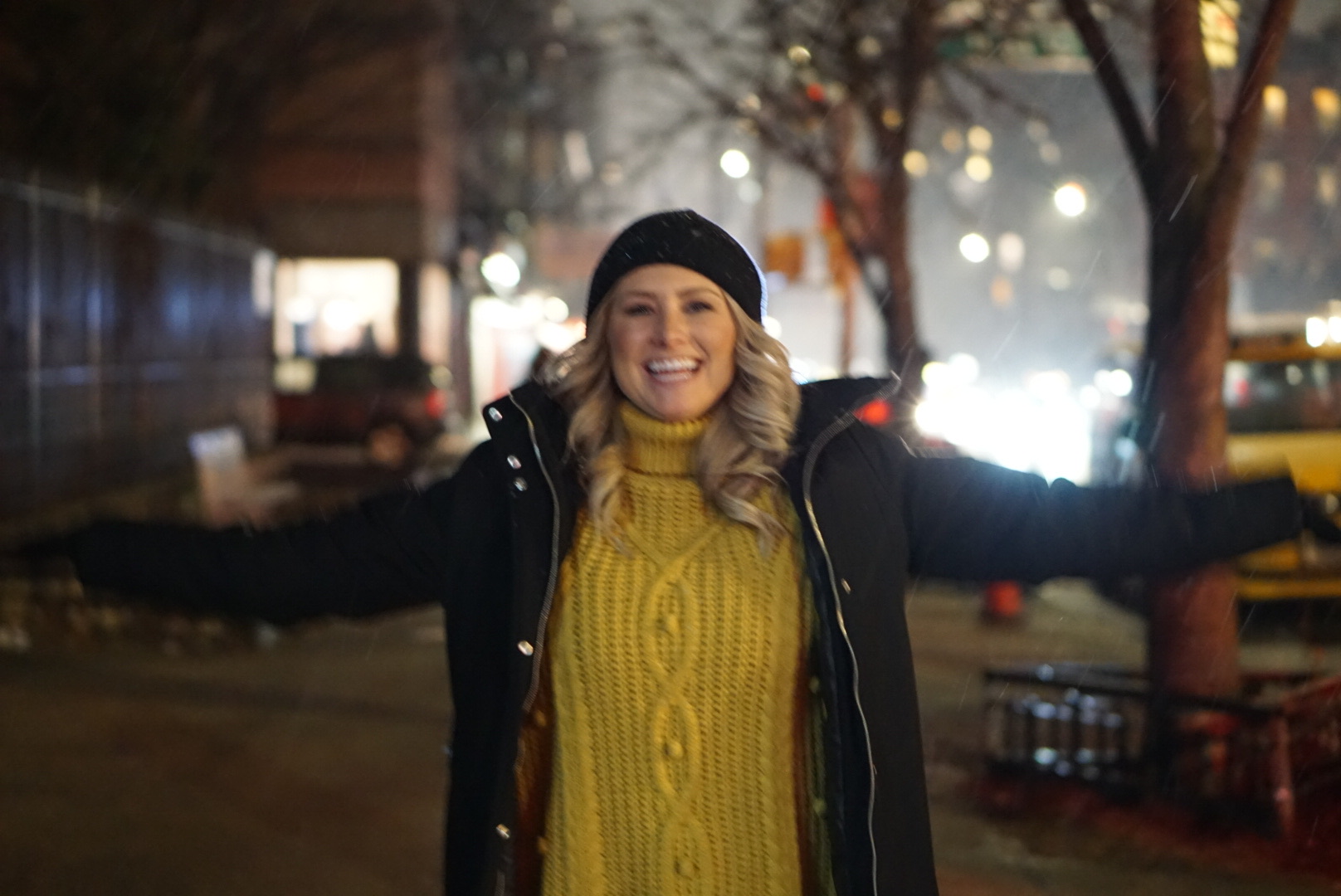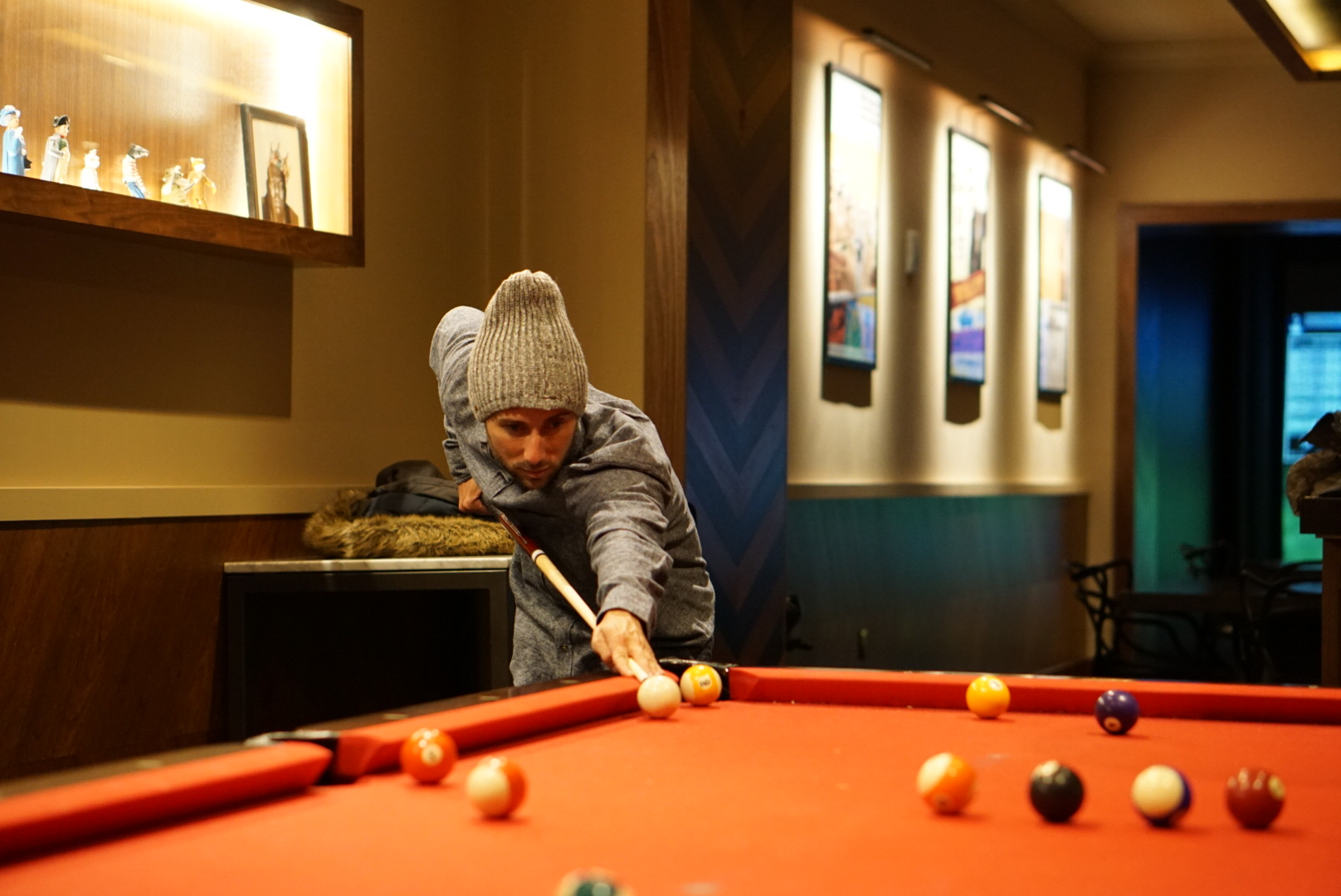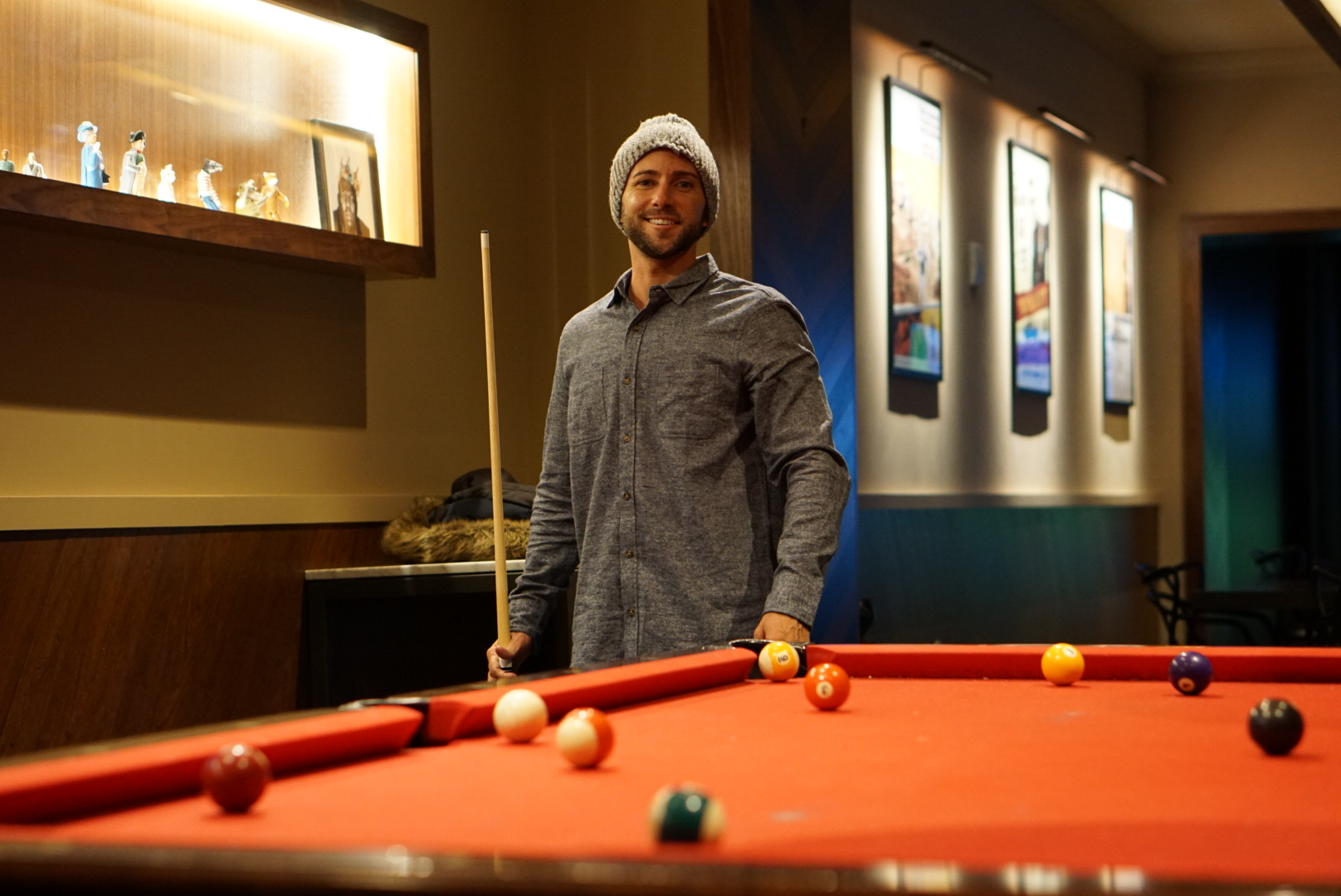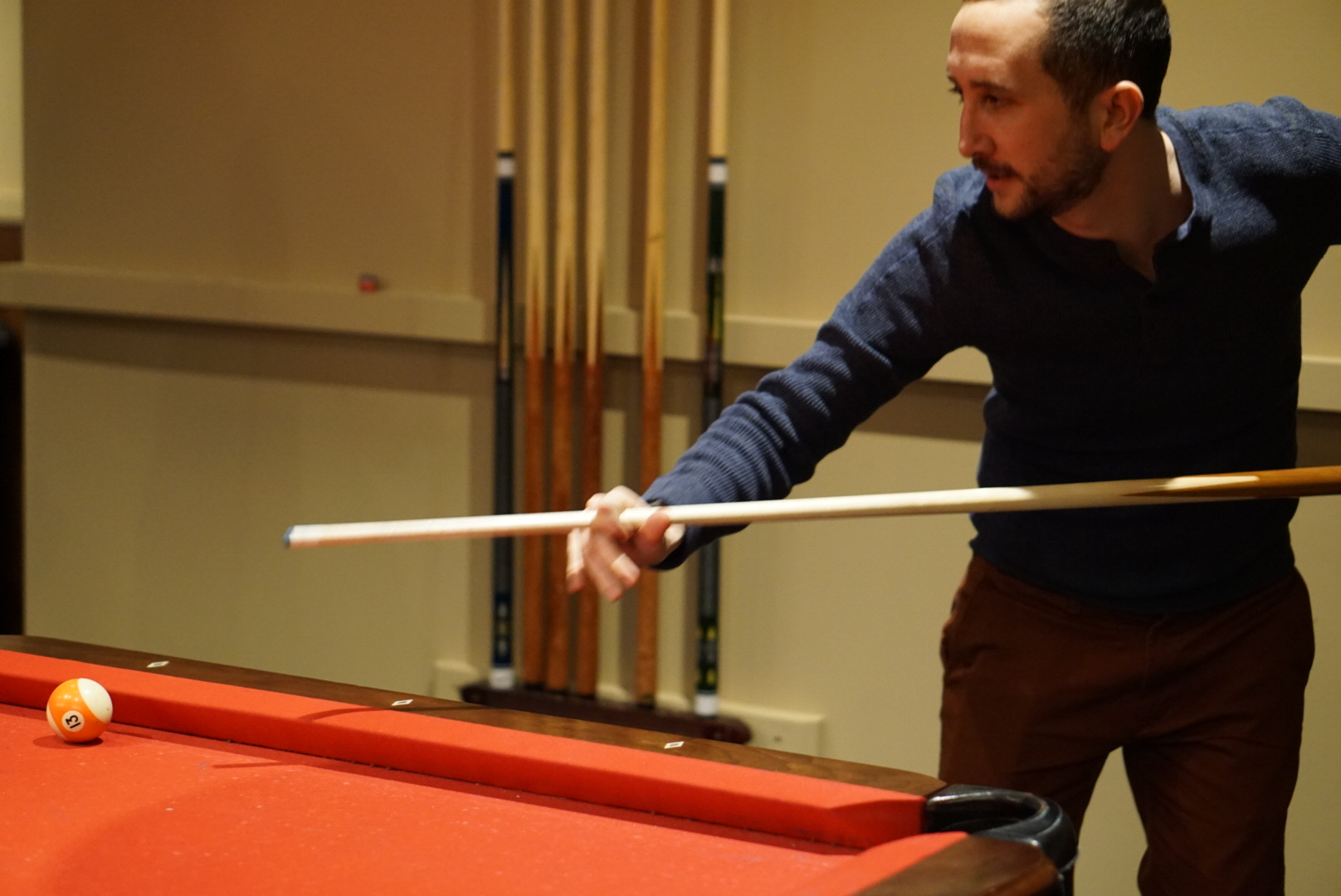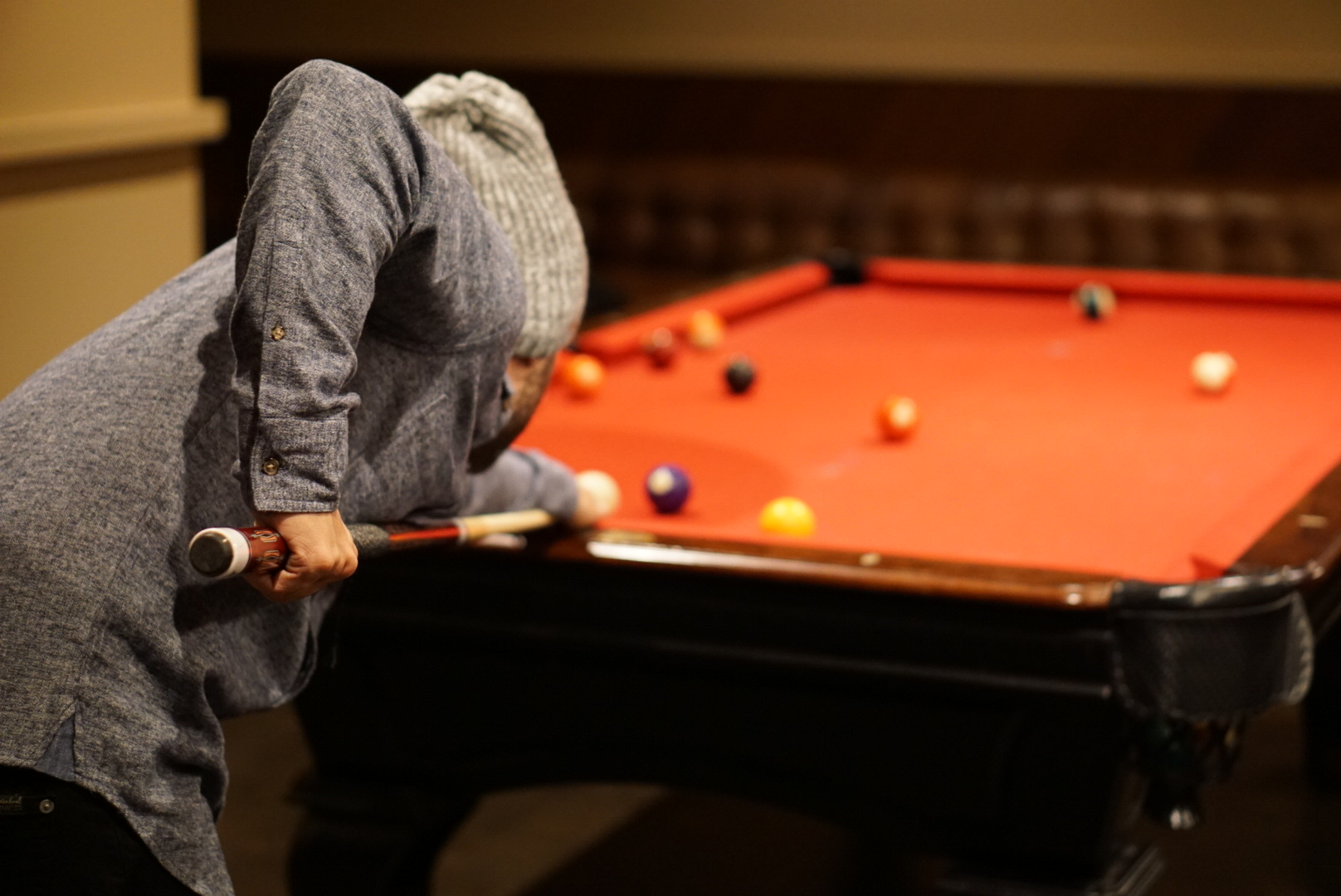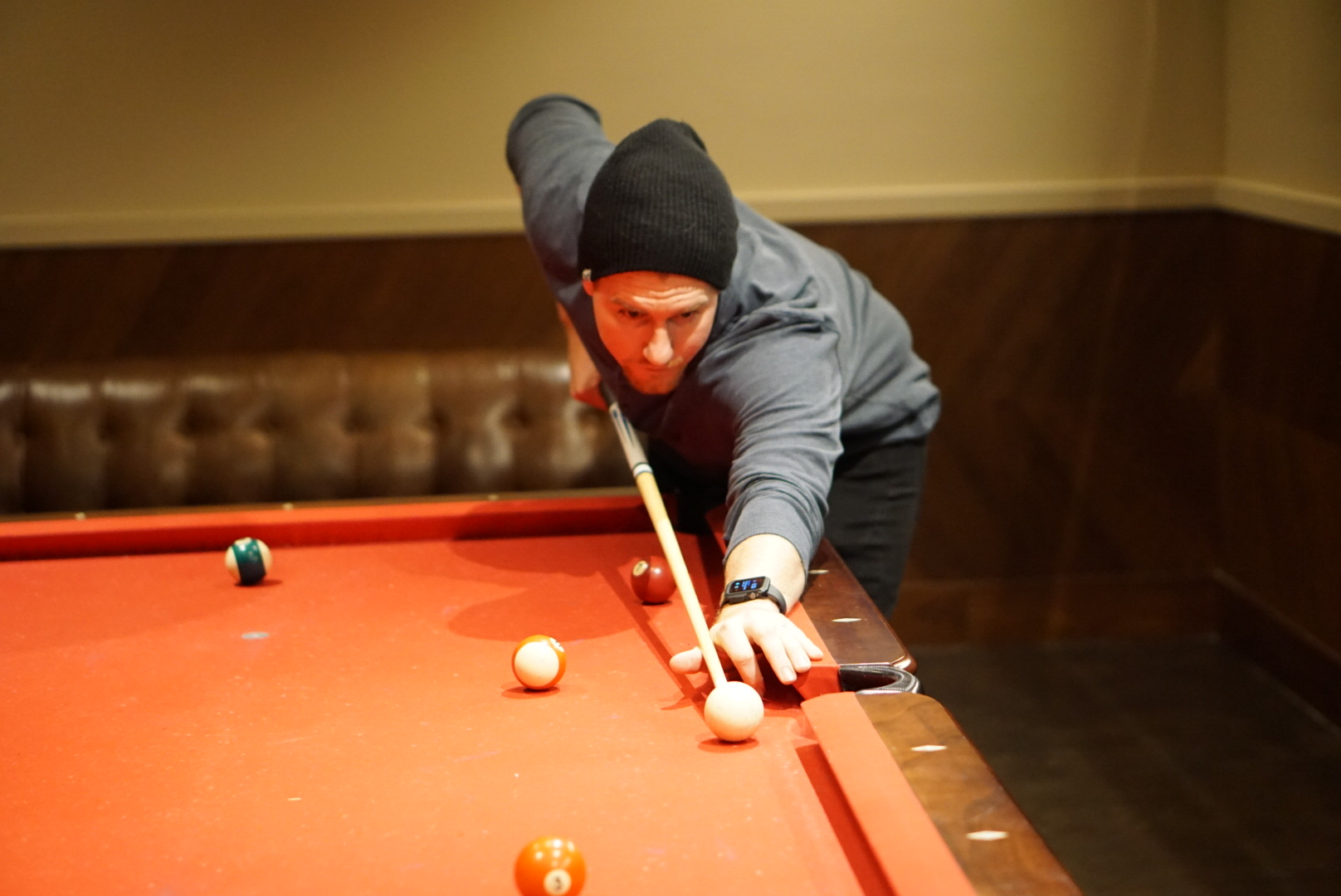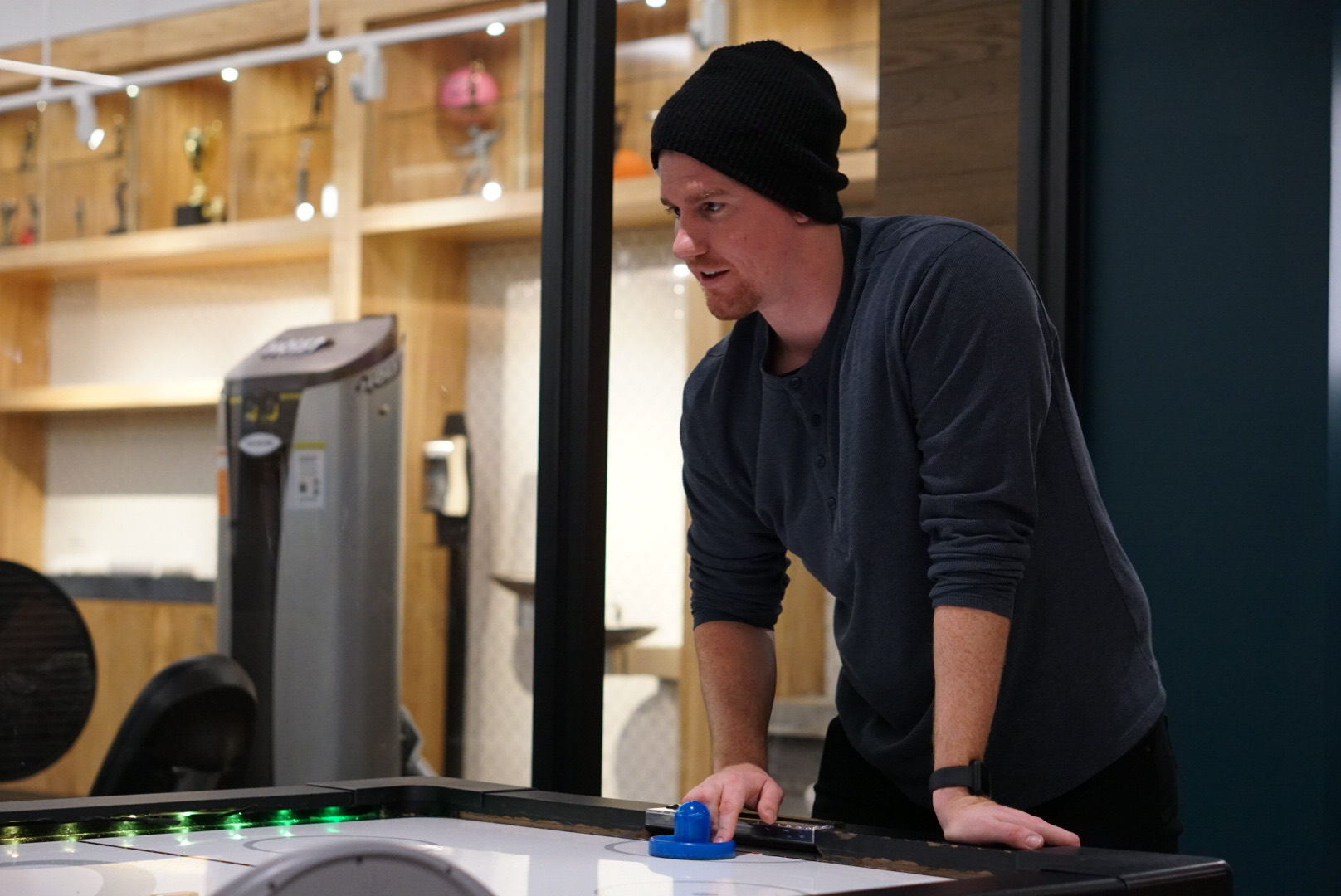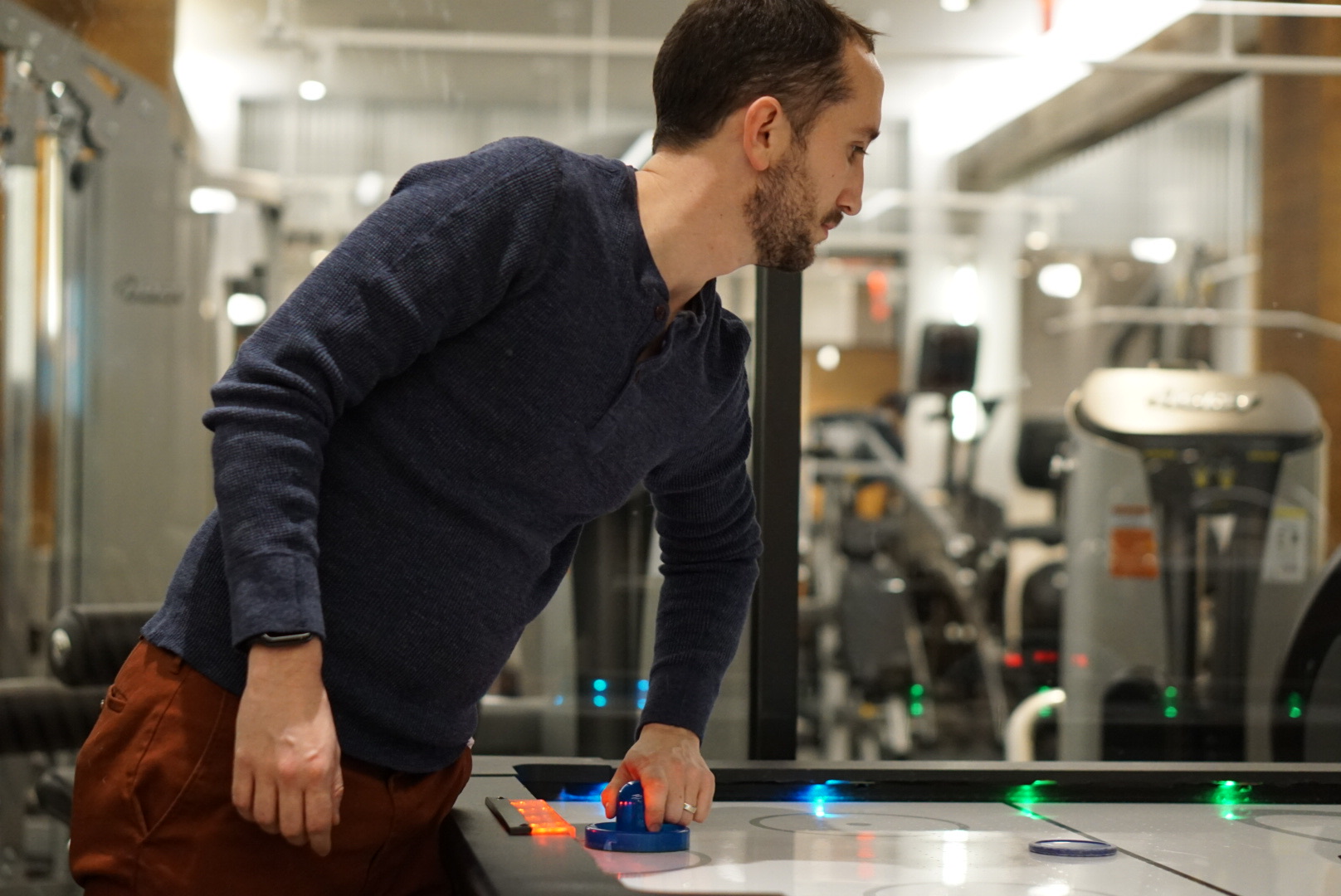 The following day was a good old fashion lazy day. The three guys never left the apartment, while Amy and Jenn only went out to get massages. For the rest of the day we had Shake Shack, beers and pita chips, Pizza and Halal Guys delivered to the apartment. We played video games, watched both the NFC and AFC championship games and went back down to our apartments common area for more pool, ping pong, and poker. I'll never forget the pure joy of Ryan leaping to his feet in triumph when the Rams beat the Saints with a long field goal.
Our last day together was one of the coldest of the winter. Jenn and Amy went to their long awaited Breakfast at Tiffany's while the three of us went to Madison Square Garden to watch the Knicks and Thunder. It was a great day for all. The girls had an incredible time and although the Knicks were horrible, it was an incredible experience to watch a game from the historic MSG. We met back up at the apartment, cold, but still with one good meal left in us. Our final meal was at Cacio e Pepe in the East Village. It was the perfect way to close out an incredible weekend with amazing pasta and good wine. We were sad to see them go the following day, but the weekend was so fun that I know we will do it again soon.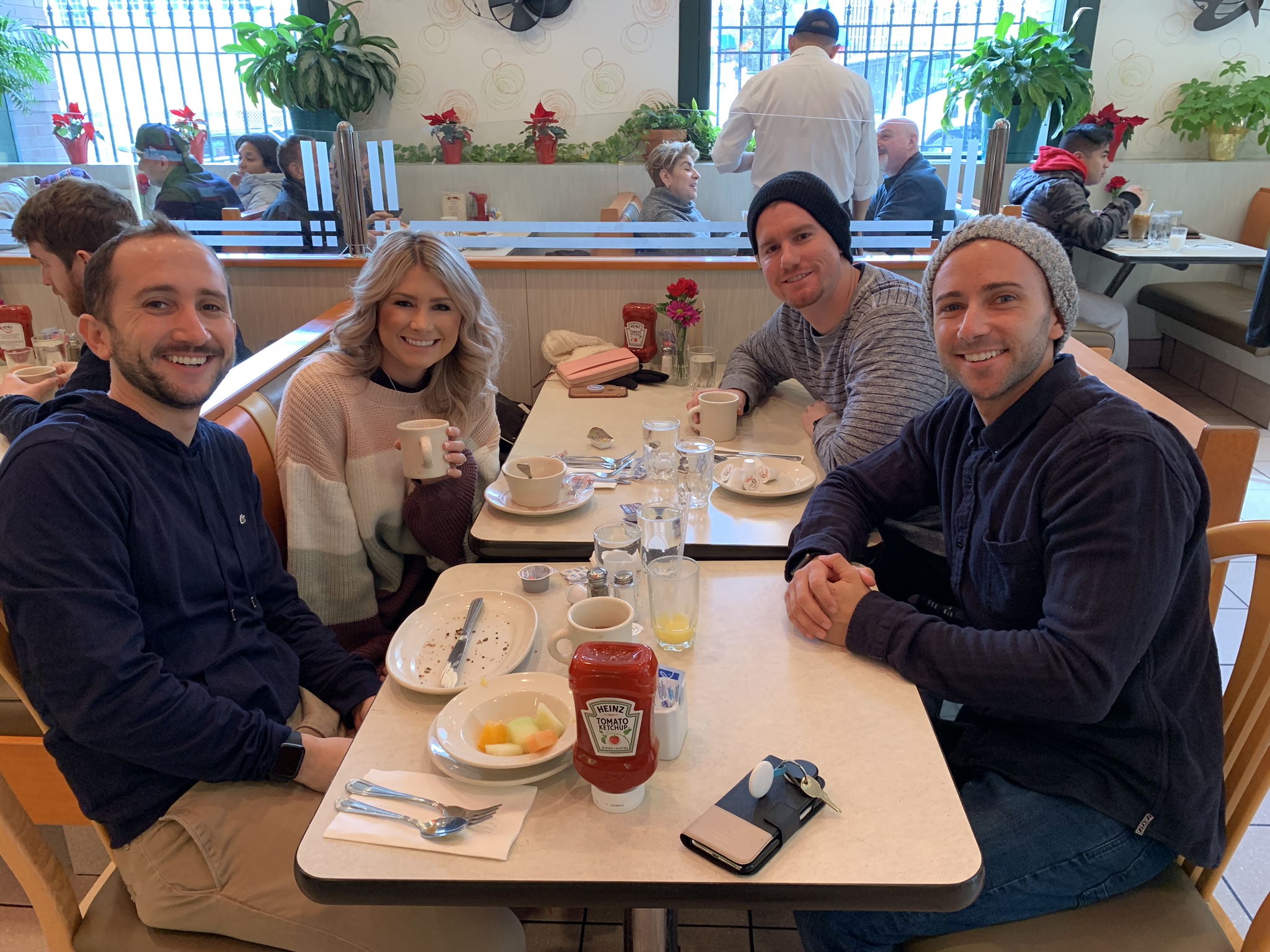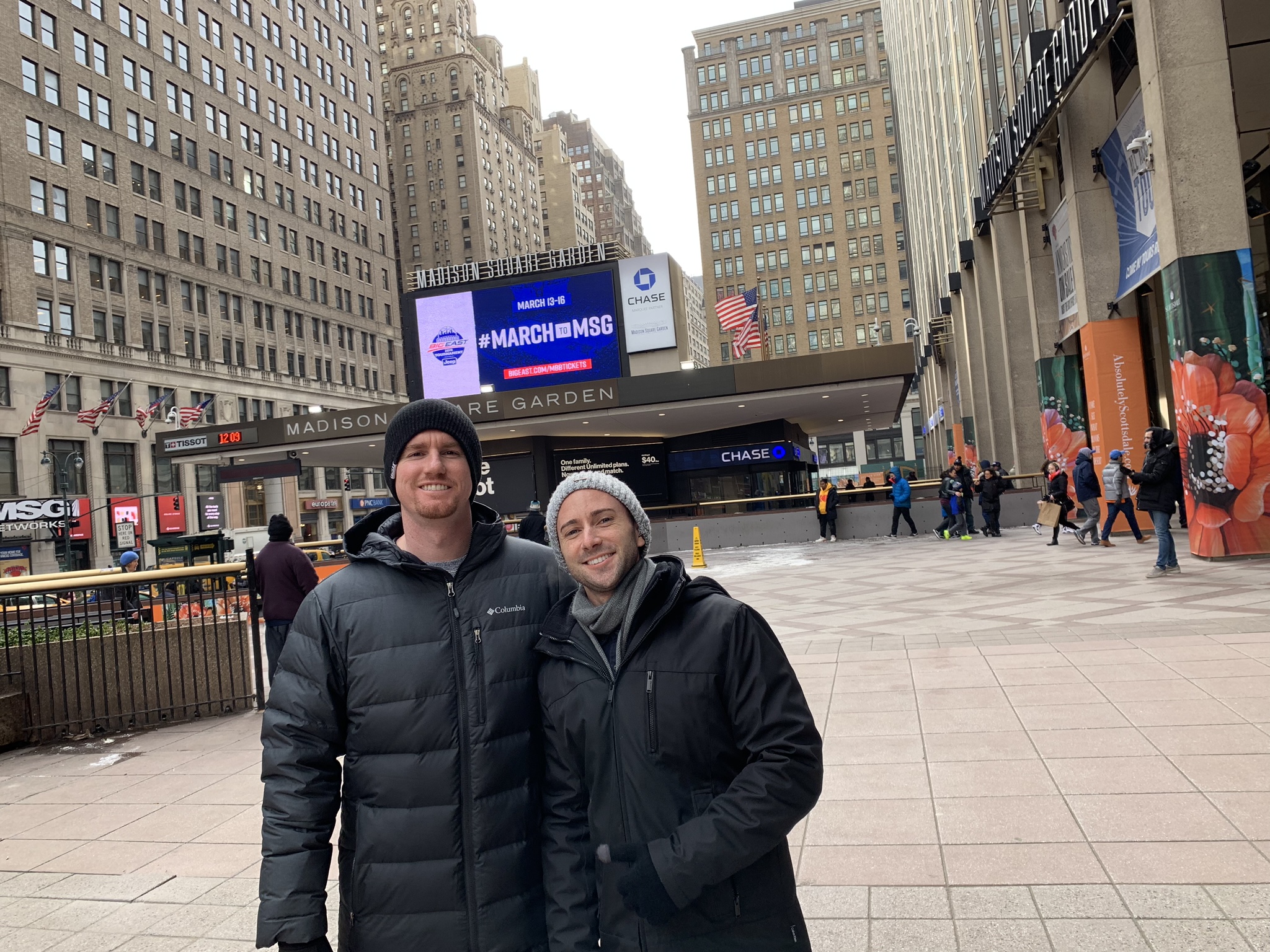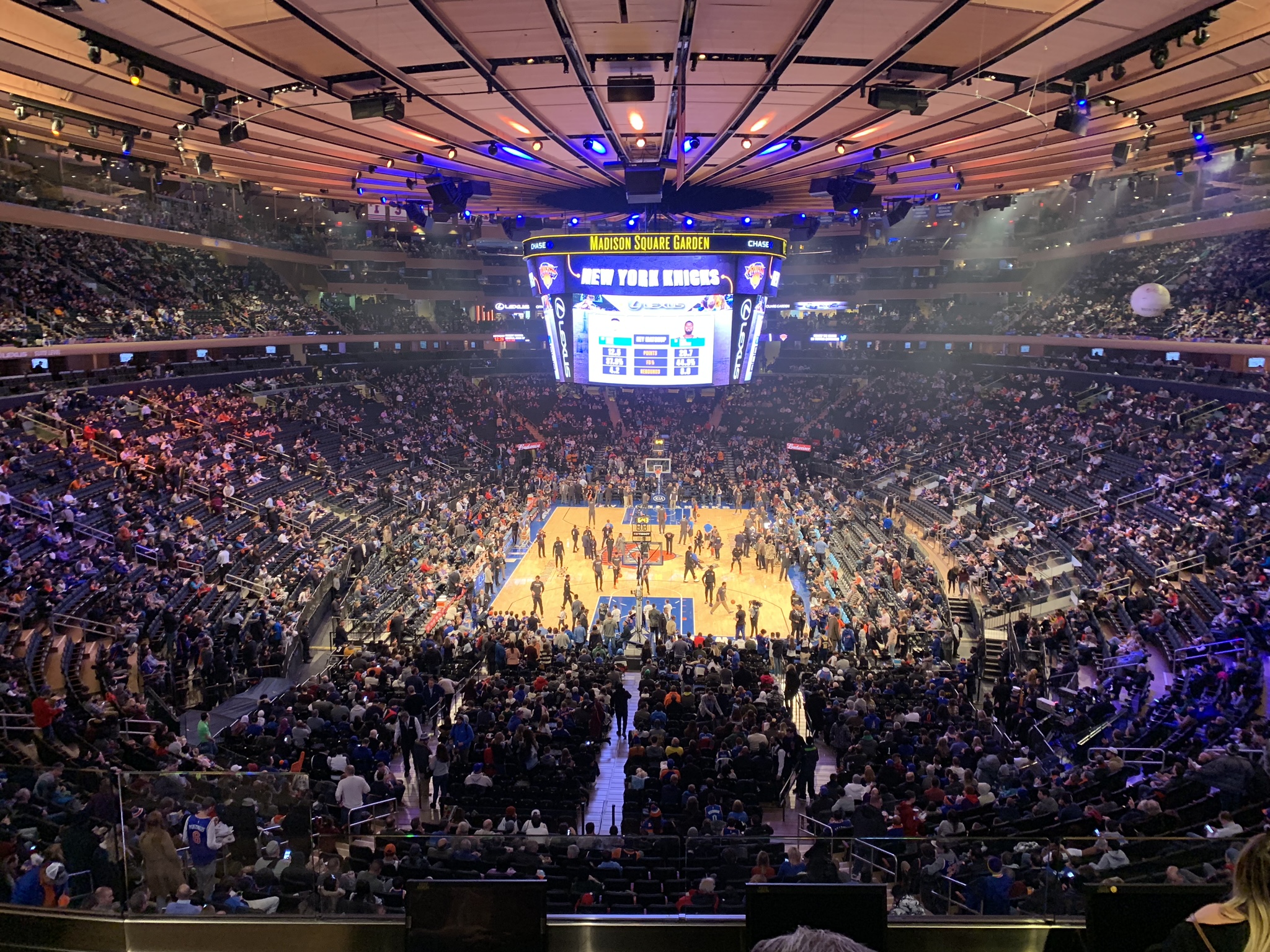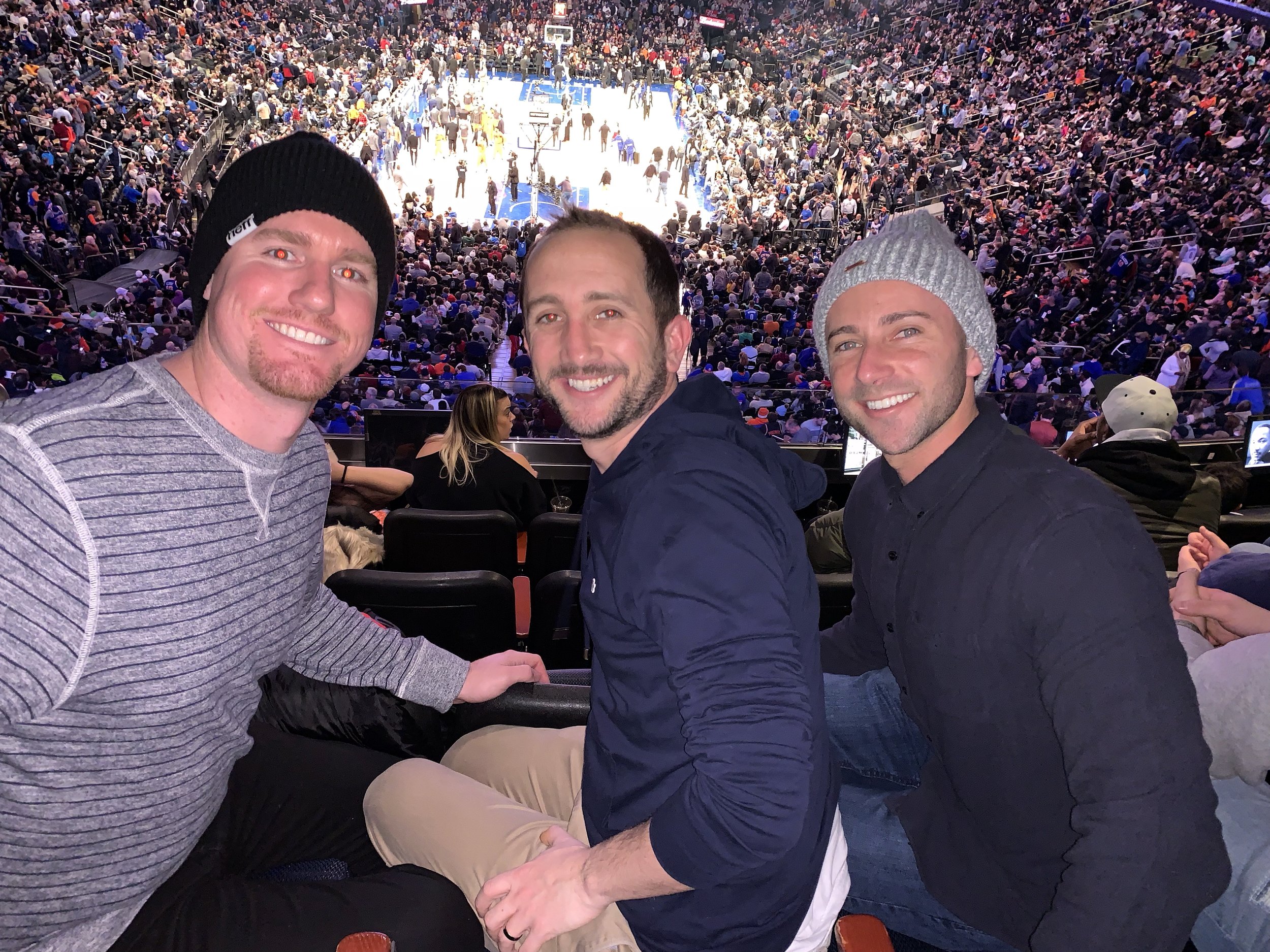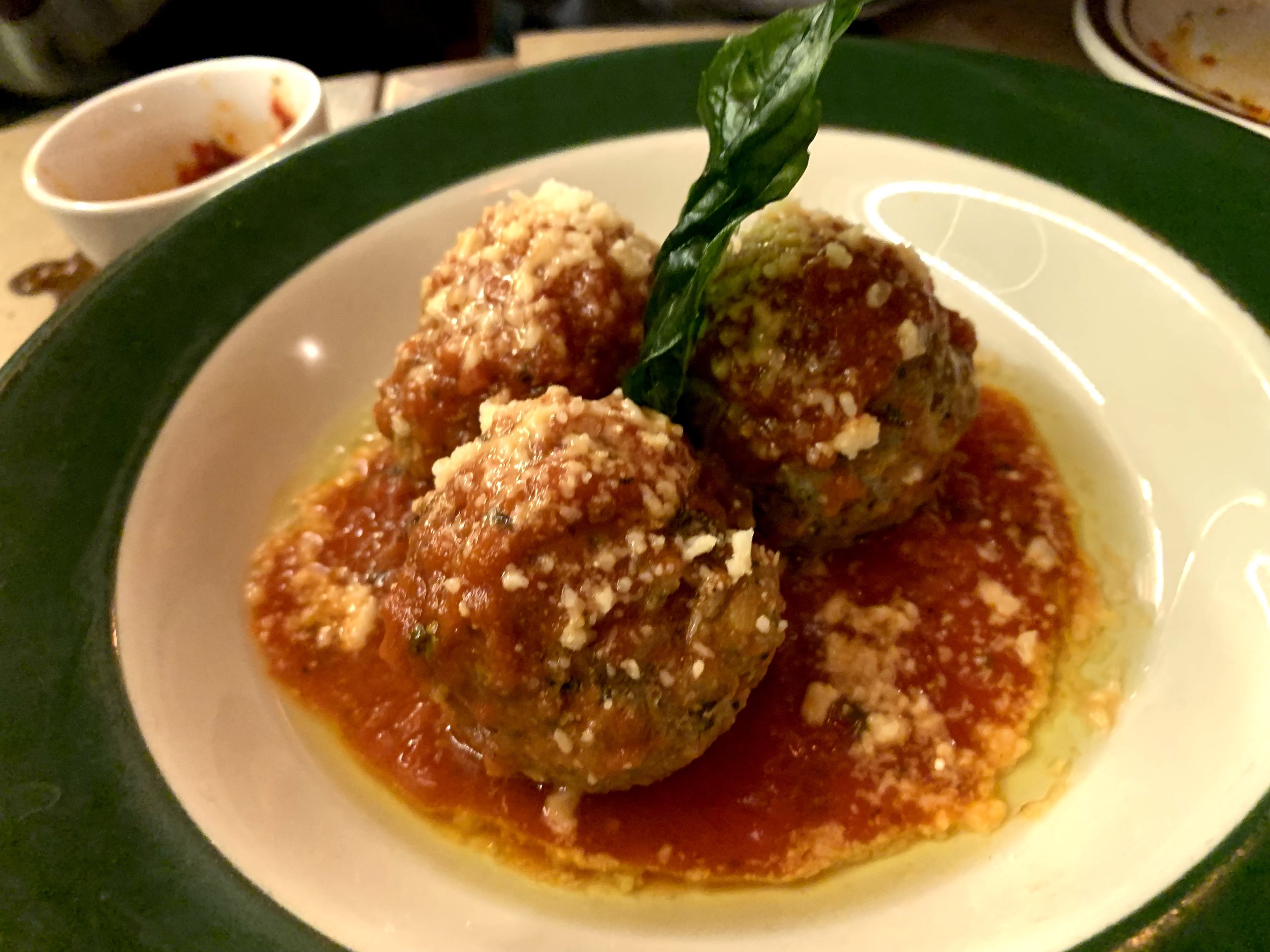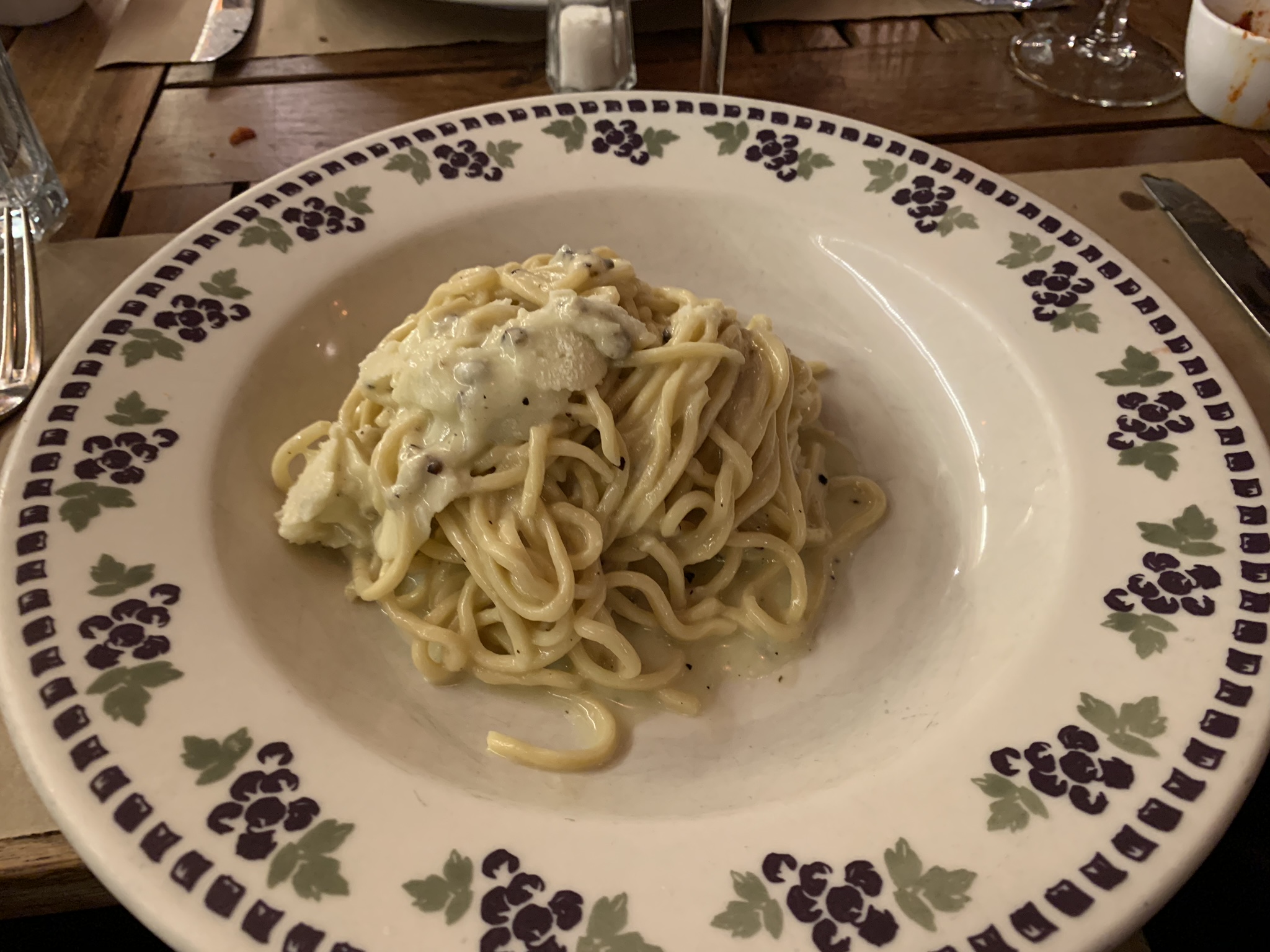 On our last weekend of the month we were really planning on keeping it relatively quiet. We had such a fast start to the year that we wanted to catch back up on some sleep and movies. But the weather was so perfect out that we decided against that. Instead we walked the thirty minute walk through Central Park to The Met on the east side. It was magical. I know we went there in 2011 (on our first ever visit to NYC) but my recollection of it was next to nothing. We had just gotten off a red eye so I think we were close to walking zombies. Now with my full attention I fell in love with The Met. With both The Met and Moma I feel like I could just go to each of them once a month for the rest of my life and be quite the happy camper.
After over two hours of touring The Met and only seeing about 25% of it we left to make our dinner reservations about ten blocks closer to home called Zawa. It's a new sushi restaurant that has gotten great reviews and we also enjoyed it. We split a bunch of different rolls, some edamame, and my favorite, sake. I often don't favor going to Sushi for dinner not because I don't love it but because I'm always hungry afterwards. This night was no different so we stopped at Bouchon Bakery in Columbus Circle on the way home and I got their take on an Oreo.
The month concluded with us back to work and the year becoming a reality. On the 30th of January we got our first real snow of 2019 which lasted about an hour. For twenty minutes I was looking out our apartment window at a complete white out. An hour after it started the clouds went away as quickly as they arrived and we were left with a beautiful white city with a sunset over the Hudson River.
TV WE WATCHED
Can I just say that I love The Marvelous Mrs Maisel. I don't think it will my top show of 2019, but it's going to be in the upper limits of it. It has a great heart, great characters, amazing writing, and it comes together as one of those shows that I just sort of melt into. I can't say the same for Friends From College which is a show we watched quickly but didn't have the same lasting power.
My other revelation is Chef's Table which has reinforced my love for food as an art form. We don't watch Chef's Table a lot but when we do I find the stories and the pursuit of unique cuisine to be fascinating.
BOOKS I READ (OR LISTENED TO)
I had a really strong start to the year for reading having completed five books before the month ended. By far the highlights was re-reading Between the World of Me (one of my favorites) and Heavy by Kiese Laymon which I think is a beautiful look at his life, his struggle, and an American story. I also really enjoyed Kamala Harris's campaign book The Truths We Hold and if you asked me as of February 2019 I'd say she's my frontrunner for Democratic nominee, but we have a long way to go!
MOVIES WE WATCHED
I don't know why it took me this long to watch both RBG and Moonlight but it did and its a shame because those are two great movies. Moonlight was such a beautiful story and a movie that captivated us both. And RBG I just knew so little about our supreme court justice but now I realize why everyone loves her, because Jenn and I do that's for sure.
GAMES I'VE BEEN PLAYING
I'm now officially addicted to Assassin's Creed Odyssey. At the end of January I hit the 20-hour mark and I'm not even half way through the game. My side games of FIFA 19 and Madden 19 are great for the quick twenty minute games and of course Mario Kart 8 Deluxe is my plane companion.
2019 GOAL TRACKING
Goal #1: Read 33 Books: I've read 5 books and am currently on track to hit my goal.
Goal #2: Run 300 Times: I ran 27 times in January. On track to hit the goal.
Goal #3: Keep Weight Under 140: I've yet to go over 140lbs
Goal #4: Eat at 12 Michelin Star Restaurants: Zero so far, but hoping to rectify that in February.
Goal #5: 12 Monthly Recaps: You're reading January, so 1 for 1.