A Look Back - August 2018
If it wasn't real before, it is real now. We are now New Yorkers. As the boxes were recycled, new furniture delivered, and work began to ramp up, we have started to settle into our new normal. As I write this though it still doesn't feel real. At times I feel like I'm staying in an Air BnB and I'm just waiting for my flight back to California. But with each passing week we become true full-fledged New Yorkers, and so far we really love it.
RECAP OF THE MONTH
Like every August, the month started with both Jenn and my birthday. My birthday happened to land on a Thursday which meant I spent most of it at work instead of being in Peru or Paris like over the past two years. Luckily for my birthday Jenn was able to meet me for lunch at Boqueria one of our favorite restaurants in NYC so far. We also had dinner that night at the Cafe in our building (Cafe 21) where I had a nice beer and burger combo.
The next day was Jenn's birthday. Jake came to visit and join in on the festivities. After he dropped off his bags we both went to meet Jenn at Shake Shack to enjoy her birthday lunch. That evening we went to Boqueria (different location) to enjoy yet another amazing meal. We had so many good tapas that night I can't even recount them all. Afterward, we went to enjoy the "Simply Mozart" festival at Lincoln Center.
For the next two days with Jake in town, we had full schedules. In fact, such full schedules that Jenn literally (not a joke) made an itinerary for all of the places we'd go. And it was a lot! We went the Natural History Museum, World Trade Center, Central Park, High Line Park and the Brooklyn Bridge. We also ate an absolute ton of food including the Michelin star restaurant, The Musket Room. The entire weekend was just one huge whirlwind of fun. It was so great having Jake out. After a few minutes of realizing we were all in NYC together, it felt like just another weekend with Jake hanging out. We closed out the weekend on Sunday night enjoying some cocktails on the rooftop of the Knickerbocker in Times Square. It was a great weekend.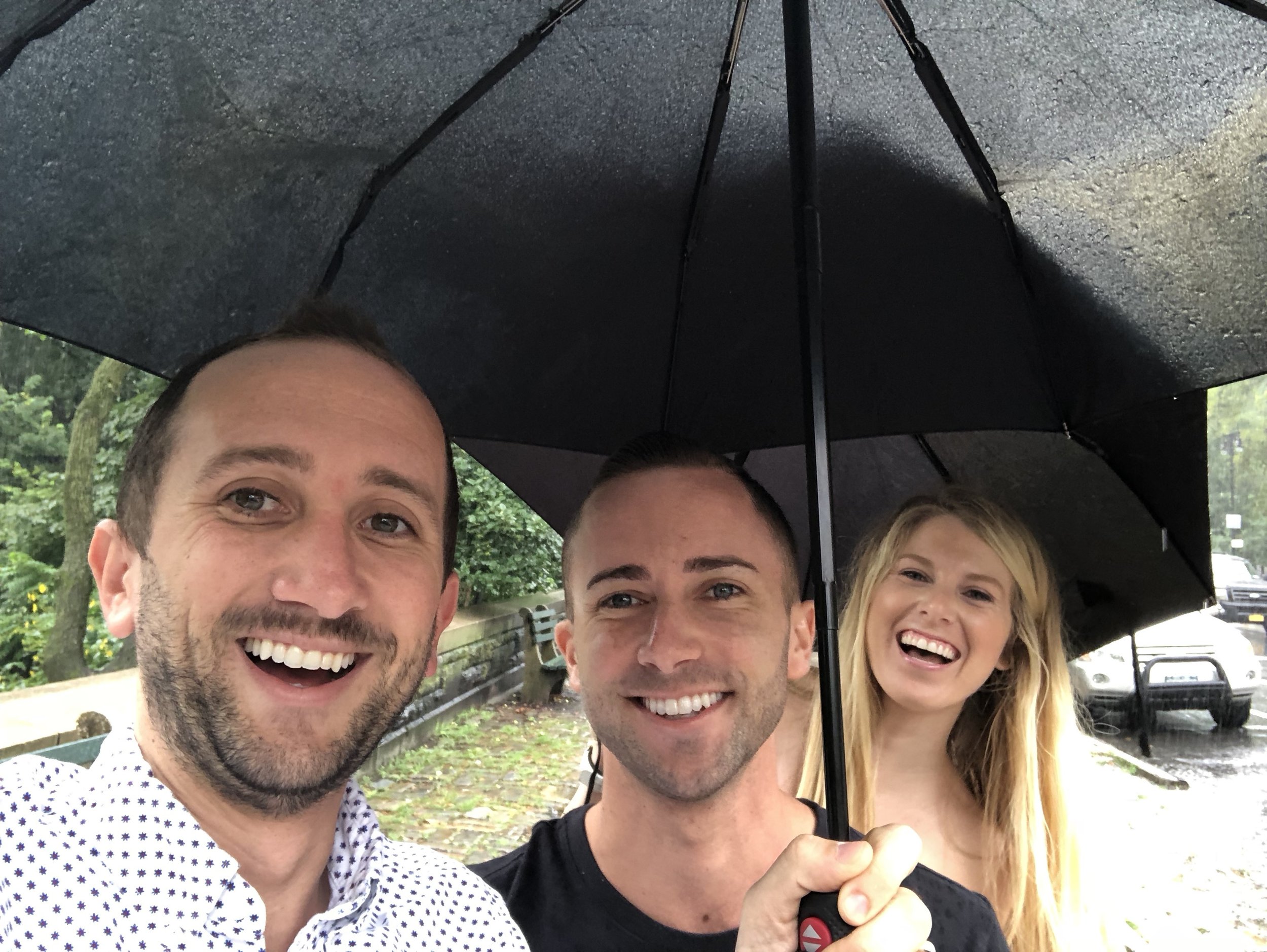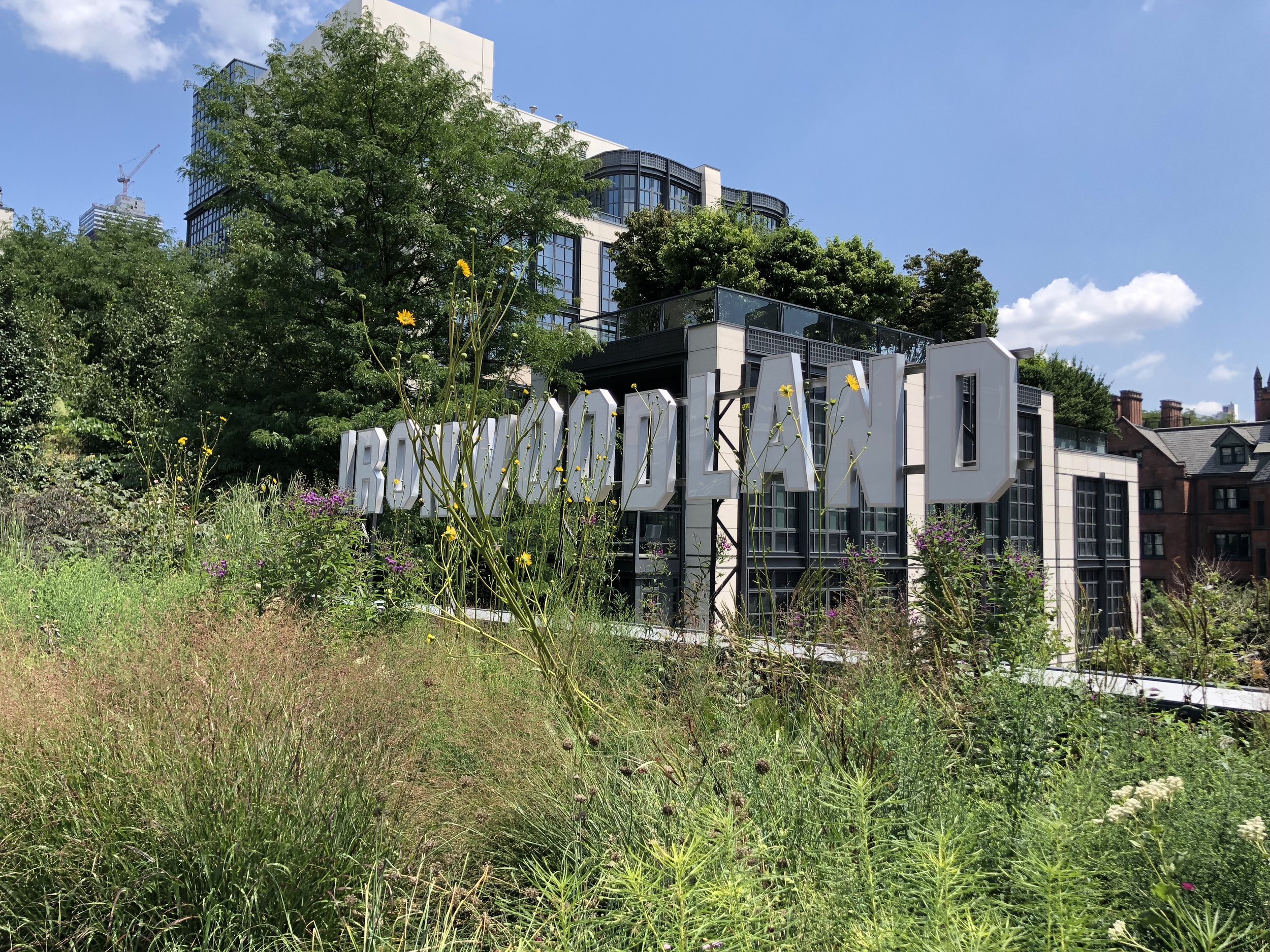 The following weekend I planned a day just for Jenn. We've been so busy in our first few months here in New York that we really haven't had any sort of normalcy. So I thought let's try to plan a day for just Jenn and me to enjoy. We started off going to brunch at The Marshal in Hell's Kitchen. Jenn had a duck bacon hash and I had a duck bacon BLT. It was delicious. From there we walked to Nuanspa in midtown where we both enjoyed an hour couples massage with champagne and chocolate. It was this small spa a couple of floors up in the middle of a very busy area. But once we got to the spa it was like we were transported to another world. After a delicious brunch and an amazing spa, we went to MoMa (Museum of Modern Art) and enjoyed two hours of some of the most fascinating art exhibits we've seen in a long time. The first thing we said to each other afterward was that we had to go back. We left the museum to an absolute downpour so we grabbed a taxi back to our apartment where we had our favorite Indian delivered before going back out for one more thing. The last stop of the day was to see our first Broadway play since moving to NYC, The Play that Goes Wrong. If there was a play that hit Jenn's sensibilities it was this one. I don't think I've ever seen her laugh harder than in this two-hour play.
The rest of the month went by quite quickly. We worked extremely hard over the rest of August with some late nights and early mornings. We also spent at least one of our weekends finishing up the planning our big trip that as of this writing we leave for today (August 30th). The last highlight of the month had to be going to see our second Broadway production, this time it was Straight White Men. What an incredible, powerful, and moving performance. It opened up with two people who didn't identify to the gender to which they were born telling their stories and saying that all anyone wants is to be loved and accepted for who they are. And what was so incredible about the play as they were able to show the need for love and acceptance through straight white men. It was absolutely incredible, it left me moved emotionally, and I've thought about it constantly since we left.
TV WE WATCHED
I didn't realize how busy we were with work this month (and life) until I saw how little TV we watched in August. outside of finishing the first season of HBO's Succession which was incredible, we didn't watch a lot of scripted TV this month. We did finish the month with watching the very short Magic for Humans on Netflix which was delightful.
BOOKS I READ (OR LISTENED TO)
I'm starting to get into a routine with listening to books now that I'm on the subway. After finishing Educated (one of the best books I've read this year) I read the comic book Watchmen for GamersRead and the fourth book int the Red Rising series, Iron Gold.
MOVIES WE WATCHED
After a movie-less month last month we did rectify that a bit in August with two movies (well one movie and one stand-up). We did finally go see Mission Impossible Fallout which we saw at the Cineopolis in Chelsea. Its a nice theater that looks like it will be even nicer after their renovation. Demetri Martin continues to be a funny/clever comedian who's latest stand up was quite good.
GAMES I'VE BEEN PLAYING
We are about to get to the best part of the video game year. But before we do I actually had a very enjoyable video game August. After reviewing Madden NFL 19, Jenn and I sunk our teeth into Overcooked 2 the cooperative cooking game. The other game I've been trying to beat before the big fall season is Shadow of War which is one giant game.
If your curious here's the list of games (in order of release date) I can't wait to play between now and the end of the year:
Spider-Man
Shadow of the Tomb Raider
NBA 2K19
FIFA 19
Assassin's Creed: Odyssey
Red Dead Redemption 2
2018 GOAL TRACKING
I'm modifying this section. Instead of talking about the various stats I'm collecting I thought it would be more useful for me to track how I'm doing to the goals I set out for the year. So here we go:
Goal #1: Read 32 Books: I've read 21 books and am currently on track to hit my goal.
Goal #2: 250 Days of Perfect Performance on Habitify: 131 days of perfect performance. Behind schedule due to an insanely busy year.
Goal #3: Run 300 Times: I've run 148 days so far in 2018. At the halfway point of 2018, I'm slightly behind on this goal.
Goal #4: Keep Weight Under 140: I've yet to go over 140lbs
Goal #5: Write 12 Chef Joel & Jenn: I've written 2 so far. Very off track and unlikely to catch up.
Goal #6: Complete Travel Photo Books: I've completed one but have a lot more to do. The furthest behind on this one.