It Wasn't Good, It Was a Great Friday
Most years I have little to no vacation days to take outside of our big trips. This year however we decided instead of doing two trips, to just do one big one which gave me a couple of free vacation days to sprinkle throughout the year. So I decided to take Good Friday off and enjoy the beautiful Spring here in Newport Beach.
I woke up and did absolutely nothing. That's right nothing. I stayed in bed until close to 8AM, drove over to Starbucks with Jenn, and she dropped me off at home while she went off to work. From there I drank my delightful iced Carmel Macchiato and played video games for a couple of hours. I went back and forth between my go to NBA 2K14 and a new game I picked up this week Trials Fusion. After I got tired of video games I turned on Sportcenter and literally sat through an entire hour of it. I haven't done that since I was in college. It was magical.
By noon Jenn was off for the day (she is loving her new job) and met me at home for lunch after I picked up Flame Broiler. We had lunch and then went out laid by the pool for an hour before heading off to Mariners Church for their Good Friday Service. I don't think I've ever been to a Good Friday service but we both really enjoyed theirs. It was a short message but they did have communion which was great.
After church we drove down to Huntington Beach and laid on the beach for a while watching the sunset. Even though we live a couple minutes from the beach you forget how majestic it is. We spent close to an hour at the beach, Jenn tried to get me fully submerged in the sand and even threw around the football around. The beach was deserted with only a few families enjoying the gorgeous spring day.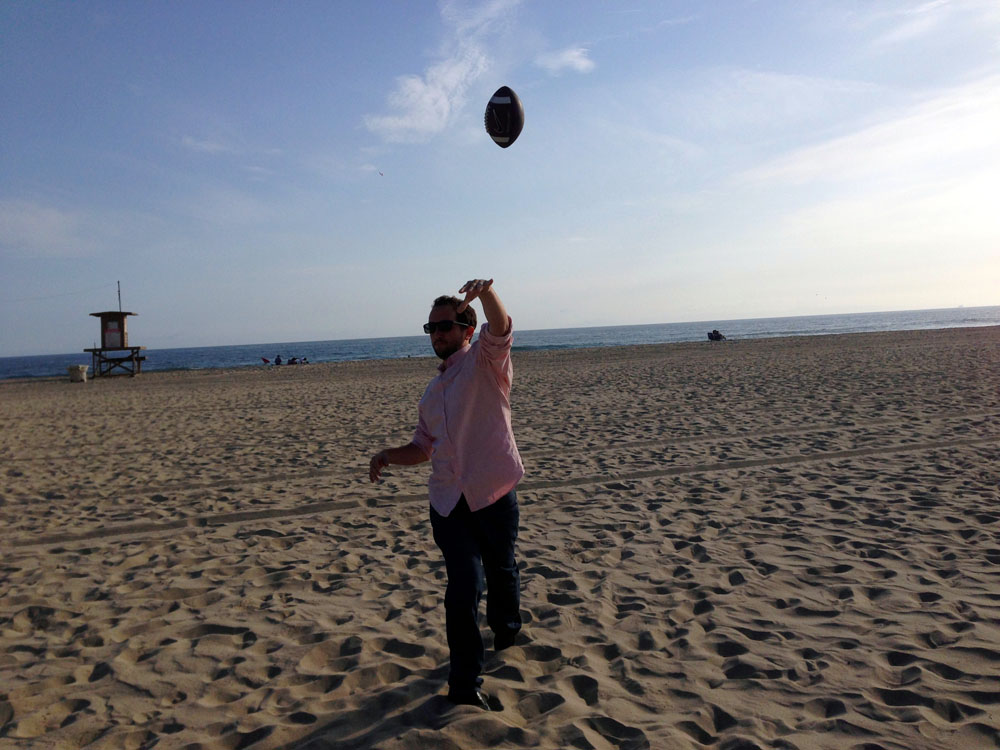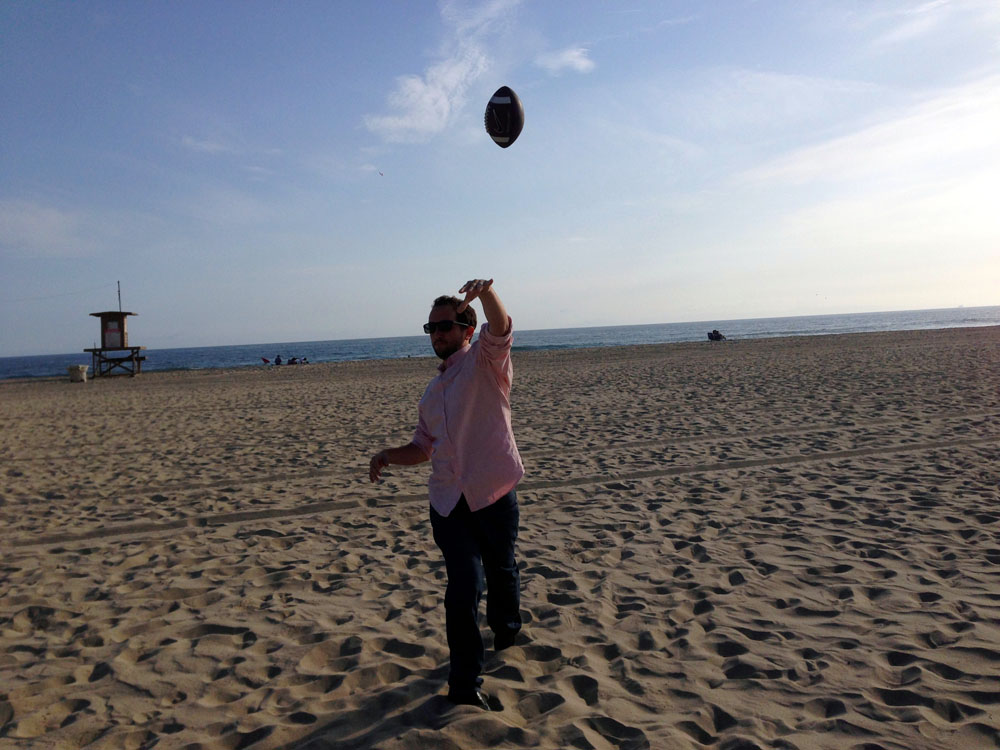 Once it started to get a little chilly we grabbed our stuff and went across the street to one of our favorite places in Orange County, Spaghetti Bender. When Jenn and I were dating we used to drive from Riverside to go to Spaghetti Bender. It used to be such the treat, and even now when we live down here we still absolutely love it. Jenn got a glass of Pinot Noir and I had a glass of Sauvignon Blanc. We both started with soup and salad (although jenn doesn't eat salad). For our main course Jenn went with her staple of Spaghetti and Meatballs while I went with their special for the month Shrimp Primavera. Everything was simply perfect and we had an incredible dinner.
Spaghetti Bender always leaves us with a sweet tooth though so continuing our trip down memory lane we headed to Baskin Robbins. One of our first dates was at the Baskin Robbins in Riverside where I infamously (to Jenn) said I loved strawberry shakes. In all honesty I tolerate Strawberry Shakes but a few weeks after meeting Jenn I would have eaten green beans if it meant she would date me. I truly despise green beans.
Jenn got cookies and cream and I had their chocolate fudge. It hit the spot and was the perfect sweet to get us ready for our Friday night movie, Grudge Match. I'll spare the review here (since I just posted my thoughts) but needless to say it was good to have Rocky back in the ring, even if Jenn fell asleep on it twenty minutes in.
I sit here with only an hour left on this Friday beaming. It was exactly what I needed, a Great Friday.