2012 – On Top of the World
I've been writing these Year-End posts for a long time now and I am extremely grateful for it. Before writing this years post I went back and read the past couple of years. One thing struck me loud and clear, every year you can see how truly blessed we are. God has been with us through some serious lows and incredible highs. Through it all we have learned so much, grown together, and had an incredible journey.
2012 is no different. One thing we realized early on in 2012 was patience. God has a time and a place for everything and it's not always on our time frame. We started off 2012 highly anticipating a new career opportunity for Jenn. She had wanted a change for a while now and we thought we had found the perfect fit. After a couple interviews and a phone call that came pretty close to offering the job we didn't hear anything and eventually a few weeks later were told she didn't get it.
It was a huge setback in January of 2012 and I remember seeing Jenns face when I picked her up in Rosemead on a Friday afternoon and realizing we needed to get away. We drove straight from Rosemead to Las Vegas, Nevada for the weekend and stayed at the Caesar's Palace. We had an amazing time, had some amazing food, and just enjoyed getting away. We always talk about doing spur of the moment trips and this was really living it.
Much of February was spent on accomplishing one of my big life long goals, getting Rhinoplasty. Jenn and I went to a few different specialists here in Orange County and felt very comfortable with our choice of Dr Cruise. Not only did he make Jenn and I feel the most comfortable but the added bonus that his office was right around the corner made the decision even easier. We ended up scheduling the surgery at the end of March and everything went without a hitch.
I was off of work for a week and was restricted to bed rest. Sounded good to me. Jenn was the perfect nurse, changed my bloody gauze and brought me frozen peas more times then I can count. After a week we went back to Dr Cruise office where he took all of the stuff out of my nose (super painful) and I got to see the near final product. I am still amazed at what he was able to do with my nose and could not be happier with it. I went from having a nose that went three directions to have a very straight and solid nose that fits my face. Needless to say I am beyond happy with my nose.
After the surgery the countdown for our big Europe Trip was on. We spent a few weekends buying new clothes and trying to finalize our plans for the trip. With only a week to go before the trip Jenn was cleaning our apartment when she slammed her toe into our sofa and broke it. We both sort of freaked out trying to figure out how she was going to make it through the trip. We ended up taking her to the emergency room the next day where we sat around for a couple hours only to get the toe buddy taped. Not necessarily worth the trip but at least we confirmed it was broken.
June finally arrived and so did the long awaited 3-Week Europe vacation. The trip didn't start off well with some major flight problems, but once we landed in Zurich Switzerland the rest of the journey was incredible. We started off in St. Moritz Switzerland that was one of the most amazing destinations I have ever been too. We hiked the Alps, ate some amazing food, had massages, and enjoyed the pristine views.
From St. Moritz we stayed a few nights in Venice, Italy while we waited for our cruise to depart. We got lost their more times then I can remember and had some of the best food of my life.
From there we boarded a 12-day cruise with my parents and siblings, which started and ended in Venice on the Royal Caribbean Grandeur of the Seas. The first stop on the cruise was Dubrovnik, Croatia one of the best ports on the cruise. We spent part of the day walking through the walled city (King's Landing) and the second half at a private beach. From there we cruised for a day and made it to our second port Athens, Greece. There Jenn, Jake, Amy and I hired a random driver (Niko) standing outside the cruise port to drive us around Athens. It wasn't probably the smartest thing to do but it worked out we got to see the Acropolis and have an amazing fresh fish lunch with views of the Mediterranean Sea.
From Athens we had two back-to-back stops in Turkey starting with Ephesus. Since Jenn and I had been there in 2008 we decided to sit this one out and just enjoyed a nice lunch in town and walked around the shops for a bit. After Ephesus it was off to Bodrum where we all jumped aboard a boat to take us to another private beach and allowed us to jump in some beautiful coves. It was an extremely fun excursion and you couldn't beat laying at the top of the boat and catching rays on the ride back into port.
Our next two stops were back in Greece starting with Santorini. This was by far Jenns most anticipated stop of the cruise and it did not disappoint. We got some of our best pictures in Santorni and Jenn and I had an incredible lunch overlooking the cliffs of Santorini. I could see Jenn and I going back and staying at Santorini for a week and loving it. After Santorini we went to one of our favorite stops on our 2008 cruise, Mykonos, Greece. The city itself looked exactly the same and we once again had a great time. We walked around the island with the family; Jenn bought an incredible dress, and just loved every minute of it. Jenn and I stopped and had a great lunch and met some other travelers and we all just were raving about how amazing it was to be in Mykonos.
We had one more cruising day and ended off the trip in Split, Croatia. It was not the most exciting stop on the trip but we did all walk around the town and had a great pizza lunch to finish off the day. From there we were back to Venice and on our way back home. It was an incredible trip, which made it even harder to endure the 15 hours of flying to get home.
Only a few weeks after we got back from the trip Jenn had to re-pack her bags and drive up to Monterey, CA for a week long conference on Energy Efficiency. She stayed only a couple minutes from the water and got to drive around and enjoy a lot of Monterey for the week she was there.
A few weeks after Jenn got back from Monterey we took on our first big DIY project for our second bedroom. Originally we had the second bedroom as a guest room but it wasn't getting much use. So we quickly decided to scrap that and start over with a blank slate. So we donated all of the second bedroom furniture and started by painting the walls. Jenn did about 98% of the painting with a really nice light grey and it looks amazing. The room was transformed to a beautiful den and it has become one of our most used rooms in the apartment. Many of our weekend mornings start with Jenn surfing the iPad on the leather chair and me working on Darkstation. It's a beautiful thing.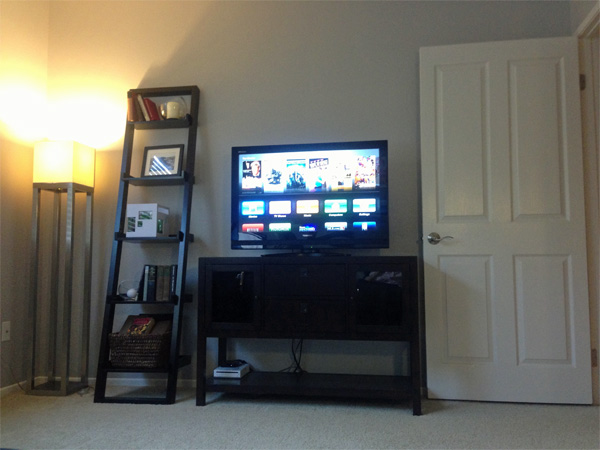 We finished the remodel and went on to celebrate our 3-Year Wedding Anniversary. I still cannot believe it has been three years. We used a TravelZoo voucher for a five-course meal with wine at The Winery in Tustin. We had an amazing dinner and had the opportunity to not only reflect on the three years we have been married but also the nine years we have been together.
What we didn't know when we had our anniversary dinner was what was about to happen only a few weeks later. After hours and hours of prayer in mid-October Jenn was offered a job at PIMCO, a financial firm right around the corner from where we live in Newport Beach. She had gone through three rounds of interviews and after her hard work and perseverance was offered the job of a Diversity & Inclusion Coordinator. I'll never forget getting the call at work in Pomona when Jenn said "guess what" and I knew right there that the thing we had been praying for came true. To celebrate we had dinner at Mastro's Steakhouse right on the water in Newport Beach, which was incredible.
Jenn started her new job on November 5th and hasn't looked back since. She seems to really be enjoying it and definitely doesn't miss the long 50 mile commutes with traffic every day. I believe her new commute is right around 5 minutes walking. It's been an amazing blessing for our family and one that we both pray continues to be going forward.
By the end of November Jenn and I had started getting into our new routine. I get home at around 4:30 every day and she gets home by around 5:30. A lot of times we will meet right in front of her building and just walk over to Fashion Island and grab a bite to eat for dinner. After Thanksgiving we began the Christmas decorations. And in the memory of Jenn's mom Jenn literally decorated every square foot of our apartment in Christmas décor. She out did herself this year and I have no idea how she will be able to top it in 2013.
We had an amazing holiday and were insanely busy throughout December. Christmas was a great day starting the morning at my parents, opening presents at our place during the afternoon and finished it off with her Dad and Joan in the evening. Jenn got so much clothes I could no even believe it. I too didn't come up empty handed with a ton of clothes and even a Nintendo Wii U.
2012 ended exactly the way we both needed it, quietly. In fact this is the first New Year's Eve since we have begin together that we didn't stay up until midnight to bring in the New Year. Actually thinking back I am not sure we even made it to the New Years in Eastern Time.
2012 was an amazing year. We got to travel the world. We created some incredible memories that will last a lifetime. We had the sort of year that made the transition into 2013 as smooth as we could have ever wanted. And that makes me so excited to see what amazing adventures and memories I get to write about next year.